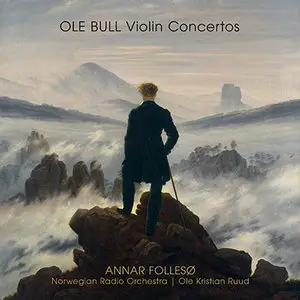 Ole Bull - Violin Concertos
Annar Follesø / Norwegian Radio Orchestra
WV (image) 24 bit/192 kHz: 2,47 GB | Artwork | 5% Recovery Info
Label/Cat#: 2L # 2L-067-SABD | Country/Year: Norway 2010
Genre: Classical | Style: Romantic | Source: 2L
MD5 [X] CUE [X] LOG [] INFO TEXT [X] ARTWORK [X]
selfrip [] not my rip [] official digital download [X]

foobar2000 1.1.14a / Dynamic Range Meter 1.1.1
log date: 2013-05-22 12:54:55

––––––––––––––––––––––––––––––––––––––––
Analyzed: Ole Bull / Violin Concertos
––––––––––––––––––––––––––––––––––––––––

DR Peak RMS Duration Track
––––––––––––––––––––––––––––––––––––––––
DR13 -11.30 dB -30.72 dB 2:58 01-Saterjentens Sondag (The Herdgirl's Sunday)
DR15 -0.25 dB -21.51 dB 12:43 02-Concerto in A major - Andante maestoso / Allegro maestoso
DR14 -1.40 dB -22.75 dB 2:58 03-Concerto in A major - Adagio sentimentale (Adagio sostenuto)
DR16 -0.26 dB -22.62 dB 6:45 04-Concerto in A major - Rondo pastorale (Moderato)
DR15 -0.12 dB -21.72 dB 8:17 05-Concerto Fantastico - Allegro Affetuoso (La Notte)
DR12 -11.30 dB -30.14 dB 4:37 06-Concerto Fantastico - Adagio Sostenuto (L'Aurora)
DR18 -0.30 dB -24.15 dB 5:29 07-Concerto Fantastico - Rondo Marcato (A Giorno)
DR11 -4.98 dB -23.07 dB 2:47 08-I Ensomme Stunde (La Melancolie)
DR19 -0.06 dB -25.82 dB 13:51 09-La Verbena de San Juan
DR18 -2.99 dB -28.03 dB 8:54 10-Et Saterbesog (A Mountain Vision)
––––––––––––––––––––––––––––––––––––––––

Number of tracks: 10
Official DR value: DR15

Samplerate: 192000 Hz
Channels: 2
Bits per sample: 24
Bitrate: 5101 kbps
Codec: WavPack
================================================================================


CD Info:
Ole Bull - Violin Concertos
Annar Follesø / Norwegian Radio Orchestra
Label: 2L
Catalog#: 2L-067-SABD
Format: Digital Album
Country: Norway
Released: 2010
Genre: Classical
Style: Romantic
Resolution: 24 Bit / 192 kHz
Source: shop.klicktrack.com/2l/
http://www.2l.no/pages/album/067.html
Tracklist:
01. Saterjentens Sondag (The Herdgirl's Sunday) [02:58]
02. Concerto in A major - Andante maestoso / Allegro maestoso [12:43]
03. Concerto in A major - Adagio sentimentale (Adagio sostenuto) [02:58]
04. Concerto in A major - Rondo pastorale (Moderato) [06:45]
05. Concerto Fantastico - Allegro Affetuoso (La Notte) [08:17]
06. Concerto Fantastico - Adagio Sostenuto (L'Aurora) [04:36]
07. Concerto Fantastico - Rondo Marcato (A Giorno) [05:29]
08. I Ensomme Stunde (La Melancolie) [02:47]
09. La Verbena de San Juan [13:51]
10. Et Saterbesog (A Mountain Vision) [08:54]
Release date: March 2010
Recording date: June 2009
Location: Jar Church, Norway
Original source: DXD (352.8kHz/24bit)
Ole Bull (1810-1880) was an adventurer, violin virtuoso, composer and international star who brought the name of Norway to worldwide attention. Within music and drama he was a pioneer in the development of a national identity, and on the concert stage his fabulous playing skills and intense charisma early won him the sobriquet "the Scandinavian Paganini".

Some of his most attractive tunes, as well as the rural potpourri Et Sæterbesøg have remained part of Norway's cultural heritage; on this recording they can be heard alongside his two virtuosic violin concertos and the fiery Spanish fantasia La Verbena de San Juan. The concertos and the fantasia were rediscovered only a few years ago, and this is the first recording ever made of these attractive works. The A major Concerto was written in Italy in 1834 and boasts everything one could ever dream of when it comes to attractive tunes and giddy virtuosity. No. 2, Concerto Fantastico, lives indisputably up to its name and confirms what Franz Liszt wrote in 1840: "He is a sort of savage's genius, possessing an abundance of original, enchanting ideas. In brief, he has moved me; it is a long time since that has happened to me." 2l.no
The latest of the series of audio-only Blu-rays (paired with a SACD of the same material) from Norwegian audiophile label 2L has again a strong Norwegian slant as well as leading the pack in the pursuit of the highest-resolution audio files. What other labels have offered any discs with lossless surround sound at 192K/24bit? We're lucky to get 96K from a few, and most DVDs and Blu-ray movies are only 48K.

Old Bull is probably the next most famous Norwegian in music after Edvard Grieg, with whom he was friends. He was primarily a virtuoso on the violin, the equal of Paganini. He also helped develop Norway's cultural identity in music and the dramatic arts. He discovered Ibsen and Bjørnson and hired them to do productions in his theater in Bergen. He inspired many other musicians in his country, including Grieg and Svendsen. As a violinist he was known for his rich tone and brilliant improvisations. His amazing technique and personality captivated audiences in the 19th century.

Bull was struggling as a violin virtuoso in Italy when he had a lucky strike. A famous singer heard him playing the violin from a hotel window and convinced her people to cancel her concert and present him instead. He became an overnight sensation. While he never had formal instruction in composition and didn't learn how to develop thematic material in, say, sonata-allegro style, he had a gift for wonderful melodies and the development of his folk-based themes.

Some of these six works are familiar standards of Bull's while others were only recently discovered. Three recorded here are world premieres. The major work is his Concerto in A Major, which Bull described to his father as being "the most difficult music that has ever been written for the violin." It's first movement uses his new chordal, polyphonic four-part style of playing, which requires a flat bridge. The Adagio movement describes a mountain scene and is playing entirely on the G string, which Paganini also was wont to do. The work's final movement uses two dance-like themes.

The following Concerto Fantastico – a high point in his output – has programmatic titles, designed to inspire audience and critics to interpret the content. They are The Night, Sunrise, and The Day. The final movement opens with trumpet fanfares and closes with virtuostic writing and rapid tempi. The shorter non-concerto pieces are mostly based on various Norwegian folk music, although Bull was known to create color improvisations on the folk melodies of many different cultures. The closing A Mountain Vision employs improvisations on several Norwegian and Swedish folk tunes, with which most listeners in Scandinavia would be familiar.

All the music is most attractive, tuneful and especially enjoyable in Blu-ray hi-res multichannel deployment. I frankly can hear little different between the 192K and the 96K formats (and as I've said before, I think the 7.1 standard – with direct rear channels – format a dumb idea for either movies or music), but perhaps the younger listeners with more of their extended high-end sensitivity still in place can appreciate the improvement (if they haven't ruined it with rock concerts). I can't imagine many other labels bothering to offer both audio-only Blu ray discs plus standard multichannel SACDs as part of each album, but thanks be to 2L for continuing to make the effort!

- John Sunier 5/5audiophile-audition
Thanks to
olega52
!