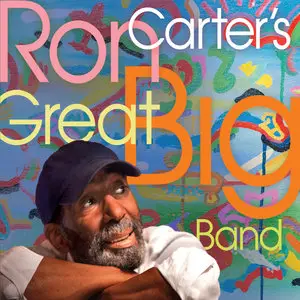 Ron Carter - Ron Carter's Great Big Band (2011)
FLAC (tracks) 24 bit/96 kHz | Time - 53:19 minutes | 1,16 GB
Studio Master, Official Digital Download | Artwork: Front cover
Throughout his illustrious career, the legendary Ron Carter has played it all jumping in headlong as an integral member of Miles Davis' classic 60s quintet, anchoring the groove for almost every CTI Records session in the 70s, then launching into multifarious new projects, including his cello-infused, chamber-jazz nonet and his piano-guitar-bass trio. But in his lifelong calling to find the right notes, Carter had never recorded a big-band album. So, the time was ripe for the 73-year-old maestro of the upright bass to break new ground. The result is the delightful and swinging album "Ron Carter's Great Big Band", set into motion by esteemed arranger Bob Freedman and Somerled Charitable Foundation trustee Wendy Macdonald (who serves as producer) and featuring an all-star cast of supporting musicians.
Carter says the big-band album was more accidental than intentional. Having done every conceivable recording under my name, the only project I hadn't done was leading a big band. Wendy likes the way Bob writes and asked him to do a project featuring his arrangements. Once he agreed, he asked me to be a part of it. I figured, hey, I'll give it a shot. Recalling Carter signing on to the venture, Freedman says, Ron was up to it and into it. He was eager in his own reserved way.
As it turns out, Carter and co. provided the endeavor with an absolute commitment to musical sublimity. The 17-piece band, with the bassist serving as the rhythmic rudder with his steady, warm-toned pulse and Freedman leading as the conductor, delivers a vibrant outing of 13 tunes that buoy with a spirited freedom. The music exudes refined elegance and sonic power as well as opens a window onto a new approach to big-band performance. Ron took on the role of bass player/leader as though he'd been doing it forever, says Freedman, who over the years has written arrangements of songs for many of Carter's recordings.
Assembling the band for this date was a joint effort by Carter and Freedman. The bassist insisted on using two of his frequent rhythm mates, pianist Mulgrew Miller and drummer Lewis Nash.
As for the horn sections, Carter suggested designating section leaders who would then fill in the rest of the musicians needed for the section. For woodwinds, alto and soprano saxophonist Jerry Dodgion was enlisted. He, in turn, called on Steve Wilson for second alto, Wayne Escoffery and Scott Robinson on tenor saxophones, Jay Brandford on baritone saxophone and English horn player Charles Pillow. Trombonist Jason Jackson filled the four- bone section with Steve Davis, James Burton III and Douglas Purviance, and trumpeter Tony Kadleck manned his section with fellow trumpeters Greg Gisbert, Jon Owens and Alex Norris.
The creation of the songbook for the band was another joint effort, with Freedman and Carter bringing to the table music that the latter says would be what people who like big bands would like to hear.
Ron Carter s Great Big Band opens with an upbeat, swinging take on the Duke Ellington's classic Caravan, with later renderings of Dizzy Gillespie s Con Alma treated to an apropos Latin hue, and W.C. Handy s Saint Louis Blues, for which Freedman wrote sections with different musical colorings all to playful effect.
Ron Carter is one of the most recorded bassists in jazz. In his mid-seventies at the time of these sessions, he is very much still at the top of his game as he leads the first big-band date of his own, with potent arrangements by conductor Robert M. Freedman and including some of New York's busiest musicians, including Jerry Dodgion, Steve Wilson, Wayne Escoffery, and Scott Robinson in the woodwind section, brass players Steve Davis, Douglas Purviance, and Greg Gisbert, plus pianist Mulgrew Miller and drummer Lewis Nash, among others. Freedman's charts are short and sweet, all of them under five minutes, with much of the focus on imaginative writing and Carter's melodic bass central in the mix. The material spans from the 1920s to the present, played with imagination. The opening "Caravan" is taken far from its roots, transformed into a breezy bop vehicle, even slipping in a dissonant snippet of "Hot House." The setting of Dizzy Gillespie's "Con Alma" retains its Latin flavor, with a lush introduction by the brass and reeds and strong solos by Miller and Carter. Carter's inventive bass provides the undercurrent for the brisk interpretation of Wayne Shorter's marvelous jazz standard "Footprints," while the upbeat performance of Gerry Mulligan's "Line for Lyons" would have pleased its composer. Carter has long been a prolific composer, and his "Loose Change" is a funky affair with marvelous interplay among the brass and reeds, while "Opus 1.5 (Theme for C.B.)" is mellow and somber, with Charles Pillow's mellow English horn prominent and an intricate solo by Carter. With this delightful big-band date, the veteran bassist continues to surprise and delight listeners during a career spanning five-plus decades.
Tracklist:
01 - Caravan
02 - The Eternal Triangle
03 - Pork Shop
04 - Opus 1.5 (Theme for C.B.)
05 - Con Alma
06 - Sail away
07 - Opus One
08 - Sweet Emma
09 - Saint Louis Blues
10 - Line for Lyons
11 - Footprints
12 - The Golden Striker
13 - Loose Change
Analyzed: Ron Carter / Ron Carter's Great Big Band
––––––––––––––––––––––––––––––––––––––––

DR Peak RMS Duration Track
––––––––––––––––––––––––––––––––––––––––
DR11 -0.98 dB -13.82 dB 3:42 01-Caravan
DR10 -0.98 dB -13.36 dB 3:04 02-The Eternal Triangle
DR11 -1.10 dB -14.81 dB 3:47 03-Pork Shop
DR13 -0.26 dB -18.55 dB 3:43 04-Opus 1.5 (Theme for C.B.)
DR10 -0.98 dB -14.07 dB 4:29 05-Con Alma
DR10 -0.98 dB -14.97 dB 4:24 06-Sail away
DR11 -0.98 dB -14.66 dB 3:34 07-Opus One
DR9 -0.95 dB -12.34 dB 5:26 08-Sweet Emma
DR9 -0.99 dB -12.66 dB 4:32 09-Saint Louis Blues
DR9 -0.98 dB -13.56 dB 3:36 10-Line for Lyons
DR12 -0.12 dB -15.34 dB 4:53 11-Footprints
DR10 -0.98 dB -14.13 dB 3:58 12-The Golden Striker
DR11 -0.46 dB -14.20 dB 4:11 13-Loose Change
––––––––––––––––––––––––––––––––––––––––

Number of tracks: 13
Official DR value: DR10

Samplerate: 96000 Hz
Channels: 2
Bits per sample: 24
Bitrate: 3003 kbps
Codec: FLAC
================================================================================


Thanks to the Original customer!