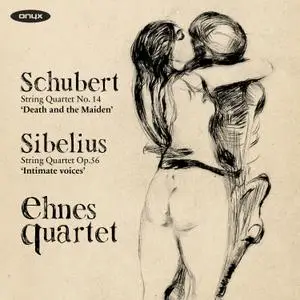 Ehnes Quartet - Schubert: String Quartet No. 14 'Death and the Maiden'; Sibelius: String Quartet Op. 56 'Intimate Voices' (2016)
FLAC (tracks) 24-bit/96 kHz | 1:14:02 | 1.4 Gb
Studio Master, Official Digital Download | Artwork: front cover
Death preyed heavily on the minds of both Schubert and Sibelius when they were composing the two string quartets on this new recording from the Ehnes Quartet. Sibelius had undergone several operations to remove a tumour in his throat. The bleak and highly personal 4th Symphony is the masterwork from this period, but the string quartet 'Intimate Voices' of 1908 should not be underestimated. Taut and highly concentrated, it has an almost Haydnesque construction, and the quartet's first movement's sheer perfection of form approaches that of the 3rd Symphony's opening movement.