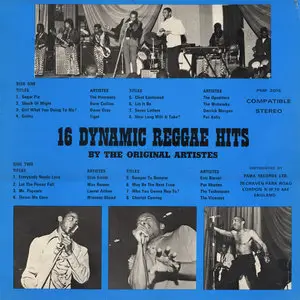 Various Artists - 16 Dynamic Reggae Hits (1972)
Vinyl rip @ 24/96 | FLAC | Artwork | 627Mb
Rapidshare, Hotfile | Early Reggae, Skinhead Reggae, Rocksteady | 1972 UK LP | Pama PMP 2015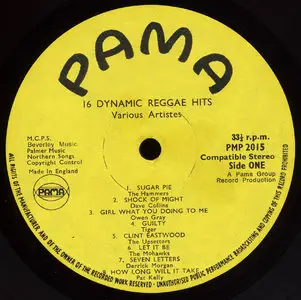 In the late 1950s, the United Kingdom's entrenched class system limited most working class people's educational, housing, and economic opportunities. Nevertheless, Britain's post-war economic boom led to an increase in disposable income among many young people. Some of those youths spent that income on new fashions popularised by American soul groups, British R&B bands, certain movie actors, and Carnaby Street clothing merchants. These youths became known as mods, a youth subculture noted for its consumerism and devotion to fashion, music and scooters.
Mods of lesser means made do with practical clothing styles that suited their lifestyle and employment circumstances: work boots or army boots, straight-leg jeans or Sta-Prest trousers, button-down shirts, and braces. When possible, these working class mods spent their money on suits and other sharp outfits to wear at dancehalls, where they enjoyed soul, ska, bluebeat and rocksteady music.
Around 1965, a schism developed between the smooth mods, who were less violent and always wore the latest expensive clothes, and the hard mods, who were identified by their shorter hair and more working class image. These hard mods became commonly known as skinheads by about 1968. Their short hair may have come about for practical reasons, since long hair can be a liability in industrial jobs and in street fights. Skinheads may also have cut their hair short in defiance of the more middle class hippie culture
In addition to retaining many mod influences, early skinheads were very interested in Jamaican rude boy styles and culture, especially the music: ska, rocksteady, and early reggae. The link between skinheads and Jamaican music led to the development of the skinhead reggae genre, performed by artists such as: Desmond Dekker, Derrick Morgan, Laurel Aitken, Symarip and The Pioneers.
Wikipedia.
Please note: the sound quality varies considerably from track to track.
Track listing:
01. Sugar Pie – The Hammers (1969)
02. Shocks of Mighty – Dave Collins (1972)
03. Girl What You Doing To Me? - Owen Gray (1969)
04. Guilty – Tiger (1971)
05. Clint Eastwood – The Upsetters (1970)
06. Let It Be – The Mohawks (1970)
07. Seven Letters – Derrick Morgan (1969)
08. How Long Will It Take? – Pat Kelly (1969)
09. Everybody Needs Love – Slim Smith (1969)
10. Let The Power Fall – Max Romeo (1971)
11. Mr. Popcorn – Laurel Aitken (1970)
12. Throw Me Corn – Winston Shand (1969)
13. Bumper To Bumper – Eric Barnett (1970)
14. Maybe The Next Time – Pat Rhoden (1970)
15. Who You Gonna Run To? - The Techniques (1969)
16. Chariot Coming – The Viceroys (1970)
Knosti RCM
Pink Triangle LPT with
Funk Firm Achromat.
Moth Arm.
Audio Technica AT33PTG MC Cart.
Harman Kardon PM660 Integrated Amp.
Creative S80300 ADC. Gold Interconnects.
Click Repair.
Split and manual de-click with Adobie Audition.