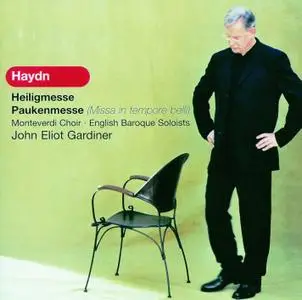 Monteverdi Choir, English Baroque Soloists, John Eliot Gardiner - Haydn: Heiligmesse, Paukenmesse (Missa in tempore belli) (2003)
WEB | FLAC (tracks) - 392 MB | 01:18:39
Genre: Classical | Label: Decca
This is the final volume in John Eliot Gardiner's series of the six late Haydn masses and it brings this excellent set of interpretations to a fine conclusion. Gardiner's 'Heiligmesse' is full of momentum and has fine thrust all round with an excellent team of soloists who are all quite low key but who perform quite well. I greatly enjoyed the opening 'Kyrie' and would say that it comes close to toppling Hickox who is equally excellent on Chandos.