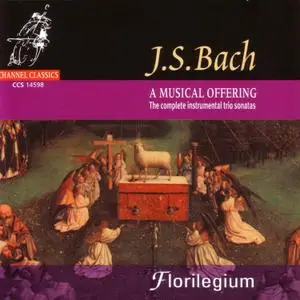 Florilegium - J.S. Bach: A Musical Offering - The Complete Instrumental Trio Sonatas (2000)
WEB | FLAC (tracks) - 349 MB | 58:51
Genre: Classical | Label: Channel Classics
Florilegium's latest release contains the complete instrumental trio sonatas of Bach. But if you discount the six-part Ricercar from the Musical Offering itself, which of course is not a trio, but which nonetheless is included here, only two of the remaining items are indisputably products of Bach's pen. The Trio in G (BWV 1038) may be by Bach, who certainly provided its bass line; but the likelihood is that it was the work of one or other of his two elder sons or perhaps one of Bach's Leipzig pupils. The Trio in C (BWV 1037), on the other hand, is certainly not by Bach, but by his gifted pupil, Goldberg.