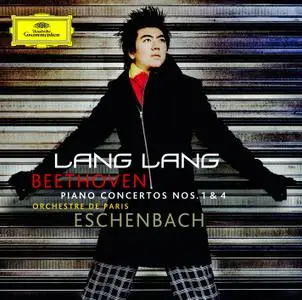 Lang Lang - Beethoven: Piano Concertos Nos. 1 & 4 (2007)
WEB | FLAC (tracks) - 307 MB | 01:14:11
Genre: Classical | Label: Deutsche Grammophon
Lang Lang delivers his first-ever Beethoven recording, a stunning reading of the extensive Concerto no. 4 and the jubilant Concerto no. 1. Even though he has performed this repertoire extensively in concert, Lang Lang waited for the perfect moment and the perfect team to record his first pair of concertos from these milestones of piano repertoire When Lang Lang embarked on his international career, Christoph Eschenbach became one of his first and most enthusiastic proponents - and a mentor and close friend ever since, Eschenbach was the ideal collaborator for Lang Lang's first Beethoven recording.