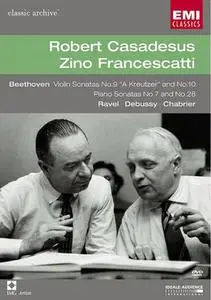 Robert Casadesus & Zino Francescatti: Beethoven, Ravel, Debussy, Chabrier (2004/1960, 1970)
PAL 4:3 (720x576) | (LinearPCM, 2 ch) | 7.62 Gb (DVD9) | 149 min
Classical | EMI Classics | Sub.: English, Francais, Espanol, Deutsch
Featuring two of the most prominent European classical musicians of their time, ZINO FRANCESCATTI & ROBERT CASADESUS features both individual performances and duets. Francescatti was perhaps the finest violinist of the mid-20th century; coming from a family of musicians, he was a child prodigy who gave his first concert at the age of five. Casadesus also came from a musical background, and won acclaim throughout his career as a technically perfect pianist and fine classical composer. The pair collaborate here in performances of works by Beethoven, and individually perform work by composers as diverse as Debussy and Bazzini.