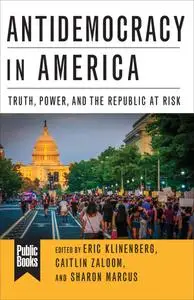 Antidemocracy in America: Truth, Power, and the Republic at Risk (Public Books) by Eric Klinenberg, Sharon Marcus, Caitlin Zaloom
English | January 11th, 2020 | ISBN: 0231190115, 0231190107 | 288 pages | EPUB | 0.68 MB
On Election Day in 2016, it seemed unthinkable to many Americans that Donald Trump could become president of the United States. But the victories of the Obama administration hid from view fundamental problems deeply rooted in American social institutions and history. The election's consequences drastically changed how Americans experience their country, especially for those threatened by the public outburst of bigotry and repression. Amid the deluge of tweets and breaking news stories that turn each day into a political soap opera, it can be difficult to take a step back and see the big picture. To confront the threats we face, we must recognize that the Trump presidency is a symptom, not the malady.