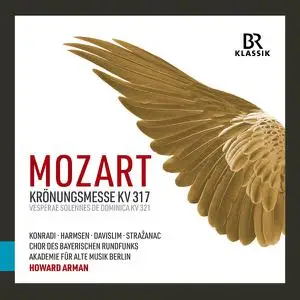 Katharina Konradi - Mozart: Kronungsmesse, K. 317 & Other Choral Works (2023) [Official Digital Download]
FLAC (tracks), Lossless [24bit-48kHz] | 1:00:19 | 619 Mb
Genre: Classical / Label: BR-Klassik
A versatile figure at home in lieder and in opera of several types, Katharina Konradi is the first major vocal star to emerge from the Central Asian nation of Kyrgyzstan. Based in Germany, Konradi has appeared in operas by Mozart, Strauss, and Wagner. Konradi was born on June 13, 1988, in the Kyrgyz capital of Bishkek. Like many people in that city, formerly part of the Soviet Union, she grew up speaking Russian. At age 15, she moved to Hamburg, Germany. Although she spoke no German when she arrived, she succeeded in obtaining her Abitur (secondary school graduation) certificate at the Johannes-Brahms-Schule in Pinneberg in 2009.
Track List:
[02:39] 01. Katharina Konradi - Krönungsmesse, K. 317: No. 1, Kyrie eleison (Live)
[04:28] 02. Katharina Konradi - Krönungsmesse, K. 317: No. 2, Gloria (Live)
[03:59] 03. Akademie für Alte Musik Berlin - Keyboard Sonata in C Major, K. 329 (Live)
[06:30] 04. Katharina Konradi - Krönungsmesse, K. 317: No. 3, Credo (Live)
[05:24] 05. Bavarian Radio Chorus - Alma Dei creatoris, K. 277 (Live)
[01:36] 06. Katharina Konradi - Krönungsmesse, K. 317: No. 4, Sanctus (Live)
[03:03] 07. Katharina Konradi - Krönungsmesse, K. 317: No. 5, Benedictus (Live)
[05:48] 08. Katharina Konradi - Krönungsmesse, K. 317: No. 6, Agnus Dei (Live)
[03:36] 09. Katharina Konradi - Vesperae de Dominica, K. 321: No. 1, Dixit (Live)
[05:35] 10. Katharina Konradi - Vesperae de Dominica, K. 321: No. 2, Confitebor (Live)
[04:16] 11. Katharina Konradi - Vesperae de Dominica, K. 321: No. 3, Beatus vir (Live)
[03:47] 12. Bavarian Radio Chorus - Vesperae de Dominica, K. 321: No. 4, Laudate pueri (Live)
[04:57] 13. Katharina Konradi - Vesperae de Dominica, K. 321: No. 5, Laudate Dominum (Live)
[04:36] 14. Katharina Konradi - Vesperae de Dominica, K. 321: No. 6, Magnificat (Live)
foobar2000 1.6.10 / Dynamic Range Meter 1.1.1
log date: 2023-01-05 18:37:29

––––––––––––––––––––––––––––––––––––––––
Analyzed: Akademie für Alte Musik Berlin / Mozart: Krönungsmesse, K. 317 & Other Choral Works (Live) (1)
Bavarian Radio Chorus / Mozart: Krönungsmesse, K. 317 & Other Choral Works (Live) (2-3)
Katharina Konradi / Mozart: Krönungsmesse, K. 317 & Other Choral Works (Live) (4-14)
––––––––––––––––––––––––––––––––––––––––

DR Peak RMS Duration Track
––––––––––––––––––––––––––––––––––––––––
DR13 -5.24 dB -23.44 dB 4:00 03-Keyboard Sonata in C Major, K. 329 (Live)
DR13 -4.13 dB -22.24 dB 5:24 05-Alma Dei creatoris, K. 277 (Live)
DR12 -2.41 dB -18.79 dB 3:48 12-Vesperae de Dominica, K. 321: No. 4, Laudate pueri (Live)
DR12 -2.85 dB -20.51 dB 2:39 01-Krönungsmesse, K. 317: No. 1, Kyrie eleison (Live)
DR12 -2.05 dB -18.44 dB 4:29 02-Krönungsmesse, K. 317: No. 2, Gloria (Live)
DR12 -3.07 dB -19.00 dB 6:30 04-Krönungsmesse, K. 317: No. 3, Credo (Live)
DR10 -3.17 dB -16.33 dB 1:36 06-Krönungsmesse, K. 317: No. 4, Sanctus (Live)
DR12 -3.89 dB -21.25 dB 3:03 07-Krönungsmesse, K. 317: No. 5, Benedictus (Live)
DR12 -2.47 dB -20.61 dB 5:48 08-Krönungsmesse, K. 317: No. 6, Agnus Dei (Live)
DR11 -2.34 dB -16.69 dB 3:37 09-Vesperae de Dominica, K. 321: No. 1, Dixit (Live)
DR12 -2.56 dB -18.43 dB 5:36 10-Vesperae de Dominica, K. 321: No. 2, Confitebor (Live)
DR12 -2.73 dB -17.83 dB 4:16 11-Vesperae de Dominica, K. 321: No. 3, Beatus vir (Live)
DR12 -4.42 dB -21.78 dB 4:57 13-Vesperae de Dominica, K. 321: No. 5, Laudate Dominum (Live)
DR11 -2.41 dB -17.93 dB 4:36 14-Vesperae de Dominica, K. 321: No. 6, Magnificat (Live)
––––––––––––––––––––––––––––––––––––––––

Number of tracks: 14
Official DR value: DR12

Samplerate: 48000 Hz
Channels: 2
Bits per sample: 24
Bitrate: 1481 kbps
Codec: FLAC
================================================================================