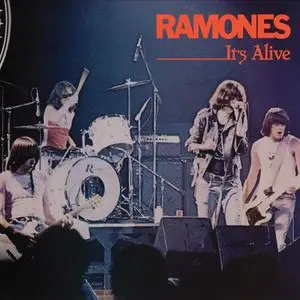 Ramones - It's Alive (Live; 40th Anniversary Deluxe Edition) (2019) [Official Digital Download 24/96]
FLAC (tracks) 24-bit/96 kHz | Time - 156:58 minutes | 5 GB
Studio Master, Official Digital Download | Artwork: Front cover
Taking its name from a 1974 horror film, It's Alive was the last album to feature all four original band members: Dee Dee Ramone, Joey Ramone, Johnny Ramone and Tommy Ramone. All four concerts included in the new Deluxe Edition capture the band in peak form as they storm through dozens of songs from the group's influential catalog. IT'S ALIVE: 40th ANNIVERSARY DELUXE EDITION features all four concerts that were professionally recorded during the Ramones' U.K. tour in December 1977, three making their debut release: Top Rank, Birmingham (December 28, 1977); Victoria Hall, Stoke-On-Trent (December 29, 1977); Friars, Aylesbury (December 30, 1977); and The Rainbow Theatre, London (December 31, 1977).
Tracklist:
CD1
1. Rockaway Beach (Live at Rainbow Theatre, London, 12/31/77; 2019 Remaster) (2:24)
2. Teenage Lobotomy (Live at Rainbow Theatre, London, 12/31/77; 2019 Remaster) (1:53)
3. Blitzkrieg Bop (Live at Rainbow Theatre, London, 12/31/77; 2019 Remaster) (2:06)
4. I Wanna Be Well (Live at Rainbow Theatre, London, 12/31/77; 2019 Remaster) (2:23)
5. Glad to See You Go (Live at Rainbow Theatre, London, 12/31/77; 2019 Remaster) (1:50)
6. Gimme Gimme Shock Treatment (Live at Rainbow Theatre, London, 12/31/77; 2019 Remaster) (1:36)
7. You're Gonna Kill That Girl (Live at Rainbow Theatre, London, 12/31/77; 2019 Remaster) (2:33)
8. I Don't Care (Live at Rainbow Theatre, London, 12/31/77; 2019 Remaster) (1:39)
9. Sheena Is a Punk Rocker (Live at Rainbow Theatre, London, 12/31/77; 2019 Remaster) (2:15)
10. Havana Affair (Live at Rainbow Theatre, London, 12/31/77; 2019 Remaster) (1:34)
11. Commando (Live at the Rainbow Theatre, London, 12/31/77; 2019 Remaster) (1:41)
12. Here Today, Gone Tomorrow (Live at Rainbow Theatre, London, 12/31/77; 2019 Remaster) (2:54)
13. Surfin' Bird (Live at Rainbow Theatre, London, 12/31/77; 2019 Remaster) (2:19)
14. Cretin Hop (Live at Rainbow Theatre, London, 12/31/77; 2019 Remaster) (1:52)
15. Listen to My Heart (Live at Rainbow Theatre, London, 12/31/77; 2019 Remaster) (1:34)
16. California Sun (Live at the Rainbow Theatre, London, 12/31/77; 2019 Remaster) (1:45)
17. I Don't Wanna Walk Around with You (Live at Rainbow Theatre, London, 12/31/77; 2019 Remaster) (1:22)
18. Pinhead (Live at Rainbow Theatre, London, 12/31/77; 2019 Remaster) (2:50)
19. Do You Wanna Dance? (Live at the Rainbow Theatre, London, 12/31/77; 2019 Remaster) (1:38)
20. Chainsaw (Live at the Rainbow Theatre, London, 12/31/77; 2019 Remaster) (1:28)
21. Today Your Love, Tomorrow the World (Live at Rainbow Theatre, London, 12/31/77; 2019 Remaster) (2:02)
22. I Wanna Be a Good Boy (Live at Rainbow Theatre, London, 12/31/77; 2019 Remaster) (2:02)
23. Judy Is a Punk (Live at Rainbow Theatre, London, 12/31/77; 2019 Remaster) (1:13)
24. Suzy Is a Headbanger (Live at Rainbow Theatre, London, 12/31/77; 2019 Remaster) (1:52)
25. Let's Dance (Live at Rainbow Theatre, London, 12/31/77; 2019 Remaster) (2:06)
26. Oh, Oh, I Lover Her So (Live at Rainbow Theatre, London, 12/31/77; 2019 Remaster) (1:38)
27. Now I Wanna Sniff Some Glue (Live at Rainbow Theatre, London, 12/31/77; 2019 Remaster) (1:20)
28. We're a Happy Family (Live at Rainbow Theatre, London, 12/31/77; 2019 Remaster) (2:09)
CD2
1. Rockaway Beach (Live at Top Rank, Birmingham, Warwickshire, 12/28/77) (2:27)
2. Teenage Lobotomy (Live at Top Rank, Birmingham, Warwickshire, 12/28/77) (1:58)
3. Blitzkrieg Bop (Live at Top Rank, Birmingham, Warwickshire, 12/28/77) (2:06)
4. I Wanna Be Well (Live at Top Rank, Birmingham, Warwickshire, 12/28/77) (2:27)
5. Glad to See You Go (Live at Top Rank, Birmingham, Warwickshire, 12/28/77) (1:53)
6. Gimme Gimme Shock Treatment (Live at Top Rank, Birmingham, Warwickshire, 12/28/77) (1:45)
7. You're Gonna Kill That Girl (Live at Top Rank, Birmingham, Warwickshire, 12/28/77) (2:28)
8. I Don't Care (Live at Top Rank, Birmingham, Warwickshire, 12/28/77) (1:39)
9. Sheena Is a Punk Rocker (Live at Top Rank, Birmingham, Warwickshire, 12/28/77) (2:26)
10. I Can't Give You Anything (Live at Top Rank, Birmingham, Warwickshire, 12/28/77) (1:41)
11. Commando (Live at Top Rank, Birmingham, Warwickshire, 12/28/77) (1:54)
12. Here Today, Gone Tomorrow (Live at Top Rank, Birmingham, Warwickshire, 12/28/77) (2:54)
13. Surfin' Bird (Live at Top Rank, Birmingham, Warwickshire, 12/28/77) (2:21)
14. Cretin Hop (1:46)
15. Listen to My Heart (Live at Top Rank, Birmingham, Warwickshire, 12/28/77) (1:38)
16. California Sun (Live at Top Rank, Birmingham, Warwickshire, 12/28/77) (1:48)
17. I Don't Wanna Walk Around with You (Live at Top Rank, Birmingham, Warwickshire, 12/28/77) (1:24)
18. Pinhead (Live at Top Rank, Birmingham, Warwickshire, 12/28/77) (2:44)
19. Do You Wanna Dance? (Live at Top Rank, Birmingham, Warwickshire, 12/28/77) (1:44)
20. Chainsaw (Live at Top Rank, Birmingham, Warwickshire, 12/28/77) (1:31)
21. Today Your Love, Tomorrow the World (Live at Top Rank, Birmingham, Warwickshire, 12/28/77) (2:22)
22. I Wanna Be a Good Boy (Live at Top Rank, Birmingham, Warwickshire, 12/28/77) (2:05)
23. Suzy Is a Headbanger (Live at Top Rank, Birmingham, Warwickshire, 12/28/77) (1:57)
24. Let's Dance (Live at Top Rank, Birmingham, Warwickshire, 12/28/77) (2:04)
25. Oh, Oh, I Love Her So (Live at Top Rank, Birmingham, Warwickshire, 12/28/77) (1:44)
26. Now I Wanna Sniff Some Glue (Live at Top Rank, Birmingham, Warwickshire, 12/28/77) (1:22)
27. We're a Happy Family (Live at Top Rank, Birmingham, Warwickshire, 12/28/77) (2:11)
CD3
1. Rockaway Beach (Live at Victoria Hall, Stoke-On-Trent, Staffordshire, 12/29/77) (2:27)
2. Teenage Lobotomy (Live at Victoria Hall, Stoke-On-Trent, Staffordshire, 12/29/77) (1:53)
3. Blitzkrieg Bop (Live at Victoria Hall, Stoke-On-Trent, Staffordshire, 12/29/77) (1:59)
4. I Wanna Be Well (Live at Victoria Hall, Stoke-On-Trent, Staffordshire, 12/29/77) (2:20)
5. Glad to See You Go (Live at Victoria Hall, Stoke-On-Trent, Staffordshire, 12/29/77) (1:48)
6. Gimme Gimme Shock Treatment (Live at Victoria Hall, Stoke-On-Trent, Staffordshire, 12/29/77) (1:33)
7. You're Gonna Kill That Girl (Live at Victoria Hall, Stoke-On-Trent, Staffordshire, 12/29/77) (2:23)
8. I Don't Care (Live at Victoria Hall, Stoke-On-Trent, Staffordshire, 12/29/77) (1:37)
9. Sheena Is a Punk Rocker (Live at Victoria Hall, Stoke-On-Trent, Staffordshire, 12/29/77) (2:22)
10. I Can't Give You Anything (Live at Victoria Hall, Stoke-On-Trent, Staffordshire, 12/29/77) (1:38)
11. Commando (Live at Victoria Hall, Stoke-On-Trent, Staffordshire, 12/29/77) (1:47)
12. Here Today, Gone Tomorrow (Live at Victoria Hall, Stoke-On-Trent, Staffordshire, 12/29/77) (2:57)
13. Surfin' Bird (Live at Victoria Hall, Stoke-On-Trent, Staffordshire, 12/29/77) (2:19)
14. Cretin Hop (Live at Victoria Hall, Stoke-On-Trent, Staffordshire, 12/29/77) (1:43)
15. Listen to My Heart (Live at Victoria Hall, Stoke-On-Trent, Staffordshire, 12/29/77) (1:34)
16. California Sun (Live at Victoria Hall, Stoke-On-Trent, Staffordshire, 12/29/77) (1:44)
17. I Don't Wanna Walk Around with You (Live at Victoria Hall, Stoke-On-Trent, Staffordshire, 12/29/77) (1:21)
18. Pinhead (Live at Victoria Hall, Stoke-On-Trent, Staffordshire, 12/29/77) (3:13)
19. Do You Wanna Dance? (Live at Victoria Hall, Stoke-On-Trent, Staffordshire, 12/29/77) (1:40)
20. Chainsaw (Live at Victoria Hall, Stoke-On-Trent, Staffordshire, 12/29/77) (1:28)
21. Today Your Love, Tomorrow the World (Live at Victoria Hall, Stoke-On-Trent, Staffordshire, 12/29/77) (2:33)
22. I Wanna Be a Good Boy (Live at Victoria Hall, Stoke-On-Trent, Staffordshire, 12/29/77) (1:56)
23. Suzy Is a Headbanger (Live at Victoria Hall, Stoke-On-Trent, Staffordshire, 12/29/77) (1:54)
24. Let's Dance (Live at Victoria Hall, Stoke-On-Trent, Staffordshire, 12/29/77) (2:16)
25. Oh, Oh, I Love Her So (Live at Victoria Hall, Stoke-On-Trent, Staffordshire, 12/29/77) (1:40)
26. Now I Wanna Sniff Some Glue (Live at Victoria Hall, Stoke-On-Trent, Staffordshire, 12/29/77) (1:19)
27. We're a Happy Family (Live at Victoria Hall, Stoke-On-Trent, Staffordshire, 12/29/77) (2:10)
CD4
1. Rockaway Beach (Live at Friars, Aylesbury, Buckinghamshire, 12/30/77) (2:27)
2. Teenage Lobotomy (Live at Friars, Aylesbury, Buckinghamshire, 12/30/77) (1:54)
3. Blitzkrieg Bop (Live at Friars, Aylesbury, Buckinghamshire, 12/30/77) (2:03)
4. I Wanna Be Well (Live at Friars, Aylesbury, Buckinghamshire, 12/30/77) (2:25)
5. Glad to See You Go (Live at Friars, Aylesbury, Buckinghamshire, 12/30/77) (1:49)
6. Gimme Gimme Shock Treatment (Live at Friars, Aylesbury, Buckinghamshire, 12/30/77) (1:35)
7. You're Gonna Kill That Girl (Live at Friars, Aylesbury, Buckinghamshire, 12/30/77) (2:24)
8. I Don't Care (Live at Friars, Aylesbury, Buckinghamshire, 12/30/77) (1:40)
9. Sheena Is a Punk Rocker (Live at Friars, Aylesbury, Buckinghamshire, 12/30/77) (2:24)
10. Havana Affair (Live at Friars, Aylesbury, Buckinghamshire, 12/30/77) (1:35)
11. Commando (Live at Friars, Aylesbury, Buckinghamshire, 12/30/77) (1:49)
12. Here Today, Gone Tomorrow (Live at Friars, Aylesbury, Buckinghamshire, 12/30/77) (3:06)
13. Surfin' Bird (Live at Friars, Aylesbury, Buckinghamshire, 12/30/77) (2:16)
14. Cretin Hop (Live at Friars, Aylesbury, Buckinghamshire, 12/30/77) (1:42)
15. Listen to My Heart (Live at Friars, Aylesbury, Buckinghamshire, 12/30/77) (1:35)
16. California Sun (Live at Friars, Aylesbury, Buckinghamshire, 12/30/77) (1:45)
17. I Don't Wanna Walk Around with You (Live at Friars, Aylesbury, Buckinghamshire, 12/30/77) (1:21)
18. Pinhead (Live at Friars, Aylesbury, Buckinghamshire, 12/30/77) (3:00)
19. Do You Wanna Dance? (Live at Friars, Aylesbury, Buckinghamshire, 12/30/77) (1:37)
20. Chainsaw (Live at Friars, Aylesbury, Buckinghamshire, 12/30/77) (1:27)
21. Today Your Love, Tomorrow the World (Live at Friars, Aylesbury, Buckinghamshire, 12/30/77) (2:41)
22. I Wanna Be a Good Boy (Live at Friars, Aylesbury, Buckinghamshire, 12/30/77) (1:58)
23. Suzy Is a Headbanger (Live at Friars, Aylesbury, Buckinghamshire, 12/30/77) (1:52)
24. Let's Dance (Live at Friars, Aylesbury, Buckinghamshire, 12/30/77) (2:37)
25. Oh, Oh, I Love Her So (Live at Friars, Aylesbury, Buckinghamshire, 12/30/77) (1:41)
26. Now I Wanna Sniff Some Glue (Live at Friars, Aylesbury, Buckinghamshire, 12/30/77) (1:19)
27. We're a Happy Family (Live at Friars, Aylesbury, Buckinghamshire, 12/30/77) (3:09)
foobar2000 1.3.7 / Dynamic Range Meter 1.1.1
log date: 2019-09-26 15:21:44

––––––––––––––––––––––––––––––––––––––––
Analyzed: Ramones / It's Alive (Live) [40th Anniversary Deluxe Edition]
––––––––––––––––––––––––––––––––––––––––

DR Peak RMS Duration Track
––––––––––––––––––––––––––––––––––––––––
DR7 0.00 dB -8.09 dB 2:24 01-Rockaway Beach (Live at Rainbow Theatre, London, 12/31/77; 2019 Remaster)
DR7 0.00 dB -7.53 dB 1:53 02-Teenage Lobotomy (Live at Rainbow Theatre, London, 12/31/77; 2019 Remaster)
DR7 0.00 dB -7.69 dB 2:06 03-Blitzkrieg Bop (Live at Rainbow Theatre, London, 12/31/77; 2019 Remaster)
DR7 0.00 dB -7.69 dB 2:23 04-I Wanna Be Well (Live at Rainbow Theatre, London, 12/31/77; 2019 Remaster)
DR7 0.00 dB -7.17 dB 1:50 05-Glad to See You Go (Live at Rainbow Theatre, London, 12/31/77; 2019 Remaster)
DR7 0.00 dB -7.31 dB 1:36 06-Gimme Gimme Shock Treatment (Live at Rainbow Theatre, London, 12/31/77; 2019 Remaster)
DR7 0.00 dB -8.57 dB 2:33 07-You're Gonna Kill That Girl (Live at Rainbow Theatre, London, 12/31/77; 2019 Remaster)
DR8 0.00 dB -8.82 dB 1:39 08-I Don't Care (Live at Rainbow Theatre, London, 12/31/77; 2019 Remaster)
DR8 0.00 dB -7.98 dB 2:15 09-Sheena Is a Punk Rocker (Live at Rainbow Theatre, London, 12/31/77; 2019 Remaster)
DR8 0.00 dB -8.03 dB 1:34 10-Havana Affair (Live at Rainbow Theatre, London, 12/31/77; 2019 Remaster)
DR8 0.00 dB -8.15 dB 1:41 11-Commando (Live at the Rainbow Theatre, London, 12/31/77; 2019 Remaster)
DR9 0.00 dB -10.12 dB 2:54 12-Here Today, Gone Tomorrow (Live at Rainbow Theatre, London, 12/31/77; 2019 Remaster)
DR7 0.00 dB -7.95 dB 2:19 13-Surfin' Bird (Live at Rainbow Theatre, London, 12/31/77; 2019 Remaster)
DR7 0.00 dB -7.85 dB 1:52 14-Cretin Hop (Live at Rainbow Theatre, London, 12/31/77; 2019 Remaster)
DR7 0.00 dB -7.19 dB 1:34 15-Listen to My Heart (Live at Rainbow Theatre, London, 12/31/77; 2019 Remaster)
DR7 0.00 dB -8.15 dB 1:45 16-California Sun (Live at the Rainbow Theatre, London, 12/31/77; 2019 Remaster)
DR7 0.00 dB -7.29 dB 1:22 17-I Don't Wanna Walk Around with You (Live at Rainbow Theatre, London, 12/31/77; 2019 Remaster)
DR7 0.00 dB -7.98 dB 2:50 18-Pinhead (Live at Rainbow Theatre, London, 12/31/77; 2019 Remaster)
DR7 0.00 dB -7.15 dB 1:38 19-Do You Wanna Dance? (Live at the Rainbow Theatre, London, 12/31/77; 2019 Remaster)
DR7 0.00 dB -7.42 dB 1:28 20-Chainsaw (Live at Rainbow Theatre, London, 12/31/77) (Live at the Rainbow Theatre, London, 12/31/77; 2019 Remaster)
DR6 0.00 dB -7.51 dB 2:02 21-Today Your Love, Tomorrow the World (Live at Rainbow Theatre, London, 12/31/77; 2019 Remaster)
DR8 0.00 dB -8.42 dB 2:02 22-I Wanna Be a Good Boy (Live at Rainbow Theatre, London, 12/31/77; 2019 Remaster)
DR7 0.00 dB -7.89 dB 1:13 23-Judy Is a Punk (Live at Rainbow Theatre, London, 12/31/77; 2019 Remaster)
DR8 0.00 dB -8.39 dB 1:52 24-Suzy Is a Headbanger (Live at Rainbow Theatre, London, 12/31/77; 2019 Remaster)
DR7 0.00 dB -8.85 dB 2:06 25-Let's Dance (Live at Rainbow Theatre, London, 12/31/77; 2019 Remaster)
DR7 0.00 dB -7.57 dB 1:38 26-Oh, Oh, I Lover Her So (Live at Rainbow Theatre, London, 12/31/77; 2019 Remaster)
DR7 0.00 dB -8.06 dB 1:20 27-Now I Wanna Sniff Some Glue (Live at Rainbow Theatre, London, 12/31/77; 2019 Remaster)
DR8 0.00 dB -8.67 dB 2:09 28-We're a Happy Family (Live at Rainbow Theatre, London, 12/31/77; 2019 Remaster)
DR6 0.00 dB -7.72 dB 2:27 29-Rockaway Beach (Live at Top Rank, Birmingham, Warwickshire, 12/28/77)
DR7 0.00 dB -7.69 dB 1:58 30-Teenage Lobotomy (Live at Top Rank, Birmingham, Warwickshire, 12/28/77)
DR7 0.00 dB -7.83 dB 2:06 31-Blitzkrieg Bop (Live at Top Rank, Birmingham, Warwickshire, 12/28/77)
DR7 0.00 dB -8.18 dB 2:27 32-I Wanna Be Well (Live at Top Rank, Birmingham, Warwickshire, 12/28/77)
DR7 0.00 dB -7.50 dB 1:53 33-Glad to See You Go (Live at Top Rank, Birmingham, Warwickshire, 12/28/77)
DR7 0.00 dB -7.78 dB 1:45 34-Gimme Gimme Shock Treatment (Live at Top Rank, Birmingham, Warwickshire, 12/28/77)
DR7 0.00 dB -8.70 dB 2:28 35-You're Gonna Kill That Girl (Live at Top Rank, Birmingham, Warwickshire, 12/28/77)
DR7 0.00 dB -8.06 dB 1:39 36-I Don't Care (Live at Top Rank, Birmingham, Warwickshire, 12/28/77)
DR7 0.00 dB -7.66 dB 2:26 37-Sheena Is a Punk Rocker (Live at Top Rank, Birmingham, Warwickshire, 12/28/77)
DR7 0.00 dB -7.15 dB 1:41 38-I Can't Give You Anything (Live at Top Rank, Birmingham, Warwickshire, 12/28/77)
DR7 0.00 dB -8.34 dB 1:54 39-Commando (Live at Top Rank, Birmingham, Warwickshire, 12/28/77)
DR8 0.00 dB -8.81 dB 2:54 40-Here Today, Gone Tomorrow (Live at Top Rank, Birmingham, Warwickshire, 12/28/77)
DR7 0.00 dB -8.08 dB 2:21 41-Surfin' Bird (Live at Top Rank, Birmingham, Warwickshire, 12/28/77)
DR7 0.00 dB -7.28 dB 1:46 42-Cretin Hop (Live at Top Rank, Birmingham, Warwickshire, 12/28/77)
DR7 0.00 dB -7.28 dB 1:38 43-Listen to My Heart (Live at Top Rank, Birmingham, Warwickshire, 12/28/77)
DR7 0.00 dB -8.08 dB 1:48 44-California Sun (Live at Top Rank, Birmingham, Warwickshire, 12/28/77)
DR6 0.00 dB -7.05 dB 1:24 45-I Don't Wanna Walk Around with You (Live at Top Rank, Birmingham, Warwickshire, 12/28/77)
DR7 0.00 dB -8.84 dB 2:44 46-Pinhead (Live at Top Rank, Birmingham, Warwickshire, 12/28/77)
DR6 0.00 dB -7.39 dB 1:44 47-Do You Wanna Dance? (Live at Top Rank, Birmingham, Warwickshire, 12/28/77)
DR7 0.00 dB -7.15 dB 1:31 48-Chainsaw (Live at Top Rank, Birmingham, Warwickshire, 12/28/77)
DR7 0.00 dB -8.48 dB 2:22 49-Today Your Love, Tomorrow the World (Live at Top Rank, Birmingham, Warwickshire, 12/28/77)
DR7 0.00 dB -7.75 dB 2:05 50-I Wanna Be a Good Boy (Live at Top Rank, Birmingham, Warwickshire, 12/28/77)
DR6 0.00 dB -7.32 dB 1:57 51-Suzy Is a Headbanger (Live at Top Rank, Birmingham, Warwickshire, 12/28/77)
DR7 0.00 dB -8.14 dB 2:04 52-Let's Dance (Live at Top Rank, Birmingham, Warwickshire, 12/28/77)
DR7 0.00 dB -7.45 dB 1:44 53-Oh, Oh, I Love Her So (Live at Top Rank, Birmingham, Warwickshire, 12/28/77)
DR6 0.00 dB -7.15 dB 1:22 54-Now I Wanna Sniff Some Glue (Live at Top Rank, Birmingham, Warwickshire, 12/28/77)
DR6 0.00 dB -8.01 dB 2:11 55-We're a Happy Family (Live at Top Rank, Birmingham, Warwickshire, 12/28/77)
DR7 0.00 dB -7.68 dB 2:27 56-Rockaway Beach (Live at Victoria Hall, Stoke-On-Trent, Staffordshire, 12/29/77)
DR7 0.00 dB -8.08 dB 1:53 57-Teenage Lobotomy (Live at Victoria Hall, Stoke-On-Trent, Staffordshire, 12/29/77)
DR7 0.00 dB -8.08 dB 1:59 58-Blitzkrieg Bop (Live at Victoria Hall, Stoke-On-Trent, Staffordshire, 12/29/77)
DR7 0.00 dB -7.95 dB 2:20 59-I Wanna Be Well (Live at Victoria Hall, Stoke-On-Trent, Staffordshire, 12/29/77)
DR7 0.00 dB -7.56 dB 1:48 60-Glad to See You Go (Live at Victoria Hall, Stoke-On-Trent, Staffordshire, 12/29/77)
DR7 0.00 dB -7.49 dB 1:33 61-Gimme Gimme Shock Treatment (Live at Victoria Hall, Stoke-On-Trent, Staffordshire, 12/29/77)
DR7 0.00 dB -7.85 dB 2:23 62-You're Gonna Kill That Girl (Live at Victoria Hall, Stoke-On-Trent, Staffordshire, 12/29/77)
DR7 0.00 dB -7.40 dB 1:37 63-I Don't Care (Live at Victoria Hall, Stoke-On-Trent, Staffordshire, 12/29/77)
DR7 0.00 dB -7.45 dB 2:22 64-Sheena Is a Punk Rocker (Live at Victoria Hall, Stoke-On-Trent, Staffordshire, 12/29/77)
DR7 0.00 dB -7.19 dB 1:38 65-I Can't Give You Anything (Live at Victoria Hall, Stoke-On-Trent, Staffordshire, 12/29/77)
DR7 0.00 dB -7.89 dB 1:47 66-Commando (Live at Victoria Hall, Stoke-On-Trent, Staffordshire, 12/29/77)
DR7 0.00 dB -8.02 dB 2:57 67-Here Today, Gone Tomorrow (Live at Victoria Hall, Stoke-On-Trent, Staffordshire, 12/29/77)
DR7 0.00 dB -7.35 dB 2:19 68-Surfin' Bird (Live at Victoria Hall, Stoke-On-Trent, Staffordshire, 12/29/77)
DR7 0.00 dB -7.60 dB 1:43 69-Cretin Hop (Live at Victoria Hall, Stoke-On-Trent, Staffordshire, 12/29/77)
DR7 0.00 dB -7.12 dB 1:34 70-Listen to My Heart (Live at Victoria Hall, Stoke-On-Trent, Staffordshire, 12/29/77)
DR7 0.00 dB -7.55 dB 1:44 71-California Sun (Live at Victoria Hall, Stoke-On-Trent, Staffordshire, 12/29/77)
DR6 0.00 dB -7.06 dB 1:21 72-I Don't Wanna Walk Around With You (Live at Victoria Hall, Stoke-On-Trent, Staffordshire, 12/29/77)
DR7 0.00 dB -8.71 dB 3:13 73-Pinhead (Live at Victoria Hall, Stoke-On-Trent, Staffordshire, 12/29/77)
DR6 0.00 dB -6.94 dB 1:40 74-Do You Wanna Dance? (Live at Victoria Hall, Stoke-On-Trent, Staffordshire, 12/29/77)
DR6 0.00 dB -6.37 dB 1:28 75-Chainsaw (Live at Victoria Hall, Stoke-On-Trent, Staffordshire, 12/29/77)
DR6 0.00 dB -7.55 dB 2:33 76-Today Your Love, Tomorrow the World (Live at Victoria Hall, Stoke-On-Trent, Staffordshire, 12/29/77)
DR7 0.00 dB -7.53 dB 1:56 77-I Wanna Be a Good Boy (Live at Victoria Hall, Stoke-On-Trent, Staffordshire, 12/29/77)
DR7 0.00 dB -7.23 dB 1:54 78-Suzy Is a Headbanger (Live at Victoria Hall, Stoke-On-Trent, Staffordshire, 12/29/77)
DR7 0.00 dB -7.79 dB 2:16 79-Let's Dance (Live at Victoria Hall, Stoke-On-Trent, Staffordshire, 12/29/77)
DR6 0.00 dB -6.80 dB 1:40 80-Oh, Oh, I Love Her So (Live at Victoria Hall, Stoke-On-Trent, Staffordshire, 12/29/77)
DR6 0.00 dB -7.30 dB 1:19 81-Now I Wanna Sniff Some Glue (Live at Victoria Hall, Stoke-On-Trent, Staffordshire, 12/29/77)
DR7 0.00 dB -8.10 dB 2:10 82-We're a Happy Family (Live at Victoria Hall, Stoke-On-Trent, Staffordshire, 12/29/77)
DR6 0.00 dB -7.57 dB 2:27 83-Rockaway Beach (Live at Friars, Aylesbury, Buckinghamshire, 12/30/77)
DR7 0.00 dB -7.94 dB 1:54 84-Teenage Lobotomy (Live at Friars, Aylesbury, Buckinghamshire, 12/30/77)
DR7 0.00 dB -7.86 dB 2:03 85-Blitzkrieg Bop (Live at Friars, Aylesbury, Buckinghamshire, 12/30/77)
DR7 0.00 dB -7.95 dB 2:25 86-I Wanna Be Well (Live at Friars, Aylesbury, Buckinghamshire, 12/30/77)
DR7 0.00 dB -7.49 dB 1:49 87-Glad to See You Go (Live at Friars, Aylesbury, Buckinghamshire, 12/30/77)
DR7 0.00 dB -7.65 dB 1:35 88-Gimme Gimme Shock Treatment (Live at Friars, Aylesbury, Buckinghamshire, 12/30/77)
DR7 0.00 dB -8.13 dB 2:24 89-You're Gonna Kill That Girl (Live at Friars, Aylesbury, Buckinghamshire, 12/30/77)
DR7 0.00 dB -8.05 dB 1:40 90-I Don't Care (Live at Friars, Aylesbury, Buckinghamshire, 12/30/77)
DR7 0.00 dB -7.77 dB 2:24 91-Sheena Is a Punk Rocker (Live at Friars, Aylesbury, Buckinghamshire, 12/30/77)
DR7 0.00 dB -7.73 dB 1:35 92-Havana Affair (Live at Friars, Aylesbury, Buckinghamshire, 12/30/77)
DR8 0.00 dB -8.34 dB 1:49 93-Commando (Live at Friars, Aylesbury, Buckinghamshire, 12/30/77)
DR7 0.00 dB -8.26 dB 3:06 94-Here Today, Gone Tomorrow (Live at Friars, Aylesbury, Buckinghamshire, 12/30/77)
DR7 0.00 dB -7.38 dB 2:16 95-Surfin' Bird (Live at Friars, Aylesbury, Buckinghamshire, 12/30/77)
DR7 0.00 dB -7.38 dB 1:42 96-Cretin Hop (Live at Friars, Aylesbury, Buckinghamshire, 12/30/77)
DR7 0.00 dB -7.37 dB 1:35 97-Listen to My Heart (Live at Friars, Aylesbury, Buckinghamshire, 12/30/77)
DR7 0.00 dB -7.46 dB 1:45 98-California Sun (Live at Friars, Aylesbury, Buckinghamshire, 12/30/77)
DR7 0.00 dB -7.51 dB 1:21 99-I Don't Wanna Walk Around with You (Live at Friars, Aylesbury, Buckinghamshire, 12/30/77)
DR7 0.00 dB -8.12 dB 3:00 100-Pinhead (Live at Friars, Aylesbury, Buckinghamshire, 12/30/77)
DR7 0.00 dB -7.29 dB 1:37 101-Do You Wanna Dance? (Live at Friars, Aylesbury, Buckinghamshire, 12/30/77)
DR7 0.00 dB -7.53 dB 1:27 102-Chainsaw (Live at Friars, Aylesbury, Buckinghamshire, 12/30/77)
DR7 0.00 dB -8.17 dB 2:41 103-Today Your Love, Tomorrow the World (Live at Friars, Aylesbury, Buckinghamshire, 12/30/77)
DR7 0.00 dB -7.57 dB 1:58 104-I Wanna Be a Good Boy (Live at Friars, Aylesbury, Buckinghamshire, 12/30/77)
DR7 0.00 dB -7.48 dB 1:52 105-Suzy Is a Headbanger (Live at Friars, Aylesbury, Buckinghamshire, 12/30/77)
DR7 0.00 dB -8.78 dB 2:37 106-Let's Dance (Live at Friars, Aylesbury, Buckinghamshire, 12/30/77)
DR7 0.00 dB -7.35 dB 1:41 107-Oh, Oh, I Love Her So (Live at Friars, Aylesbury, Buckinghamshire, 12/30/77)
DR6 0.00 dB -7.45 dB 1:19 108-Now I Wanna Sniff Some Glue (Live at Friars, Aylesbury, Buckinghamshire, 12/30/77)
DR7 0.00 dB -9.15 dB 3:09 109-We're a Happy Family (Live at Friars, Aylesbury, Buckinghamshire, 12/30/77)
––––––––––––––––––––––––––––––––––––––––

Number of tracks: 109
Official DR value: DR7

Samplerate: 96000 Hz
Channels: 2
Bits per sample: 24
Bitrate: 3090 kbps
Codec: FLAC
================================================================================
All thanks go to the original releaser