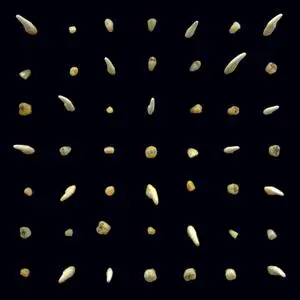 clipping. - Visions of Bodies Being Burned (2020)
FLAC (tracks) 24-bit/48 kHz | Front Cover | Time - 52:39 minutes | 645 MB
Experimental Hip-Hop | Label: Sub Pop Records, Official Digital Download
In the horror genre, sequels are perfunctory. As the insufferable film bro Randy explains in Scream 2, "There are certain rules that one must abide by in order to create a successful sequel. Number one: the body count is always bigger. Number two: the death scenes are always much more elaborate—more blood, more gore. Carnage candy. And number three: never, ever, under any circumstances, assume the killer is dead." Last Halloween, Los Angeles experimental rap mainstays Clipping ended their three-year silence with the horrorcore-inspired album There Existed an Addiction to Blood. This October, rapper Daveed Diggs, and producers Jonathan Snipes and William Hutson return with an even higher body count, more elaborate kills, and monsters that just won't stay dead.
Visions of Bodies Being Burned is less a sequel than it is the second half of a planned diptych. It turns out, Clipping took to the thematic material of horrorcore like vampires to grave soil. In the years following Splendor & Misery—the band's acclaimed dystopian science fiction-rap epic—they simply made too many songs for one album. Before the release of There Existed an Addiction to Blood, Clipping and Sub Pop Records divided the material up into two albums, designed to be released only months apart. However, a global pandemic and multiple canceled tours pushed the release of the project's "part two" until the following Halloween season.
Visions of Bodies Being Burned contains sixteen more scary stories disguised as rap songs, incorporating as much influence from Ernest Dickerson, Clive Barker, and Shirley Jackson as it does from Three 6 Mafia, Bone Thugs-N-Harmony, and Brotha Lynch Hung. Clipping are never critical of their cultural references. Their angular, shattered interpretations of existing musical styles are always deferential, driven by fandom for the object of study rather than disdain for it. Clipping reimagine horrorcore—the purposely absurdist hip-hop subgenre that flourished in the 1990s—the way Jordan Peele does horror cinema: by twisting beloved tropes to make explicit their own radical politics of monstrosity, fear, and the uncanny.
There's a well-worn adage in film scholarship that says: Every era gets the monster it deserves—meaning during each period of history, different monsters come to embody the specific sociopolitical anxieties of the time: Bela Lugosi's Dracula and antisemitism, Godzilla and the atom bomb, Invasion of the Body Snatchers and McCarthyism, Anne Rice's vampires and the AIDS crisis. While these figures are largely reactionary, Clipping intentionally recast their figures of monstrosity through the lens of an antiracist, antipatriarchal, anticolonial politics to address the struggles of our current era. The album's first single, "Say the Name," transforms Scarface's evocative lyric from "Mind Playing Tricks on Me"—"Candlesticks in the dark, visions of bodies being burned"—into a screwed-down Chicago ghetto house loop, mixing together a palette of inspirations from 90s industrial music to a certain mirror-bound, bee-keeping, hook-handed former-slave/urban legend. The second single, "'96 Neve Campbell" is a tribute to the self-aware "final girl" character of the post-slasher film cycle, featuring Inglewood's Cam & China, who prove they do more than survive the masked killer—they preemptive-strike his ass.
The band also connected with fellow noise-rap pioneers Ho99o9 for the song "Looking Like Meat," which more closely resembles the full-on sonic assault of Clipping's first album, Midcity, than any of their music since. Among Clipping's peers, Ho99o9 reveal themselves to be the perfect collaborators to fit into the album's thematic world. Eaddy and theOGM deliver the most unhinged, viscerally alarming moment on the entire record.
Each track pairs a different expression of horror with one of Clipping's signature metamorphic takes on a hip-hop subgenre. "Eaten Alive" pays tribute to the Tobe Hooper film of the same name, aping the swampy drag of No Limit and their ilk over a jagged jazz-rap instrumental featuring Tortoise guitar genius Jeff Parker, and experimental LA drummer Ted Byrnes. "Enlacing" posits Lovecraftian cosmic terror as the result of a psychedelic drift into nothingness, played as a smeary, cloud rap haze. "Pain Everyday" uses real EVP recordings—said to be the voices of restless spirits—atop a cinematic, Venetian Snares-like breakcore collage, as a call-to-arms for the ghosts of lynching victims to haunt the white descendants of their murderers. And "Check the Lock" is a spiritual sequel to Seagram's classic track "Sleepin in My Nikes," describing a drug kingpin's paranoid descent into madness.
While There Existed an Addiction to Blood ended in an all-cleansing fire, Visions of Bodies Being Burned concludes with the break of dawn in a forest, providing the false hope that those who have survived the horror thus far might just be safe for good. The final track, "Secret Piece," is a performance of a Yoko Ono text score from 1953 that instructs the players to "Decide on one note that you want to play/Play it with the following accompaniment: the woods from 5am to 8am in summer," and features nearly all of the musicians who appeared on both albums.
Since their last album, Daveed Diggs—the group's Tony and Grammy Award-winning rapper—has starred in the TNT science fiction series, Snowpiercer, voiced a character in Pixar's Soul, and portrayed Frederick Douglass in Showtime's The Good Lord Bird. Writer Rivers Solomon's novella based on Clipping's Hugo-nominated song "The Deep" has been nominated for the Nebula, Hugo, and Locus Awards, and won the Lambda Literary Award for best LGBTQ SF/Fantasy/Horror novel. Clipping's song "Chapter 319"—a tribute to George Floyd (AKA Big Floyd) the former DJ-Screw affiliated rapper who was murdered by police officers in May of 2020—was released on Bandcamp on June 19th and raised over $20,000 for racial justice charities. A clip of the song also became a popular meme on TikTok, generating over 50,000 videos in which leftist teenagers rapped the song's lyrics ("Donald Trump is a white supremacist, full stop…") directly into the frowning faces of their conservative parents. The band also contributed a Skinny Puppy-esque rework of J-Kwon's "Tipsy" to Save Stereogum: An '00s Covers Comp.
For 2020's Record Store Day, Clipping released Double Live, a collaboration with sound artist Christopher Fleeger. All the audio was recorded during Clipping's 2017 tour opening for the Flaming Lips, but the microphones weren't pointed at the band. Instead, mics were placed in toilets, taped to ceiling pipes, tied to trees, worn by roadies, hidden all over venues. The results were then synchronized and edited over more than a year. Double Live is perhaps more a musique concrète experiment than a traditional live album. On the Tonight Show, Jimmy Fallon said it sounded "Weird."
In his "Album of the Week" review for Stereogum, Tom Breihan described There Existed an Addiction to Blood as "cold, confrontational music, even when it slaps, which it often does." Visions of Bodies Being Burned slaps even more often than its predecessor, although perhaps the only club it will do so in will be the burnt-out, radiation-poisoned rave of some science fiction dystopia. Their new album finds Clipping building upon the language of their already-revolutionary music, while still making the trunk rattle on dilapidated hearses and demon-possessed Plymouth Furys. Never, ever, under any circumstances, assume the killer is dead.
Tracklist:1.
Intro
(02:20)
2.
Say the Name
(04:59)
3.
Wytchboard (Interlude)
(00:30)
4.
'96 Neve Campbell (feat. Cam & China)
(03:21)
5.
Something Underneath
(02:35)
6.
Make Them Dead
(04:06)
7.
She Bad
(03:26)
8.
Invocation (Interlude) [with Greg Stuart]
(01:12)
9.
Pain Everyday (with Michael Esposito)
(03:39)
10.
Check the Lock
(03:37)
11.
Looking Like Meat (feat. Ho99o9)
(03:29)
12.
Drove (Interlude)
(00:51)
13.
Eaten Alive (with Jeff Parker & Ted Byrnes)
(05:41)
14.
Body for the Pile (with Sickness)
(04:24)
15.
Enlacing
(04:43)
16.
Secret Piece
(03:41)
foobar2000 1.4.1 / Dynamic Range Meter 1.1.1
log date: 2021-03-04 08:01:30

––––––––––––––––––––––––––––––––––––––––
Analyzed: clipping. / Visions of Bodies Being Burned
––––––––––––––––––––––––––––––––––––––––

DR Peak RMS Duration Track
––––––––––––––––––––––––––––––––––––––––
DR6 -0.40 dB -8.05 dB 2:20 01-Intro
DR6 -0.40 dB -7.41 dB 5:00 02-Say the Name
DR14 -1.50 dB -18.66 dB 0:30 03-Wytchboard (Interlude)
DR4 -0.40 dB -6.41 dB 3:21 04-'96 Neve Campbell (feat. Cam & China)
DR4 -0.40 dB -6.05 dB 2:36 05-Something Underneath
DR5 -0.40 dB -7.30 dB 4:06 06-Make Them Dead
DR7 -0.40 dB -9.43 dB 3:27 07-She Bad
DR5 -1.19 dB -15.47 dB 1:13 08-Invocation (Interlude) (with Greg Stuart)
DR5 -0.40 dB -6.67 dB 3:39 09-Pain Everyday (with Michael Esposito)
DR5 -0.40 dB -7.22 dB 3:37 10-Check the Lock
DR4 -0.41 dB -5.53 dB 3:30 11-Looking Like Meat (feat. Ho99o9)
DR7 -1.82 dB -10.40 dB 0:52 12-Drove (Interlude)
DR8 -0.40 dB -11.34 dB 5:41 13-Eaten Alive (with Jeff Parker & Ted Byrnes)
DR7 -0.40 dB -8.97 dB 4:25 14-Body for the Pile (with Sickness)
DR4 -0.40 dB -6.61 dB 4:43 15-Enlacing
DR7 -2.19 dB -13.63 dB 3:41 16-Secret Piece
––––––––––––––––––––––––––––––––––––––––

Number of tracks: 16
Official DR value: DR6

Samplerate: 48000 Hz
Channels: 2
Bits per sample: 24
Bitrate: 1648 kbps
Codec: FLAC
================================================================================


Thanks to the Original customer!