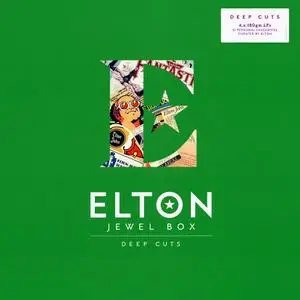 Elton John - Jewel Box: Deep Cuts (4xVinyl LP) (2020)
Vinyl Rip | FLAC (tracks) 24-bit/192 kHz | Time - 157:49 minutes | 5,9 GB | Artwork - 281 MB
Pop Rock | Label: EMI Records
Curated by Elton himself and taken from the 'Jewel Box' 8-CD boxset, this 4LP gatefold black vinyl album takes a trip through a glittering career encompassing his favourite hidden gems and overlooked classics from a staggering body of work.
Elton says: 'To delve back through every period of my career in such detail for Jewel Box has been an absolute pleasure. Hearing these long lost tracks again, I find it hard to comprehend just how prolific Bernie Taupin and I were during the early days.
"The songs just poured out of us and the band were just unbelievable in the studio. I always want to push forward with everything I do and look to the future, but having time during lockdown to take stock and pull these moments from my memory from each era has been a joy. As a devout record collector myself, this project has really excited me and I couldn't be happier with the level of craft involved in such a carefully curated, lovingly constructed box set. I'm sure my fans will enjoy it as much as I have."
Tracklist:A1
– Monkey Suit
A2
– Where To Now St Peter?
A3
– Mellow
A4
– The Ballad Of Danny Bailey (1909 - 1934)
B1
– Chameleon
B2
– Gone To Shiloh
B3
– We All Fall In Love Sometimes
B4
– Too Low For Zero
C1
– The Power
C2
– All That I'm Allowed (I'm Thankful)
C3
– The Bridge
C4
– The New Fever Waltz
D1
– Stone's Throw From Hurtin'
D2
– The North
D3
– Hoop Of Fire
D4
– Boogie Pilgrim
E1
– Ticking
E2
– Crystal
E3
– All Quiet On The Western Front
F1
– Tell Me When The Whistle Blows
F2
– Freaks In Love
F3
– Never Too Old (To Hold Somebody)
F4
– The Emperor's New Clothes
G1
– House
G2
– (Gotta Get Me A) Meal Ticket
G3
– Understanding Women
G4
– Shoot Down The Moon
H1
– Have Mercy On The Criminal
H2
– Blues For Baby And Me
H3
– My Quicksand
H4
– Street Kids
foobar2000 1.4.1 / Dynamic Range Meter 1.1.1
log date: 2021-01-01 16:02:05

––––––––––––––––––––––––––––––––––––––––
Analyzed: Elton John and Leon Russell / Jewel Box (Deep Cuts) (1-3)
Elton John with Little Richard / Jewel Box (Deep Cuts) (4)
Elton John / Jewel Box (Deep Cuts) (5-31)
––––––––––––––––––––––––––––––––––––––––

DR Peak RMS Duration Track
––––––––––––––––––––––––––––––––––––––––
DR11 -1.64 dB -14.37 dB 4:45 01-Monkey Suit
DR11 -2.57 dB -16.63 dB 4:49 06-Gone To Shiloh
DR11 -1.99 dB -14.86 dB 4:55 22-Never Too Old (To Hold Somebody)
DR14 -1.13 dB -16.61 dB 6:26 09-The Power
DR13 -1.99 dB -17.70 dB 4:13 02-Where To Now St Peter?
DR12 -2.33 dB -16.69 dB 5:31 03-Mellow
DR11 -0.35 dB -15.89 dB 4:22 04-The Ballad Of Danny Bailey (1909 - 1934)
DR12 -2.12 dB -17.49 dB 5:30 05-Chameleon
DR13 -0.29 dB -18.37 dB 4:17 07-We All Fall In Love Sometimes
DR11 -2.37 dB -15.34 dB 5:46 08-Too Low For Zero
DR13 -0.30 dB -15.91 dB 4:53 10-All That I'm Allowed (I'm Thankful)
DR10 -5.58 dB -18.20 dB 3:35 11-The Bridge
DR12 -3.31 dB -17.76 dB 4:41 12-The New Fever Waltz
DR11 -1.58 dB -14.08 dB 4:58 13-Stone's Throw From Hurtin'
DR11 -5.47 dB -18.34 dB 5:16 14-The North
DR15 -1.67 dB -19.42 dB 4:17 15-Hoop Of Fire
DR12 -1.90 dB -15.69 dB 6:07 16-Boogie Pilgrim
DR12 -2.99 dB -18.61 dB 7:37 17-Ticking
DR11 -1.43 dB -13.80 dB 5:08 18-Crystal
DR12 -0.30 dB -16.90 dB 6:01 19-All Quiet on the Western Front
DR14 -0.32 dB -16.01 dB 4:21 20-Tell Me When the Whistle Blows
DR12 -0.30 dB -15.09 dB 4:35 21-Freaks in Love
DR12 -1.04 dB -16.36 dB 4:30 23-The Emperor's New Clothes
DR14 -0.47 dB -17.25 dB 4:28 24-House
DR13 -0.30 dB -15.34 dB 4:02 25-(Gotta Get a) Meal Ticket
DR12 -1.47 dB -14.94 dB 5:05 26-Understanding Women
DR11 -2.64 dB -17.26 dB 4:55 27-Shoot Down the Moon
DR10 -0.30 dB -13.96 dB 5:56 28-Have Mercy on the Criminal
DR12 -1.25 dB -15.52 dB 5:40 29-Blues for My Baby and Me
DR12 -3.42 dB -17.46 dB 4:47 30-My Quicksand
DR12 -1.09 dB -15.10 dB 6:24 31-Street Kids
––––––––––––––––––––––––––––––––––––––––

Number of tracks: 31
Official DR value: DR12

Samplerate: 192000 Hz
Channels: 2
Bits per sample: 24
Bitrate: 5486 kbps
Codec: FLAC
================================================================================


Transfer Notes
Another joint "DarkDoctor" production, completed 2020-12-30: raw vinyl transfers and artwork scans by Darkivist; artwork and audio cleanup by Dr. Robert.

As always: please enjoy! — darkivist (ripping with love since 2010)

GEAR:
Spin Clean II RCM prewash
VPI 16.5 RCM with three-step Audio Intelligent Vinyl Solutions fluids (if needed)
Klaudio Ultrasonic RCM final cleaning
Milty Zerostat 3
VPI Classic 3 / Audio-Technica VM760SLC dual moving magnet / HRX ring clamp and center weight
Lounge LCRMKIII phono stage
Sweet Vinyl SugarCube SC-1 hardware noise removal system
McIntosh MA6850 integrated amp
Apogee Quartet audio interface
Sennheiser HD-7XX headphones
BlueSky eXo 2.1 studio monitor system
2017 4.2ghz Intel i7 27" iMac
Adobe Audition CS 2018
FLAC encoded with XLD
Epson 12000XL-GA large-format scanner
Adobe Photoshop / Adobe Acrobat
Thanks to the Original customer!