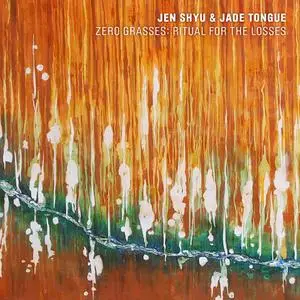 Jen Shyu & Jade Tongue - Zero Grasses: Ritual for the Losses (2021)
FLAC (tracks) 24-bit/96 kHz | Front Cover | Time - 60:15 minutes | 1,11 GB
Avant-Garde Jazz | Label: Pi Recordigns, Official Digital Download
Zero Grasses: Ritual for the Losses, the new work by sui generis vocalist, composer and multi-instrumentalist Jen Shyu, is a collection of songs devoted to the marginalized voices of women around the world, and a profound elegy to personal loss. It follows Song of Silver Geese (Pi 2017), which The New York Times named one of the best albums of the year, and Downbeat called "spellbinding" and "rapturous." The album also features the return of Jade Tongue, an ensemble made up of musical innovators with whom Shyu has created music for over a decade. They last appeared on her groundbreaking and highly acclaimed 2015 Pi release Sounds and Cries of the World, which NPR called: "no drive-by encounter between musical cultures, no cherry picking of exotic licks. This is research and experience, absorbed and reimagined."
Shyu's latest album is dedicated to her father, who passed away in April of 2019. It was shaping up to be another banner year: she was awarded the prestigious Guggenheim and United States Artist Fellowships, and – as she has done numerous times before in places such as Korea, Timor, Indonesia, and Taiwan – had set out for five months in Japan to immerse herself in the study of Japanese traditional music, its language, and biwa performance practices. It was shortly into her residency that she was informed of her father's unexpected death and so flew immediately to her parents' home in Texas. While helping her mother go through her father's possessions, Shyu came across her childhood diaries. Reading them helped transform Zero Grasses into a coming-of-age story about her ambitions, legacy, and personal reflections on the racism and sexism that she has faced throughout her life. The subsequent events of 2020 also made her reflect further on the ongoing racism in our society and life during a global pandemic.
The music on Zero Grasses spans the full range from ancient to modern, referencing traditional Javanese music, Japanese "katari" (or speaking the song) that is sung with the biwa, East Timorese chant from Ataúro island, all derived from her 15-plus years of immersive fieldwork on languages and traditional musics of her own ancestry and other cultures. Her work is unique in its combination of languages and musical forms from these traditions, contemporary composition, jazz, improvised music, and dream-like narrative. It's an innovative architecture of sound that could never be heard anywhere else. Accompanying her with thoughtful sensitivity are Ambrose Akinmusire on trumpet, Mat Maneri on viola, Thomas Morgan on bass, and Dan Weiss on drums. Together they reflect the anger, sorrow and wistful longing of the music.
Much of Zero Grasses can be found as part of her eponymous theatrical solo performance, which was commissioned by John Zorn and premiered in October, 2019 at National Sawdust in Brooklyn, NY. It is her third fully-staged, multimedia production – all of which she has conceived, produced, composed, and performed herself – following Solo Rites: Seven Breaths in 2014 and Nine Doors in 2017. As in all her projects – a practice she calls "multilingual, ritual music dramas" – Shyu draws upon an astounding array of disciplines: dance, narrative storytelling, theater, in addition to her singing in five languages (Javanese, Indonesian, Resuk from Timor Leste, Japanese, and English), playing multiple instruments (Japanese biwa, Taiwanese moon lute, and piano), and incorporation of ancient performance practices absorbed from her immersive studies.
In addition to the pieces from the theatrical production, the album also includes two pieces – "Display Under the Moon" and "A Cure for the Heart's Longing" – taken from Nine Doors. Shyu composed "Living's a Gift" (commissioned by American Composers Forum) and "Lament for Breonna Taylor" in 2020 at the height of the pandemic and the outcry over the gross injustices and killings of Black lives. Shyu sings all the vocal parts on the former – her first composition for choir – which is set to the heartbreakingly wise words of middle schoolers affected by the COVID-19 pandemic. The latter is dedicated to Breonna Taylor, a 26-year-old Black woman brutally murdered in her own apartment by police who had forcibly broken into her Louisville, Kentucky home. The song quotes from interviews with Taylor's mother, Tamika Palmer, and represents Shyu's desire to honor and give voice to Black lives that have been destroyed. "The Human Color" is a piece first recorded on her album Jade Tongue (Chiuyen Music 2009) about the history of Chinese indentured servants who were kidnapped and labored alongside enslaved African people in Cuba in the 19th century under Portuguese and Spanish colonialism. She recorded it again as it speaks to this moment in history, a call for solidarity in the ongoing war against racism.
The sudden passing of Shyu's father changed everything for her, including her approach to Zero Grasses, and her own attitude toward her career, ambitions, life choices, fertility, and family. "I was suddenly confronted with questions of legacy, one's future children, what possessions really mean, what you're doing with your life, all these questions burning while you're feeling unfathomable grief," she said. Though it is far-reaching and ambitious, it is ultimately the most deeply personal work of Shyu's career.
"With Zero Grasses, I'm challenging myself again, starting from scratch," Shyu has said. "The work is still being built because it is so deeply personal and current to what's happening in my life; now sitting beside death, in a way, from my dad's passing, experiencing ending sand beginnings of relationships with pressing issues very close to home, that are also undeniably global. Creating this piece in particular has been like excavating objects, memories, and experiences from my childhood impulses, and seeing how they shaped this living, breathing moment. Almost like solving a mystery; tapping into dreams and visions and the powerful choices we make." It is a palpable homage to her father, who encouraged her to follow her heart and inspired her to "live life as I envision it."
Tracklist:1.
Living's a Gift | Part 1: Springtime
(01:56)
2.
Living's a Gift | Part 2: Everything for Granted
(01:23)
3.
Living's a Gift | Part 3: My Unsolved Regrets
(03:20)
4.
Living's a Gift | Part 4: Joyful
(02:30)
5.
Lament for Breonna Taylor
(06:42)
6.
The Human Color
(03:39)
7.
A Cure for the Heart's Longing
(03:53)
8.
Body of Tears
(04:10)
9.
When I Have Power
(04:14)
10.
Finally She Emerges
(03:29)
11.
Display Under the Moon | 月下の陣
(09:08)
12.
Father Slipped Into Eternal Dream
(06:44)
13.
With Eyes Closed You See All
(04:51)
14.
Life As You Envision
(04:17)
foobar2000 1.6.6 beta 3 / Dynamic Range Meter 1.1.1
log date: 2021-04-26 20:41:03

––––––––––––––––––––––––––––––––––––––––
Analyzed: Jen Shyu / Zero Grasses: Ritual for the Losses
––––––––––––––––––––––––––––––––––––––––

DR Peak RMS Duration Track
––––––––––––––––––––––––––––––––––––––––
DR10 -0.70 dB -15.51 dB 1:56 01-Living's a Gift - Part 1: Springtime
DR12 -0.59 dB -15.96 dB 1:23 02-Living's a Gift - Part 2: Everything for Granted
DR11 -0.57 dB -14.64 dB 3:20 03-Living's a Gift - Part 3: My Unresolved Regrets
DR12 -0.68 dB -15.65 dB 2:30 04-Living's a Gift - Part 4: Joyful
DR9 -1.09 dB -16.08 dB 6:42 05-Lament for Breonna Taylor
DR13 -1.65 dB -21.17 dB 3:39 06-The Human Color
DR11 -0.69 dB -14.09 dB 3:53 07-A Cure for the Heart's Longing
DR8 -0.70 dB -11.47 dB 4:10 08-Body of Tears
DR9 -0.53 dB -12.60 dB 4:14 09-When I Have Power
DR10 -0.69 dB -14.35 dB 3:29 10-Finally She Emerges
DR11 -0.59 dB -15.07 dB 9:08 11-Display of the Moon
DR10 -0.88 dB -15.32 dB 6:44 12-Father Slipped into Eternal Dream
DR10 -0.77 dB -15.20 dB 4:51 13-With Eyes Closed You See All
DR10 -0.66 dB -14.38 dB 4:17 14-Life as You Envision
––––––––––––––––––––––––––––––––––––––––

Number of tracks: 14
Official DR value: DR10

Samplerate: 96000 Hz
Channels: 2
Bits per sample: 24
Bitrate: 2701 kbps
Codec: FLAC
================================================================================


Thanks to the Original customer!