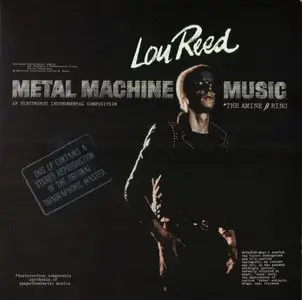 Lou Reed – Metal Machine Music [The Amine β Ring](1975)(2011 remaster)
Vinyl rip in 24-bit / 96kHZ and redbook | FLAC | no cue or log (vinyl) | artwork
370 MB (24/96) + 1,370 MB (RB) | RS,FF | Industrial / Noise | Sister Ray LP-SRAY-002
The original. The one that started it all. Noise Rock. Industrial Rock. Underground for years Metal Machine Music survived on the power of an idea. No key, no vocals and no set rhythm… hhhmmmm feedback forever. Supervised by Lou Reed and faithfully remastered to the last squeal.
The out of print "Quad" vinyl has been replicated–creating the perfect vinyl version playable on your stereo turntable with the original rear sections moved to the center of the front left/right speakers.
Worked from digital transfers (96k 24 bit) made from original analog masters. The original label supplied us with these files and photo copies of the analog reels INCLUDING copies of Bob Ludwig's mastering notes.
An act of love for an act of sound.
Metal Machine Music, subtitled *The Amine β Ring, is an album by Lou Reed. It was originally released as a double album by RCA Records in 1975. It was reissued on a single compact disc by BMG in 1997 and again by Buddah Records in 2000. And again in 2011 in vinyl.
As a radical departure from the rest of Reed's catalog, Metal Machine Music is generally considered to be either a joke, a grudging fulfillment of a contractual obligation, or an early example of noise music. The album features no songs or even recognizably structured compositions, eschewing melody and rhythm for an hour of over-modulated feedback and guitar effects, intricately mixed at varying speeds by Reed himself. In the album's liner notes he claimed to have invented heavy metal music and asserted that Metal Machine Music was the ultimate conclusion of that genre. The album made Reed a laughing stock in the rock industry while simultaneously opening the door for his later, more experimental material. Historically, Metal Machine Music is now considered a seminal forerunner of industrial music, noise rock, and contemporary sound art.
In 2010, Reed, Ulrich Krieger, and Sarth Calhoun collaborated to tour playing free improvisation inspired by the album as Metal Machine Trio. That same year, Reed announced his plans to re-release Metal Machine Music in remastered form.
Lester Bangs somewhat famous
review
AMG
review
Rolling Stone
review
Robert Christgau
review
Side one
"Metal Machine Music, Part 1″ – 16:10
Side two
"Metal Machine Music, Part 2″ – 15:53
Side three
"Metal Machine Music, Part 3″ – 16:13
Side four
"Metal Machine Music, Part 4″ – 15:55
On the original vinyl release, timings for sides 1–3 were stated as "16:01″, while the 4th side read "16:01 or ∞", as the last groove on the LP was a continuous loop.
–––––––––––––––––––––––––––––––––––––––––––––––
Analyzed folder: /metalmachinemusic
–––––––––––––––––––––––––––––––––––––––––––––––
DR Peak RMS Filename
–––––––––––––––––––––––––––––––––––––––––––––––
DR10 -3.60 dB -16.02 dB A1 metal machine music part - 1
DR10 -3.50 dB -16.43 dB B1 metal machine music part - 2
DR10 -4.16 dB -16.06 dB C1 metal machine music part - 3
DR10 -2.78 dB -15.21 dB D1 metal machine music part - 4
–––––––––––––––––––––––––––––––––––––––––––––––
Number of files: 4
Official DR value: DR10
======================================================================================
power: Dedicated circuit, Monster HTS1000 PowerCenter
cleaning: Steam clean→ wash → distilled h2O rinse → vacuum → carbon fibre brush → zerostat
hw: Technics SL1100-A w/ AT-OC9ML/II → Pro-Ject Tube Box SE II → E-MU 0404 → MacBook Pro
sw: Audacity [capture 24-bit/96kHZ] → Izotope RX2 [de-click/resample] → Xact [sbe correction] → XLD [flac conversion/tag]