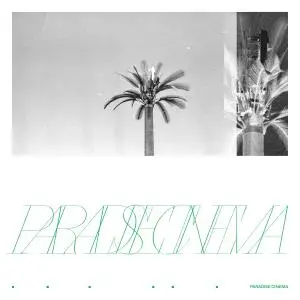 Paradise Cinema - Paradise Cinema (Extended Edition) (2020)
FLAC (tracks) 24-bit/48 kHz | Front Cover & Digital Booklet | Time - 49:04 minutes | 539 MB
Contemporary Jazz, Ethnic Fusion, Tribal | Label: Gondwana Records, Official Digital Download
On October 9th the multi-instrumentalist Jack Wyllie (Portico Quartet/Szun Waves) presents his new project Paradise Cinema. It was recorded in Dakar, Senegal in collaboration with mbalax percussionists Khadim Mbaye (saba drums) and Tons Sambe (tama drums).
The impressionistic and dream-like quality of 'Paradise Cinema' is a stunningly effective realisation of Wyllie's experience, in a hypnagogic state of aural consciousness:
"I had a lot of nights in Dakar, when the music around the city would go on until 6am. I could hear this from my bed at night and it all blended together, in what felt like an early version of the record."
Atmospherically 'Paradise Cinema' is vaporous and enigmatic, but also percussive; existing in a paradoxical sound-space that's amorphous, yet still purposeful, serene, but propulsive and aesthetically sharp.
Khadim Mbaye and Tons Sambe, provide the rhythmic backbone of the record. There are traditional elements of mbalax rhythm, but it is often deconstructed or played at tempos outside of the tradition, so while it hints at a location it occupies a space outside of any specific region.
'Paradise Cinema' is also informed by notions of hauntology – a philosophical concept originating in the work of French philosopher Jacques Derrida – on possible futures that were never realised and how directions taken in the past can haunt the present.
On the album's title Wyllie comments, "there are a handful of old cinemas in Dakar – these big modernist buildings dotted around the city built around independence. They're old and derelict now, but feel to me like monuments to that period, when the city was flooded with utopian ideas about its potential futures."
As such it sits closely to 4th world music – situated in an imagined culture and time that never came to pass. And while it contains rhythmic references to Senegal it combines these elements with ambient and minimalist music to produce a sound that sits outside of any tradition.
Setting the tone for the long-player's themes is the optimism-driven, balmy beauty of 'Possible Futures', where rich-toned drums throb and levitate in a stratospheric ether.
Like a time-lapse video of plants in bloom, 'It Will Be Summer Soon' is the sound of anticipation and growth. Rhythmically it flickers and flutters, evoking rainfall, or the blurred wings of a bird in in flight.
Casamance moves through field recordings drifting in and out of focus, beats pitched-down low and unfurling saxophone, whilst the ambient 'Utopia' was made mainly with processed saxophone and suggests a longing for a perfect world.
Galloping percussion juxtaposes with a wistful mood on 'Liberté' – a title that references a derelict modernist cinema in Dakar of the same name – a hauntological landmark, made more poignant by the its name being part of the French national motto.
Tying into the cover artwork, Jack explains, "the 'Digital Palm is a telecommunications mast disguised as a palm tree in central Dakar. As a modern piece of technology that on first glance looks natural, it mirrors the combination of modern and acoustic elements."
Perhaps eliciting a time that never came, or maybe still in hope of it yet to come, 'Eternal Spring' concludes the LP's otherworldly beauty with hypnotic drums powering a subtly-building, sparkling and powerful crescendo.
Jack Wyllie is a musician, composer, electronic producer who draws on influences of jazz, ambient, and the trance-inducing repetition of minimalism.
Wyllie performs and records in Portico Quartet, Szun Waves (with Luke Abbott and Laurence Pike) and Xoros. He has also collaborated with Charles Hayward, Adrian Corker and Chris Sharkey and released on Ninja Tune, Babel, Leaf, Real World and Gondwana.
Khadim Mbaye and Toms Sambe play in various mbalax groups in Dakar. Khadim has also toured internationally with Cheikh Lo.
Tracklist:1.
Possible Futures
(06:17)
2.
It Will Be Summer Soon
(06:18)
3.
Casamance
(05:01)
4.
Utopia
(02:46)
5.
Liberté
(03:41)
6.
Digital Palm
(04:50)
7.
Paradise Cinema
(04:35)
8.
Eternal Spring
(06:28)
9.
Eternal Spring Epilogue (Bonus Track)
(04:17)
10.
Digital Palm Reprise (Bonus Track)
(04:45)
foobar2000 1.4.1 / Dynamic Range Meter 1.1.1
log date: 2021-12-04 14:28:31

––––––––––––––––––––––––––––––––––––––––
Analyzed: Paradise Cinema / Paradise Cinema
––––––––––––––––––––––––––––––––––––––––

DR Peak RMS Duration Track
––––––––––––––––––––––––––––––––––––––––
DR5 -0.40 dB -8.75 dB 6:18 01-Possible Futures
DR6 -0.40 dB -8.20 dB 6:19 02-It Will Be Summer Soon
DR6 -0.40 dB -8.28 dB 5:01 03-Casamance
DR9 -0.40 dB -12.38 dB 2:46 04-Utopia
DR7 -0.40 dB -9.28 dB 3:42 05-Liberté
DR7 -0.40 dB -9.19 dB 4:50 06-Digital Palm
DR7 -0.40 dB -8.75 dB 4:36 07-Paradise Cinema
DR5 -0.40 dB -9.00 dB 6:29 08-Eternal Spring
DR6 -0.40 dB -9.69 dB 4:18 09-Eternal Spring Epilogue (Bonus Track)
DR6 -0.40 dB -8.82 dB 4:45 10-Digital Palm Reprise (Bonus Track)
––––––––––––––––––––––––––––––––––––––––

Number of tracks: 10
Official DR value: DR6

Samplerate: 48000 Hz
Channels: 2
Bits per sample: 24
Bitrate: 1598 kbps
Codec: FLAC
================================================================================


Thanks to the Original customer!