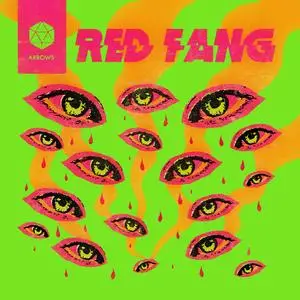 Red Fang - Arrows (2021)
FLAC (tracks) 24-bit/88,2 kHz | Front Cover | Time - 43:13 minutes | 833 MB
Stoner Metal | Label: Relapse Records, Official Digital Download
RED FANG return with their highly anticipated new album, Arrows! Their first album in four years, everyone's favorite beer-crushing, zombie-killing, air-guitar-contest-judging metal heroes are back in action, doing what they do best- AND MORE.
"This record feels more like Murder The Mountains to me than any record we've done before or since," bassist/vocalist Aaron Beam ventures. "It doesn't sound like that record, but Murder the Mountains was us doing whatever the fuck we wanted, and that's what this is, too."
Arrows was recorded at Halfling Studios in the band's hometown of Portland, OR, with longtime collaborator Chris Funk, producer of Murder The Mountains and 2013's Whales and Leeches. "Chris is a major influencer as far as the weird ambient stuff in between the songs and the creepy incidental noises within the songs," guitarist Bryan Giles points out. "I think he definitely creates an added layer of atmosphere that we wouldn't have otherwise."
Arrows is also a proper title track, which is new territory for the band. "This is the first time we've named an album after a song that's actually on the album," Beam explains. "We have other albums that are named after songs of ours that are not on those albums. So this time we're really fucking with you because we didn't fuck with you."
Similarly, fans might not believe what the song "Arrows" is partially about. "If you're confused by some of the lyrics to the song, that makes sense," Beam explains. "But it makes reference to meditation. I started meditating six years ago, but I can only do it when I'm not feeling too anxious. So, when I don't need it, that's when I can do it."
Elsewhere, "Fonzi Scheme" was named after legendary Happy Days cool guy Arthur Fonzarelli—if only because it's in the key of his famous catchphrase, "Aaay." Producer Chris Funk came up with the idea of bringing in string players from the Portland Cello Project to class up the track.
Meanwhile, the opening riff of closer "Funeral Coach" was written 11 years ago. But it took until recently for the song to blossom into its full double-entendre glory. "I was driving around and I saw a hearse that said 'funeral coach services' on the back," Beam explains. "So the first thing that popped into my head was a dude with a headset and a clipboard going, 'Alright, dudes—more tears! Five minutes in is when the tears are critical, or no one's gonna believe that anyone cares that this person died.'"
In a nod to tradition, Arrows will be available in formats that include all the drums, bass, guitars and vocals. But it could've gone another way. "Our original idea was to release the album with no vocals or guitar solos," Beam explains. "If you want the guitar solos, it's an extra five bucks. If you want the vocals, it's an extra ten bucks. So basically people should feel lucky that we didn't do that. You get to buy the whole thing altogether."
RED FANG think of it as a generous display of gratitude toward their fans. "Yeah," says Sherman, "Thank you for buying our album, you lucky bastards."
Tracklist:1.
Take It Back
(01:58)
2.
Unreal Estate
(05:08)
3.
Arrows
(03:52)
4.
My Disaster
(01:56)
5.
Two High
(03:54)
6.
Anodyne
(03:35)
7.
Interop-Mod
(01:02)
8.
Fonzi Scheme
(04:14)
9.
Days Collide
(05:44)
10.
Rabbits in Hives
(01:36)
11.
Why
(03:08)
12.
Dr. Owl
(03:33)
13.
Funeral Coach
(03:25)
foobar2000 1.4.1 / Dynamic Range Meter 1.1.1
log date: 2021-06-02 21:02:33

––––––––––––––––––––––––––––––––––––––––
Analyzed: Red Fang / Arrows
––––––––––––––––––––––––––––––––––––––––

DR Peak RMS Duration Track
––––––––––––––––––––––––––––––––––––––––
DR6 -5.10 dB -13.24 dB 2:01 01-Take It Back
DR7 -0.10 dB -8.42 dB 5:09 02-Unreal Estate
DR7 -0.10 dB -8.21 dB 3:53 03-Arrows
DR6 -1.53 dB -8.85 dB 1:56 04-My Disaster
DR7 -0.10 dB -8.48 dB 3:54 05-Two High
DR7 -0.10 dB -8.49 dB 3:36 06-Anodyne
DR9 0.00 dB -11.11 dB 1:02 07-Interop-Mod
DR8 -0.10 dB -8.93 dB 4:14 08-Fonzi Scheme
DR7 -0.10 dB -9.11 dB 5:44 09-Days Collide
DR8 -0.10 dB -8.71 dB 1:36 10-Rabbits in Hives
DR7 -0.10 dB -9.67 dB 3:08 11-Why
DR8 -0.10 dB -8.81 dB 3:34 12-Dr. Owl
DR7 -0.29 dB -8.35 dB 3:26 13-Funeral Coach
––––––––––––––––––––––––––––––––––––––––

Number of tracks: 13
Official DR value: DR7

Samplerate: 88200 Hz
Channels: 2
Bits per sample: 24
Bitrate: 2699 kbps
Codec: FLAC
================================================================================


Thanks to the Original customer!