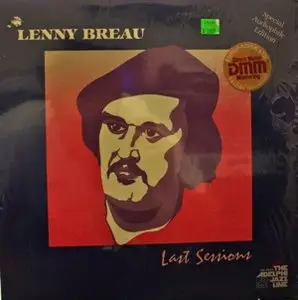 Lenny Breau - Last Sessions
Vinyl rip in 24-bit/96kHz | FLAC (5% Recovery) | no cue or log (vinyl) | Full LP Artwork
695 MB (24/96) + 147 mB (RB) | RS + HF | Jazz | 1988
Adelphi Jazz AD 5024 Direct Metal Mastering (DMM) Special Audiophile Edition
The final solo guitar recordings of Lenny Breau prior to his untimely death (murder) in August 1984. Released as a Direct Metal Mastering (DMM) special audiophile edition.
The term
"best unknown guitarist"
gets bandied about quite a bit, but you might seriously want to check out Lenny before you decide who you think should hold that title… and see what some other legendary players thought of Lenny too! Try to check out the video of his life, "The Genius Of Lenny Breau", an amazing, albeit tragic story of an incredible talent!
"Lenny Breau played more great stuff at one time than anybody on the planet… with feeling and tone. He was the best that ever lived, bar none."
-Danny Gatton

"He is one of the true geniuses of the guitar. I suppose he is a musician's musician. His knowledge of the instrument and the music is so vast, and I think that's what knocks people out about him. But he's such a tasty player too. I think if Chopin had played guitar, he would have sounded like Lenny Breau."
-Chet Atkins, CGP

"[Lenny] is the best I have ever heard, and I have heard some players!"
-Jerry Reed, CGP

"He had the ability to reach into your heart."
-Larry Carlton

"He dazzled me with his extraordinary guitar playing… I wish the world had the opportunity to experience his artistry."
-George Benson

"Lenny Breau was the most innovative guitarist since Wes Montgomery."
-Phil Upchurch
(Phil also mentions that Wes became a huge Lenny fan after hearing just one album by him in the late 60s – most likely "Velvet Touch")

"What really got me was the soul behind all the playing."
-Mike Stern

"Regardless of style, few musicians have been universally held in such high esteem by their peers."
-Jim Ferguson, "Lenny Breau Remembered", Guitar Player Magazine 1984

"The late Lenny Breau was an uncrowned king of jazz fingerstyle guitar. A relatively unknown voice on the instrument, he startled newcomers to his music by his ability to comp chords behind himself sounding like two guitarists, ring out lengthy bell-like harmonic passages, tastefully blend his influences of country, jazz and flamenco and fluidly improvise in this style."
-Brawner Smoot, "The Immortal Lenny Breau" 1986

"It was the freshest, most exciting thing I had heard in years. … He…was doing things that I never dreamed of. It was one of the greatest days of my life, the first day I heard Lenny."
-Chet Atkins

"Lenny is the greatest guitar player in the world today. I think he knows more guitar than any guy that's ever walked the face of the earth, because he can play jazz, he can play a little classical, he can play great country–and he does it all with taste."
-Chet Atkins

"My first reaction was a combination of jealousy, envy, admiration – because he was so good and so original. I thought, 'Oh my God. This guy is light years ahead of me and so many other people around here.'"
-Ed Bickert

"I have found a better player than I am."
-Merle Travis, describing a then 12-year-old Lenny

"Breau was perhaps the most technically brilliant guitarist of our time. … Gatton thought Breau was the best ever."
-Steve Wolf, article from Danny Gatton's official hall of fame page

"It must be remembered that Coltrane's Jazz in 1962 was better known for experimentation…. This type of eccentric and unorthodox playing, which most musicians and guitarists could not comprehend, nor play, appealed to Lenny. When Lenny sat in…when Lenny's turn came to play, the effect was electrifying. Coltrane leaned over with eyes wide-open, looked at Lenny's hands, and smiled."
-George Sykornyk, on Lenny's encounter with John Coltrane

"Even when Lenny noodled, it was a feast!"
-Frank Zappa's words through Steve Vai

"The late Lenny Breau was a true jazz guitar genius who ranks alongside Django Reinhardt, Charlie Christian and Wes Montgomery as one of a select few inspired innovators who set new standards of creative artistry in Jazz Guitar history.
Lenny's musical influences were truly diverse. They ranged from Country fingerstyle master Chet Atkins, Jazz Guitarists Johnny Smith and Tal Farlow, Flamenco virtuoso Sabicas, Jazz pianist Bill Evans and sax titan John Coltrane. Drawing from these eclectic sources Lenny created a truly unique voice in the guitar world.
Lenny's unprecedented technical facility and depth of musical insight allowed him to play Bill Evans style chord voicings simultaneously with improvised single note lines. His country and classical right hand techniques allowed for great independence of parts and subtle tonal and dynamic shadings. Lenny possessed a singular blend of techniques and musical knowledge that often created the illusion of two and sometimes three musicians eminating from a single guitarist."
-Guitarchives

"He was the best electric bassist ever including Jaco [Pastorious]. He played the best solo on bass that you ever heard. It was ridiculous. Lenny was so advanced on bass that most guys wouldn't even try to do what he was doing because it was light years beyond anything they could ever think about."
-Don Thompson, universally regarded one of the greatest jazz bassists and multi-instrumentalists ever

"One day I was at Chet's and he told me he wanted me to meet this guitarist. Lenny was upstairs playing. Even before I made it half way up the stairs I was hearing things that were astonishing. Ten minutes later I was sitting with Lenny who began to play harmonics such as I have never in my life, and then I started learning right there and then. Chet, and he mentions it in his autobiography, always regretted that he didn't film that session. To this day, there is no one in the world who can do what Lenny did and we are all indebted to his legacy."
-Tommy Emmanuel

"Then Lenny Breau came along, and he could play like everyone: Chet, Joe [Pass], Bill Evans, Gene Autry [laughs], and that's what really floored me. When you're learning what Lenny does, you're learning everything, because he was covering so many genres. It was frustrating, really."
-Phil deGruy

"His intuition was the predominant force in his playing, rather than his intellect. … He knew the chords he was playing, and he could spell them out if he had to, but he was more into musical colors, which he largely achieved using harmonics'simultaneous, cascading, and various amalgamations. He was always finding something new."
-Phil deGruy

"One night I heard out of the blue just as I was getting ready to go to sleep this guitar player singing quietly with harmonics, and different voicings, and I felt this electric bolt go through me. I sat up and I couldn't believe what I was hearing."
-Lorne Lofsky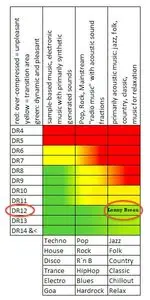 –––––––––––––––––––––––––––––––––––––––––––––––
Analyzed folder: /2496_lenny_breau
–––––––––––––––––––––––––––––––––––––––––––––––
DR Peak RMS Filename
–––––––––––––––––––––––––––––––––––––––––––––––

DR13 -11.79 dB -28.77 dB A1 Ebony Queen - Pam's Pad #2.wav
DR11 -12.61 dB -27.61 dB A2 Meanwhile Back In L.A..wav
DR13 -10.16 dB -27.47 dB A3 Paris.wav
DR12 -11.04 dB -26.44 dB B1 Ba De Da Da.wav
DR11 -10.50 dB -25.55 dB B2 Feelings.wav
DR11 -11.11 dB -27.35 dB B3 I Love You.wav
DR13 -12.55 dB -29.34 dB B4 Untitled Standard.wav
–––––––––––––––––––––––––––––––––––––––––––––––

Number of files: 7
Official DR value: DR12

==============================================================================================
side one:
1. Ebony Queen/Pam's Pad (6:50)
2. Meanwhile Back In L.A. (3:44)
3. Paris (8:35)
side two:
1. Ba De Da Da (2:40)
2. Feelings (7:12)
3. I Love You (4:52)
4. Untitled Standard (5:20)
personnel:
Lenny Breau - acoustic and electric guitars
hw: pro-ject rpm 1.3 w/sumiko pearl → rogue metis preamp → macbook pro

sw: audacity [capture] → izotope rx2 [declick/resample] → xact [sbe correction] → xld [flac conversion/tag]
Please no mirrors and/or direct links in comments.