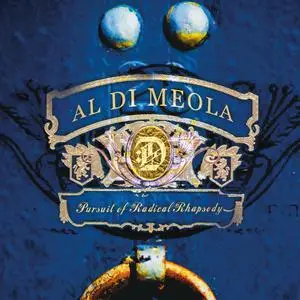 Al Di Meola - Pursuit of Radical Rhapsody (2011)
FLAC (Tracks) 24-bit/96 kHz | Official Digital Download | Time: 01:12:28
Fusion, Latin | Di Meola - Songsurfer | ~ 1.50 Gb
Al Di Meola has enjoyed an impressively long career as a recording artist. The guitar virtuoso was only 22 when he recorded his first album as a leader, Land of the Midnight Sun, back in 1976 (although he had joined Chick Corea's Return to Forever at 19), and a 56-year-old Di Meola was still going strong when 2011 arrived. Di Meola's playing has evolved along the way; the shredding, intensity, speed, and pyrotechnics of his early albums were replaced by a more lyrical and introspective approach that shows some awareness of Pat Metheny yet is distinctively Al Di Meola. But one thing about the guitarist that hasn't changed is his affection for world music, which was a major influence on early albums such as Land of the Midnight Sun, Elegant Gypsy, and Casino, and is also a strong influence on his 2011 release Pursuit of Radical Rhapsody. This excellent album is jazz-rock fusion, but it is also world jazz; Di Meola maintains a decidedly international perspective throughout the CD, incorporating everything from Argentinian tango to Spanish flamenco to Middle Eastern and North African music. Afro-Cuban salsa is also part of the equation, and two of Di Meola's guests are people with definite Latin credentials: bassist Charlie Haden (let's not forget Haden's Revolution Music Orchestra of the '60s and '70s, or the boleros he played on 2000's Nocturne), and Havana-born pianist Gonzalo Rubalcaba. The Afro-Cuban influence is especially strong on "Gumbiero" and "Destination: Gonzalo," although "Gumbiero" also incorporates flamenco and tango elements. Most of the material on Pursuit of Radical Rhapsody was composed by Di Meola himself, but two exceptions are the Beatles' "Strawberry Fields" and Harold Arlen's "Over the Rainbow." And Di Meola, behaving like the jazz improviser that he is, genuinely interprets those well-known popular songs and brings something personal to the table instead of playing the type of lame, note-for-note covers that smooth jazz (which Di Meola has adamantly stayed away from) is infamous for. Granted, Di Meola is by no means a jazz purist or a straight-ahead bebopper; he never claimed to be Barney Kessel or Tal Farlow, but his mentality is very much an improviser's mentality, and that mentality serves him consistently well on Pursuit of Radical Rhapsody.
Al Di Meola - Pursuit of Radical Rhapsody (2011):
Tracklist:
01 - Siberiana 08:29
02 - Paramour's Lullaby 07:45
03 - Mawazine, Pt. I 02:07
04 - Michelangelo's 7th Child 07:30
05 - Gumbiero 06:18
06 - Brave New World 01:54
07 - Full Frontal Contrapuntal 04:52
08 - That Way Before 03:06
09 - Fireflies 04:01
10 - Destination Gonzalo 05:16
11 - Bona 06:00
12 - Radical Rhapsody 05:02
13 - Strawberry Fields 04:09
14 - Mawazine, Pt. II 02:54
15 - Over the Rainbow 03:05
foobar2000 1.4.3 / Dynamic Range Meter 1.1.1
log date: 2022-07-04 21:46:40

––––––––––––––––––––––––––––––––––––––––
Analyzed: Al Di Meola / Pursuit of Radical Rhapsody
––––––––––––––––––––––––––––––––––––––––

DR Peak RMS Duration Track
––––––––––––––––––––––––––––––––––––––––
DR7 -0.63 dB -10.14 dB 8:29 01-Siberiana
DR6 -0.63 dB -9.49 dB 7:46 02-Paramour's Lullaby
DR6 -0.64 dB -9.17 dB 2:07 03-Mawazine, Pt. I
DR8 -0.64 dB -11.10 dB 7:30 04-Michelangelo's 7th Child
DR6 -0.62 dB -9.09 dB 6:18 05-Gumbiero
DR10 -0.64 dB -13.13 dB 1:54 06-Brave New World
DR9 -0.64 dB -11.74 dB 4:52 07-Full Frontal Contrapuntal
DR10 -0.65 dB -11.65 dB 3:06 08-That Way Before
DR7 -0.63 dB -10.15 dB 4:01 09-Fireflies
DR8 -0.63 dB -10.41 dB 5:17 10-Destination Gonzalo
DR9 -0.65 dB -11.84 dB 6:00 11-Bona
DR7 -0.63 dB -9.67 dB 5:02 12-Radical Rhapsody
DR7 -0.65 dB -10.46 dB 4:10 13-Strawberry Fields
DR7 -0.65 dB -10.12 dB 2:54 14-Mawazine, Pt. II
DR8 -0.66 dB -10.92 dB 3:05 15-Over the Rainbow
––––––––––––––––––––––––––––––––––––––––

Number of tracks: 15
Official DR value: DR8

Samplerate: 96000 Hz
Channels: 2
Bits per sample: 24
Bitrate: 2610 kbps
Codec: FLAC

All thanks go to the original releaser
Al Di Meola
in my Blog
Download Al Di Meola - Pursuit of Radical Rhapsody (2011):