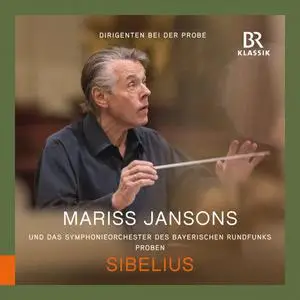 Bavarian Radio Symphony Orchestra, Mariss Jansons, Friedrich Schloffer - Sibelius: Symphony No. 2 in D Major, Op. 43 (2022)
FLAC (tracks), Lossless [24bit-48kHz] | 53:54 | 539 Mb
Genre: Classical / Label: BR-Klassik
Mariss Jansons ranks among the outstanding podium personalities of our time. His orchestral work is recognized not only because of his busy touring activities but also because of television and radio broadcasts world-wide, also documented by a sizable number of recordings.
Track List:
1. Symphony No. 2 in D Major, Op. 43 (Rehearsal Excerpts): I. Allegretto [Dirigenten bei der Probe - Einleitung] (0:32)
2. Symphony No. 2 in D Major, Op. 43 (Rehearsal Excerpts): I. Allegretto [Die Naturbilder der Symphonie] (1:24)
3. Symphony No. 2 in D Major, Op. 43 (Rehearsal Excerpts): I. Allegretto [Es kommt etwas wirklich besondere] (6:10)
4. Symphony No. 2 in D Major, Op. 43 (Rehearsal Excerpts): I. Allegretto [Flüstern, geheimnisvoll] (2:59)
5. Symphony No. 2 in D Major, Op. 43 (Rehearsal Excerpts): I. Allegretto [Von Anfang, bitte] (5:20)
6. Symphony No. 2 in D Major, Op. 43 (Rehearsal Excerpts): I. Allegretto [Vorsicht, das ist nicht zusammen] (3:46)
7. Symphony No. 2 in D Major, Op. 43 (Rehearsal Excerpts): I. Allegretto [Viel leiser…Viel zu laut] (5:49)
8. Symphony No. 2 in D Major, Op. 43 (Rehearsal Excerpts): I. Allegretto [Nur die Trompeten] (2:54)
9. Symphony No. 2 in D Major, Op. 43 (Rehearsal Excerpts): I. Allegretto [Die Naturbilder müssen durchsichtige Musik sein] (3:47)
10. Symphony No. 2 in D Major, Op. 43 (Rehearsal Excerpts): II. Tempo andante, ma rubato [Bei der Arbeit am langsamen Satz] (5:35)
11. Symphony No. 2 in D Major, Op. 43 (Rehearsal Excerpts): II. Tempo andante, ma rubato [Eine schwierige Stelle für das Ensemble] (5:38)
12. Symphony No. 2 in D Major, Op. 43 (Rehearsal Excerpts): II. Tempo andante, ma rubato [Eine Andacht] (3:09)
13. Symphony No. 2 in D Major, Op. 43 (Rehearsal Excerpts): II. Tempo andante, ma rubato [Takt 92] (3:36)
14. Symphony No. 2 in D Major, Op. 43 (Rehearsal Excerpts): II. Tempo andante, ma rubato [Die Arbeit am Klang ist der Schlüssel zum Ausdruck] (3:22)
foobar2000 1.6.10 / Dynamic Range Meter 1.1.1
log date: 2022-06-16 22:36:31

––––––––––––––––––––––––––––––––––––––––
Analyzed: Friedrich Schloffer / Sibelius: Symphony No. 2 in D Major, Op. 43 (Rehearsal Excerpts) (1-4)
Mariss Jansons / Sibelius: Symphony No. 2 in D Major, Op. 43 (Rehearsal Excerpts) (5-14)
––––––––––––––––––––––––––––––––––––––––

DR Peak RMS Duration Track
––––––––––––––––––––––––––––––––––––––––
DR11 -1.00 dB -15.93 dB 0:32 01-I. Allegretto [Dirigenten bei der Probe - Einleitung]
DR15 -2.03 dB -21.68 dB 1:24 02-I. Allegretto [Die Naturbilder der Symphonie]
DR17 -1.00 dB -22.61 dB 5:35 10-II. Tempo andante, ma rubato [Bei der Arbeit am langsamen Satz]
DR12 -1.00 dB -17.73 dB 3:22 14-II. Tempo andante, ma rubato [Die Arbeit am Klang ist der Schlüssel zum Ausdruck]
DR16 -1.00 dB -22.37 dB 6:10 03-I. Allegretto [Es kommt etwas wirklich besondere]
DR17 -1.00 dB -21.94 dB 2:59 04-I. Allegretto [Flüstern, geheimnisvoll]
DR14 -1.00 dB -19.59 dB 5:20 05-I. Allegretto [Von Anfang, bitte]
DR17 -1.00 dB -21.98 dB 3:46 06-I. Allegretto [Vorsicht, das ist nicht zusammen]
DR10 -1.00 dB -16.51 dB 5:49 07-I. Allegretto [Viel leiser…Viel zu laut]
DR12 -1.00 dB -17.44 dB 2:54 08-I. Allegretto [Nur die Trompeten]
DR12 -1.00 dB -17.75 dB 3:47 09-I. Allegretto [Die Naturbilder müssen durchsichtige Musik sein]
DR11 -1.00 dB -17.15 dB 5:38 11-II. Tempo andante, ma rubato [Eine schwierige Stelle für das Ensemble]
DR17 -1.60 dB -24.54 dB 3:09 12-II. Tempo andante, ma rubato [Eine Andacht]
DR11 -1.00 dB -18.04 dB 3:36 13-II. Tempo andante, ma rubato [Takt 92]
––––––––––––––––––––––––––––––––––––––––

Number of tracks: 14
Official DR value: DR14

Samplerate: 48000 Hz
Channels: 2
Bits per sample: 24
Bitrate: 1339 kbps
Codec: FLAC
================================================================================