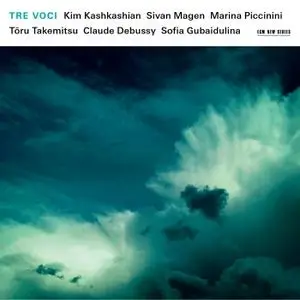 Kim Kashkashian, Sivan Magen & Marina Piccinini - Tre Voci: Takemitsu / Debussy / Gubaidulina (2014)
FLAC (tracks) 24-bit/96 kHz | Time - 52:05 minutes | 879 MB
Studio Master, Official Digital Download | Artwork: Digital Booklet
On this compelling first release it revolves around Debussy's 1915 Sonata for flute, viola and harp and its influence, most directly felt in Takemitsu's shimmering 'And then I knew 'twas wind'. Debussy himself had been profoundly moved by his encounter with music of the East and in his last works was emphasizing tone-colour, texture and timbre and a different kind of temporal flow. In this music, the elasticity of Debussy's feeling for time (as Heinz Holliger observed) pointed far into the future and to the works of Boulez. And indeed to the music of Sofia Gubaidulina, whose 'Garden of Joys and Sorrows' makes its own reckoning with orient and occident. Gubaidulina has said that she considers herself "a daughter of two worlds, whose soul lives in the music of the East and the West". Produced by Manfred Eicher in the Lugano Studio.