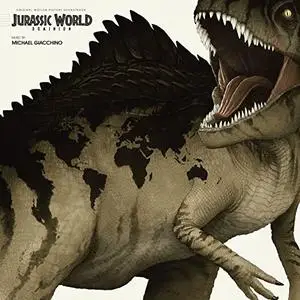 Michael Giacchino - Jurassic World Dominion (2022) [Official Digital Download]
FLAC (tracks), Lossless [24bit-96kHz] | 1:47:19 | 1,91 Gb
Genre: Soundtrack / Label: Back Lot Music
Back Lot Music will release the official soundtrack album for the Colin Trevorrow's Jurassic World: Dominion. The album features the film's original music composed by Academy Award winner Michael Giacchino (Up, Spider-Man: No Way Home, Lost, Ratatouille, Star Trek, The Incredibles, Rogue One: A Star Wars Story, The Batman) who previously scored the first Jurassic World movie and the 2018 sequel Fallen Kingdom. The soundtrack is set be released digitally next Friday, June 10 and is now available for pre-order here. Also listen to a first track from the album (Da Plane And Da Cycle) below.
Track List:
[02:30] 01. Michael Giacchino - Jurassi-logos/Dinow This
[03:07] 02. Michael Giacchino - A Dinosaur In The Ranching Business
[02:45] 03. Michael Giacchino - It's Like Herding Parasaurolophus
[01:41] 04. Michael Giacchino - Upsy-Maisie
[02:36] 05. Michael Giacchino - Clonely You/The Hunters Become The Hunted
[01:44] 06. Michael Giacchino - The Campfire In Her Soul
[01:11] 07. Michael Giacchino - Hay Of The Locusts
[02:42] 08. Michael Giacchino - A Sattler State Of Affairs/Alan For Granted /Sattler? I Barely Know Her
[03:48] 09. Michael Giacchino - The Wages of Biosyn
[04:31] 10. Michael Giacchino - Free-Range Kidnapping
[03:52] 11. Michael Giacchino - A-Biosyn' We Will Go
[04:54] 12. Michael Giacchino - This Dodgson Burns Bright/The Maltese Dragons
[04:26] 13. Michael Giacchino - You're So Cute When You Smuggle
[05:23] 14. Michael Giacchino - In Contempt Of Delacourt/Dance Of The Atrociraptors
[02:35] 15. Michael Giacchino - Da Plane And Da Cycle
[04:09] 16. Michael Giacchino - You're Making Me Feel Wu-zy
[06:13] 17. Michael Giacchino - The Geneticist's Gambit/Cicadian Rhythms
[04:02] 18. Michael Giacchino - Therizinosaurus Will Be Blood/Land Of The Frost
[04:14] 19. Michael Giacchino - A Dimetrodon A Dozen
[03:12] 20. Michael Giacchino - She Shoots, She Scorches
[01:52] 21. Michael Giacchino - Gigantosaurus On Your Life
[03:48] 22. Michael Giacchino - Ladder and Subtract/What's Your Major Malcolm Function/Six Degrees Of Evacuation
[02:48] 23. Michael Giacchino - Ramsay's The Second No More
[01:38] 24. Michael Giacchino - Gotta Shut Down The Blah Blah Blah
[01:26] 25. Michael Giacchino - Girls Can Alpha Too
[01:50] 26. Michael Giacchino - Saliva And Kicking
[03:35] 27. Michael Giacchino - Wu-ing For Redemption
[05:09] 28. Michael Giacchino - Battle Royale With Reprise/Six Days Seven Denouements
[01:37] 29. Michael Giacchino - A-O-Kayla
[02:42] 30. Michael Giacchino - All The Jurassic World's A Rage
[02:05] 31. Michael Giacchino - Larry Curly And MOE
[08:58] 32. Michael Giacchino - Suite, Suite Dino Revenge
foobar2000 1.6.10 / Dynamic Range Meter 1.1.1
log date: 2022-06-09 17:10:23

––––––––––––––––––––––––––––––––––––––––
Analyzed: Michael Giacchino / Jurassic World Dominion (Original Motion Picture Soundtrack)
––––––––––––––––––––––––––––––––––––––––

DR Peak RMS Duration Track
––––––––––––––––––––––––––––––––––––––––
DR11 -0.53 dB -16.01 dB 2:31 01-Jurassi-logos/Dinow This
DR9 -0.54 dB -14.60 dB 3:08 02-A Dinosaur In The Ranching Business
DR9 -0.54 dB -13.60 dB 2:46 03-It's Like Herding Parasaurolophus
DR9 -5.87 dB -20.64 dB 1:42 04-Upsy-Maisie
DR13 -0.38 dB -20.34 dB 2:37 05-Clonely You/The Hunters Become The Hunted
DR12 -0.54 dB -20.58 dB 1:45 06-The Campfire In Her Soul
DR8 -0.53 dB -13.29 dB 1:11 07-Hay Of The Locusts
DR11 -1.47 dB -17.89 dB 2:42 08-A Sattler State Of Affairs/Alan For Granted /Sattler? I Barely Know Her
DR12 -0.53 dB -18.13 dB 3:49 09-The Wages of Biosyn
DR9 -0.53 dB -14.38 dB 4:32 10-Free-Range Kidnapping
DR8 -0.53 dB -14.78 dB 3:53 11-A-Biosyn' We Will Go
DR11 -0.53 dB -16.00 dB 4:55 12-This Dodgson Burns Bright/The Maltese Dragons
DR11 -0.54 dB -16.36 dB 4:27 13-You're So Cute When You Smuggle
DR8 -0.52 dB -11.89 dB 5:24 14-In Contempt Of Delacourt/Dance Of The Atrociraptors
DR8 -0.52 dB -9.41 dB 2:35 15-Da Plane And Da Cycle
DR10 -0.54 dB -22.97 dB 4:09 16-You're Making Me Feel Wu-zy
DR10 -0.53 dB -15.76 dB 6:14 17-The Geneticist's Gambit/Cicadian Rhythms
DR10 -0.53 dB -16.19 dB 4:02 18-Therizinosaurus Will Be Blood/Land Of The Frost
DR8 -0.53 dB -12.47 dB 4:14 19-A Dimetrodon A Dozen
DR9 -0.53 dB -13.06 dB 3:12 20-She Shoots, She Scorches
DR14 -0.54 dB -19.51 dB 1:52 21-Gigantosaurus On Your Life
DR6 -0.53 dB -10.26 dB 3:49 22-Ladder and Subtract/What's Your Major Malcolm Function/Six Degrees Of Evacuation
DR13 -0.54 dB -18.29 dB 2:48 23-Ramsay's The Second No More
DR10 -0.54 dB -19.08 dB 1:39 24-Gotta Shut Down The Blah Blah Blah
DR9 -0.54 dB -15.95 dB 1:26 25-Girls Can Alpha Too
DR11 -0.54 dB -17.15 dB 1:50 26-Saliva And Kicking
DR10 -0.52 dB -15.50 dB 3:35 27-Wu-ing For Redemption
DR9 -0.52 dB -13.43 dB 5:09 28-Battle Royale With Reprise/Six Days Seven Denouements
DR9 -0.56 dB -16.38 dB 1:38 29-A-O-Kayla
DR9 -0.53 dB -14.99 dB 2:43 30-All The Jurassic World's A Rage
DR11 -0.54 dB -16.39 dB 2:06 31-Larry Curly And MOE
DR9 -0.53 dB -15.83 dB 8:58 32-Suite, Suite Dino Revenge
––––––––––––––––––––––––––––––––––––––––

Number of tracks: 32
Official DR value: DR10

Samplerate: 96000 Hz
Channels: 2
Bits per sample: 24
Bitrate: 2499 kbps
Codec: FLAC
================================================================================