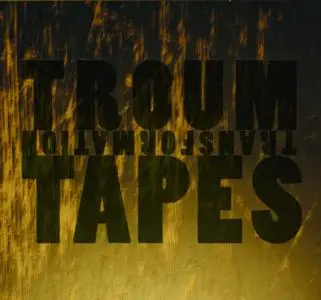 VA - Troum Transformation Tapes: The 20th Anniversary Celebration (2018)
FLAC (tracks) 24-bit/44,1 kHz | Front Cover | Time - 152:26 minutes | 1,48 GB
Ambient | Label: Transgredient Records, Official Digital Download
For the 20th anniversary of the band, TROUM invited friends and admired artists from their own history to cover, re-interpretate, re-process, collage, morph or just being inspired (by) any TROUM basic material; after one year of collecting masterial the result is a unique compilation of 19 tracks with a wide range of creative approaches - much more than your standard "remix" collection. All material was exclusively recorded for this compilation!
INTRODUCTION:
Dear friends and dreamers,
the very first performance under the name TROUM happened on March 22, 1997, in Wiesbaden, Germany. To celebrate the 20th anniversary of the band we decided in spring 2017 to invite various friends or beloved associates (= various musicians and artists that have worked with us over the 20 years, becoming fellows or important for our evolution as a band) to take part in this "Troum Transformation" project, based on a concept that goes further than the usual "remix" compilation: any Troum basic material could be chosen to be transformed, processed, covered, re-interpretated or just collaged and morphed into something else. It was also possible to create a complete new track, being inspired by any Troum material or our common experience in the past.
One year later we can proudly present you this unique collection of 19 tracks, showing the wide creative approaches in working with "Troum-matter", concrete audio or just atmospheric imagination.
This is what we all are in the end: a thought, a phantasy, an emotion in the mind of others, a memory, a dream.
TROUM: GLIT(s)CH + BARAKA[H], March 2018
####################
ORIGINAL INVITATION:
"Dear Friends and Dreamers,
Troum did the very first performance under this name (after the demise of Maeror Tri) in March 1997, so this year we reach our 20th anniversary. We have never done any anniversary "celebration" or "remix" projects of Troum material before, so we thought maybe it's the time now!
You can choose any existing Troum material (also taken from multiple tracks) to cover, re-interpretate, re-work/process/arrange or collage it. You can also add your own sounds, create a new track-title, watever comes to your mind! (We are certainly NOT looking for a standard "remix", so we don't send out any specific material to everyone!).
This invitation goes out to various musicians that have worked with us over the 20 years, which became friends or important for our evolution as a band." TROUM, March 2017
####################
liner notes by JIM HAYNES:
It was 1996 when the German industrial project Maeror Tri disbanded, and I recall being deeply saddened by the news. A few years earlier, I had discovered the project while working at a now-defunct distribution company in San Francisco. Fittingly released through Korm Plastics 'Introductions' series, Maeror Tri's Multiple Personality Disorder reflected an interested in psychological pathology as channeled through raw sound. Industrial culture has long used the metaphors of disease as a mirror to shine a light on any number of ills in contemporary society. This particular album addresses four aspects of the titular disorder, itself the most extreme form of schizophrenia which fractures the discrete personalities, which Maeror Tri identified in the general dissociative characteristics: The Administrator, The Anaesthetizer, The Revenger, The Protector. With each of these tracks, Maeror Tri orchestrated dense layers of heavily effected, sustained noise, back-masked growlings, and shimmering drones as emotionally resonant portraits to those four personality traits. With Industrial culture's penchant for sensationalized horror of autopsy and abbatoir footage, Maeror Tri's constructs were uniquely sympathetic to those who suffered from this debilitating disease.
With the posthumous release of Emotional Engramm in 1997, Maeror Tri's compositional complexity began to blossom, relying less on the hypnogogic dislocation of time-lag effects and more on the poetics and the portent of the underlying melodies that rippled through their ghostly accretions for drone and noise. Right as they called it quits, the ideas of Maeror Tri had expressed a maturity that had much more to say through the collapse of sound into an crushed, all-encompassing, cathartic tsunami.
What was to emerge in the wake of Maeror Tri's dissolution did not immediately seem clear. Founding member Stefan Knappe had already established his impeccably curated Drone Records, which initially focused on the improbable medium of the 7" single to release long-form works of dark ambient, heavy drone, and industrial din. Many of these artists that landed on Drone were unknown or under-appreciated projects, but without fail, these proved to be impressive documents and demanded that they be acquired upon sight with or without any idea of who exactly was behind the project. In this series, Knappe did commisson work from a number of highly acclaimed musicians including Inade, Francisco Lopez, Cranioclast, Aidan Baker, The Lotus Eaters, etc. but there were the lesser known acts such as the Hungarian experimental project Hideg Roncs, Holland's esoteric ambient outfit Indra Karmuka, and the hermetic tape machinist Abner Malaty. Drone released exactly 100 singles between 1993 and 2010, at which time the format switched to a four-way split LP format under the Drone-Mind // Mind-Drone banner, in addition to the 10" Substantia Innominata series, both of which maintain high calibre curation to this day.
In 1998, Knappe reconvened with fellow Maeror Tri member Martin Gitschel to form Troum. The name for this new project was taken from an archaic German word for dream and provides clear insight into their investigations manifesting universal archetypes and symbols from a collective unconsciousness into an overwhelming flood of sound. The first recordings for Troum were published on a small cassette housed in a small pillow, ascribed with the title Dreaming Muzak. As with Maeror Tri, Troum sculpt their dronescapes mostly through heavily processed guitars along with an assortment of other instruments. If the intent of Troum was to put the listener to sleep, the lulling vibrating patterns certainly have the capacity; but the overall darkness of these sounds will never inspire the most pleasant of dreams. These are shadowy, bleak, and cold sounds which permeate the album, and lend themselves to images of desolate factories spewing a constant stream of black soot in some wintery post-Soviet country.
At the turn of the millennium, Troum embarked on their ambitious Tjukurrpa trilogy, the title of which has its origin in the physical, spiritual, and psychological state of dreamtime for the Australian Aboriginals, symbolizing Troum's intention to divine transcendence through their hypnogogic compositions. They applied these ideas to the three compositional foundations to their music, in Harmonies, Drones, and Rhythms & Pulsations each of which are highlighted on the trilogies component albums. Harmonies for Troum relate to the cold ambient swirls of resonant timbres from Troum's interlocked guitars that cycle through minor-key chords bathed in a resplendent wash of effects and melancholy atmospheres. Troum's signature drones are heavy, lumbering propositions of earth-shaking rumbles and subterranean minimalism. The use of rhythm appears in Troum's work as percussive mantras with a ritualist approach to metal-bashed patterns and looped sequences.
These fundamental tools - harmonies, drones, and rhythms - represent a set of pre-linguistic symbols that Troum employs to articulate to the primal emotional responses of various psychological states. More often than not, Troum turn towards ashen, sublime, nocturnal, and grim metaphors through their work, even though rapturously golden crescendos flourish on the rare occasion in their body of work. Sigqan (2003) is a harrowing album that plunges deep into an overwhelming gloom through sustained tones and drones. Like the project's name, the title harkens to a pre-medieval dialect of the Goths that roughly translates as the setting or sinking of the sun. Here, Troum addresses the Dark Ages fear that the sun might not rise again, leaving the world in permanent darkness. The Power Romantic trilogy (which include the albums Mare Idiophonika, Grote Mandrenke, Mare Morphosis released from 2010 - 2013) finds the duo embracing the oceanic metaphors that undulate upon the cycles of the tides through billowing shadows of mournful melody and subharmonic rumble. These too are drawn towards hostile metaphors, with Grote Mandrenke referring directly to a massive storm surge that devastated Northern Europe and the Britsh Isles in 1362, sweeping some 25,000 people out to sea and to their deaths.
Through the Drone Records productions and ancillary distribution company, Troum have maintained a very healthy network of connections all across the globe. In doing so, they have also engaged in a select number of ongoing collaborations. Their first was with the occult American project Yen Pox whose collective low-frequency thumming stand at the pinnacle of the dark ambient genre. An enduring presence from the once mighty Cold Meat Industries, Raison D'etre has worked with Troum in transforming raw material through the existential lens of a vacant cathedral. Architectural reverberation and ghostly chorales flutter with a solemn, ethereal impressionism. The baroque post-punk singer-songwriter Martyn Bates of Eyeless In Gaza had long been an inspiration for Knappe and Gitschel in both Troum and Maeror Tri. In fact a dedication to Bates was ascribed to a track from the Tjukurrpa series. In 2006, Bates joined Troum for their collaborative album To a Child Dancing in the Wind, which girds Bates' beatific, lyrical vocalizations to a luminous, shimmering facet to Troum's aesthetic.
This compilation with its remixes, deconstructions, and reconstitutions of Troum's back catalogue and raw material is a celebration not only to Troum's impressive body of work but also to their ongoing and active participation in the broader communities of the avant-garde, minimalism, drone-rock, and industrial culture with unflagging dedication. These propositions respectfully build upon the fluid dynamics of Troum's sound as well as the wordless symbolism of pre-lingusitic conditions that are fundamental to Troum's work. It should be noted that both Dual and Vance Orchestra reunited specifically for this project.
Sibilant. Subaquatic. Serpentine. Ominous. Thunderous. Billowing. Haunted. Hypnogogic. Blossomed with sadness. Best Drones.
######################
essay by LUTZ SCHRIDDE:
TROUM DREAMS
quid aeternis minorem
consiliis animum fatigas?
Cur non sub alta vel platano, vel hac
pinu iacentes ….
(Horatius, carm. 2,11,13)
Why lying on dying, never we'll be
with eternity,
Hear no evil, no bad under this tree,
Lay, see and be, here, no worry
with me.
About Horatius we read in Nietzsche's "Götzen-Dämmerung" that in his poetry we find 'sound', 'position', 'term', what is with the words (Klang, Ort, Begriff) . This German romantic appreciated the artistry and effectivity, and he considered his own wording equal. Today, I feel free to take 'sound, position, term' to put compositions of Troum into the context of romanisation of German language what informed the romantic metaphor of music as a language. The challenge of translating Horatius into other languages, as Nietzsche had accentuated, is not to fail such artistry and effectivity. What I want to say is that compositions of Troum are more than romantic translations, beyond music as a language. Troum is sound, yes, and then listening is navigating, and listening then is without translation.
The German romantics claimed art to be not of purpose, no, art were autonomous and a value in itself, so were a genius. Does that mean the compositions of Troum – when not dubbing it romantic – have a purpose? Troum's navigations are taking the listener beyond such question. It is not about purpose or autonomy, Troum is two composers together, Stefan Knappe and Martin Gitschel. Their collaborative compositions is band-work, there is no solo. Like technical stereo-navigation of pilots in early airplanes, their navigations are even not communicating questions or answers. Following and listening here is about sharing their state of navigation, their state of mind.
Stefan contacted me in 1997 and told me about the end of Maeror Tri and a new project he had no name for at the time. I had collected most of Maeror Tri and contributed liner notes once. Moreover, Stefan was irritated how I could identify his hidden solo compositions on my own. Actually, after my time as a connoisseur of music I entered the sphere of musique concrete and drones for sort of cultivating my mind. I had already learned about the righthandedness of European music, had even read Wolfgang Scherer's dissertation "Babellogik" on the matter. Maeror Tri always seemed a soundtrack to my search for a new vantage point. Stefan liked my approach to revaluate the implicit morale of music, himself a lefthanded. When he told me Maeror Tri was disbanding and the new project needed a name, that occured right in time to jump to the new vantage point.
Musique concrete and post-punk creativity had affected me, and Maeror Tri all that time reminded me of the restrictions of surreal or psychogeograhic composition some people like to dub the French and British accomplishments. Maeror Tri - cassette by cassette since 1988 - shed some sound on that fashion, sometimes ambient, sometimes industrial, sometimes drone. To me, the fascination came through a sense of game and improvisation, often leaving any boundaries of the genres behind. Some of their early cassettes seemed informed even by the very wish to stay beyond boundaries, an approach to go for a change of any game before. Reading the reviews in Vital Weekly, I find a similar appreciation with the editor. Such exploration of composition may have resulted in new awareness and reflection then in 1997, disbanding Maeror Tri and a new project may explain itself. And as I see it today, the new project went on to explore and navigate beyond any boundaries of genres.
Changing games is a skill of the lefthanded. And again, Stefan was surprised watching me identifying his hidden solo compositions. I am righthanded, touched by surreal music and post-punk creativity, I am not a composer. And I will not out his solo compositions here, no. Nietzsche was a lefthanded, his skills surfaced in writing, and he was seemingly not selfaware of this natural skill and tending to curious vanity. His opinion about Horatius shows that in particular. Nietzsche never learned about the giveness of his skill when running his revaluation of all values. He was with the German romantic tradition all the time. And he had a certain selectivity who he liked to value, all were lefthanded (Goethe, Ceasar, Bismarck, Napoleon), all game changers, very skilled. In romantic music, Beethoven and Mozart were skilled brilliantly as such. In visual art, we may call Paul Klee an example. When Stefan needed a name for the new project, I was ready to try.
I said "Traum". In English, dream. By 1997, my search for a new way of composition beyond the genres of 'improvised', 'free jazz', 'world music', 'industrial', 'ambient', 'noise', 'drone', 'musique concrete' and else had already ended in sort of disappointment. I was sure, that the romantic tradition and its relative surrealism encompassed my search well, but at the time I had little in hand. My short essay "Noise Culture" in Vital Weekly Supplement in 1996 was a result of my search. Then talking with Stefan, and by intuition I avoided consideration of material or procedure what is behind the genre division. During that talk I threw myself out of that and looked for the location in musical anthropology. I looked for the essence of the genres and opened gain. So it became "Traum".
Stefan liked that immediately. He made it "Troum", just as if he knew the game change behind. To be clear, Troum is no music for Nietzscheans. And I am not a Nietzschean, although I have mastered in philosophy and know about him. His approach is restricted to values and valuation, in his case furthermore to the 'game' the values are framed by. That spoke to his nature and his romantic vanity. It happened, that I decided to leave Germany and I am teaching in China for eight years now. Here, musical anthropology is still a vantage point, and I am listening to Troum in Xian at the eastern end of the Silk Road.
Troum had done great things, I like the long-trackers "Sen" and "Mare Idiophonica". The Tjukurrpa-trilogy is also with me here, and allow me to highlight the collaboration with Martyn Bates and raison d'être. My current favorite of Troum is "Acouasme".
And if you know Horatius, yes, then you may be the right one to try Troum. It is sound, navigation and prior to translation. Here is abroad.
Lutz Schridde, Xian, China, April 1st 2018
Tracklist:Disc 1
(01:17:06)
1.
Allseits – Times
(07:40)
2.
Contrastate – The Silent Fish
(05:31)
3.
Inade – The Innermost Sun
(05:26)
4.
Vance Orchestra – Gaiscei
(12:33)
5.
Tarkatak – vs. Brinnan
(09:24)
6.
Raison D'être – Ananke
(04:19)
7.
Nadja – Mirrored In You
(10:39)
8.
Martyn Bates & Troum – An Untitled Protest
(05:54)
9.
[multer] – Sela Saiwala MNX
(15:40)
Disc 2
(01:15:14)
1.
QST – Kapotte Muziek By Troum (QST Remix 2017)
(06:37)
2.
Ure Thrall – Krypte
(09:21)
3.
Θ16 & Myrrman – Sen No 350 (Psychic Automaton Rework)
(07:09)
4.
V.O.S. – Breath Again
(05:32)
5.
Dual – TTN (Ursprung)
(07:23)
6.
Bad Sector – Signedumiroir
(05:49)
7.
Markow C. – Chaneism
(06:28)
8.
Cisfinitum – Skaun[ei]s
(08:24)
9.
Reutoff – Hypoxia (Troum Spirare Cover)
(10:15)
10.
Moljebka Pvlse – Ennoia
(08:16)
foobar2000 1.4.1 / Dynamic Range Meter 1.1.1
log date: 2021-01-13 15:30:45

––––––––––––––––––––––––––––––––––––––––
Analyzed: [multer] / Troum Transformation Tapes : The 20th Anniversary Celebration (1997-2017) (1)
Allseits / Troum Transformation Tapes : The 20th Anniversary Celebration (1997-2017) (2)
Bad Sector / Troum Transformation Tapes : The 20th Anniversary Celebration (1997-2017) (3)
Cisfinitum / Troum Transformation Tapes : The 20th Anniversary Celebration (1997-2017) (4)
Contrastate / Troum Transformation Tapes : The 20th Anniversary Celebration (1997-2017) (5)
Dual / Troum Transformation Tapes : The 20th Anniversary Celebration (1997-2017) (6)
Inade / Troum Transformation Tapes : The 20th Anniversary Celebration (1997-2017) (7)
Markow C. / Troum Transformation Tapes : The 20th Anniversary Celebration (1997-2017) (8)
Martyn Bates w. Troum / Troum Transformation Tapes : The 20th Anniversary Celebration (1997-2017) (9)
Moljebka Pvlse / Troum Transformation Tapes : The 20th Anniversary Celebration (1997-2017) (10)
Nadja / Troum Transformation Tapes : The 20th Anniversary Celebration (1997-2017) (11)
QST / Troum Transformation Tapes : The 20th Anniversary Celebration (1997-2017) (12)
raison d'être / Troum Transformation Tapes : The 20th Anniversary Celebration (1997-2017) (13)
Reutoff / Troum Transformation Tapes : The 20th Anniversary Celebration (1997-2017) (14)
Tarkatak / Troum Transformation Tapes : The 20th Anniversary Celebration (1997-2017) (15)
Ure Thrall / Troum Transformation Tapes : The 20th Anniversary Celebration (1997-2017) (16)
Vance Orchestra / Troum Transformation Tapes : The 20th Anniversary Celebration (1997-2017) (17)
Veil Of Secrecy / Troum Transformation Tapes : The 20th Anniversary Celebration (1997-2017) (18)
Θ16 vs. Myrrman / Troum Transformation Tapes : The 20th Anniversary Celebration (1997-2017) (19)
––––––––––––––––––––––––––––––––––––––––

DR Peak RMS Duration Track
––––––––––––––––––––––––––––––––––––––––
DR10 -0.60 dB -12.36 dB 15:40 09-Sela Saiwala MNX
DR10 0.00 dB -14.33 dB 7:40 01-Times
DR6 0.00 dB -9.24 dB 5:50 15-Signedumiroir
DR8 0.00 dB -10.62 dB 8:24 17-Skaun[ei]s
DR9 -0.12 dB -13.83 dB 5:31 02-The Silent Fish
DR9 -0.01 dB -13.15 dB 7:24 14-TTN (Ursprung)
DR10 -0.21 dB -14.31 dB 5:27 03-The Innermost Sun
DR5 -0.18 dB -8.53 dB 6:28 16-Chaneism
DR12 0.00 dB -15.76 dB 5:54 08-An Untitled Protest
DR9 -0.13 dB -12.08 dB 8:16 19-Ennoia
DR8 -0.05 dB -12.02 dB 10:39 07-Mirrored In You
DR7 0.00 dB -9.01 dB 6:37 10-Kapotte Muziek by Troum
DR9 -0.22 dB -12.79 dB 4:19 06-Ananke
DR5 0.00 dB -5.86 dB 10:15 18-Hypoxia
DR9 -0.02 dB -12.01 dB 9:25 05-_vs_brinnan
DR10 -0.07 dB -15.52 dB 9:21 11-Krypte
DR10 0.00 dB -13.77 dB 12:33 04-Giascei
DR5 -0.89 dB -7.09 dB 5:32 13-Breath Again
DR4 0.00 dB -6.03 dB 7:10 12-Sen No 350
––––––––––––––––––––––––––––––––––––––––

Number of tracks: 19
Official DR value: DR8

Samplerate: 44100 Hz
Channels: 2
Bits per sample: 24
Bitrate: 1709 kbps
Codec: FLAC
================================================================================


Thanks to the Original customer!