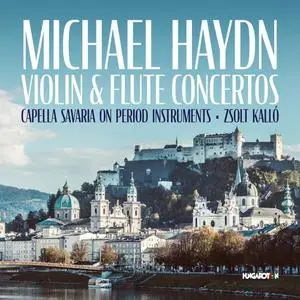 Capella Savaria & Zsolt Kalló - Michael Haydn, Violin & Flute Concertos (2022) [Official Digital Download]
FLAC (tracks), Lossless [24bit-48kHz] +Booklet | 1:13:39 | 695 Mb
Genre: Classical / Label: Hungaroton
Michael Haydn was a great composer — just not as great as his older brother Franz Joseph. The two were both highly regarded during their lifetimes. But over time Franz Joseph's popularity completely eclipsed Michael's.To be fair, choral music was Michael Haydn's forte. But his relatively few orchestral works are more than historical curiosities. One of his string quartets, for example, was misattributed to Franz Joseph. And for years, Michael Haydn's Symphony No. 25 was credited to Mozart.The Capella Savria present four of Michael Haydn's concertos. These include his two flute concertos and two of three violin concertos. Haydn composed the works in Salzburg, where he was a friend of the Mozarts.The concertos bear some similarities to Leopold Mozart's style. The melodic phrases are balanced and clearly defined. The solo parts require a high degree of skill to play. But they're not especially flashy. The elegance of expression tempers the technical challenges.