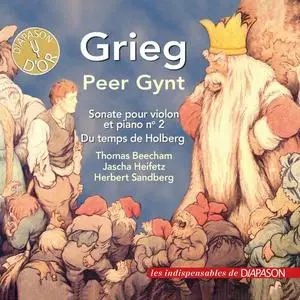 Thomas Beecham, Ilse Hollweg, Jascha Heifetz, Emanuel Bay, Herbert Sandberg - Grieg: Peer Gynt (Excerpts), Violin Sonata No. 2
FLAC (tracks), Lossless / MP3 320 kbps | 1:21:17 | 186 / 327 Mb
Genre: Classical / Label: Les Indispensables de Diapason
Sir Thomas Beecham was one of the most important orchestra conductors of the 20th century, exerting a huge impact on the entire field of classical music – and the way people listen to it, and the way people have been exposed to it – through his performances, recordings, and the two major orchestras that he founded. Beecham was born in 1879, the son of Sir Joseph Beecham, the maker of a popular and profitable brand of patent medicine. The elder Beecham was also a lover of music and when his son manifested an interest in music, the old man was glad to encourage him in any way that he could.