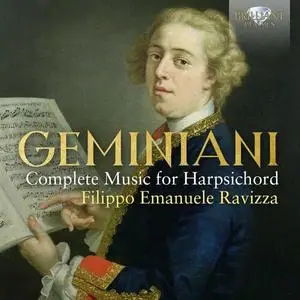 Filippo Ravizza - Geminiani: Complete Music for Harpsichord (2022)
FLAC (tracks), Lossless | 3:00:12 | 1,2 Gb
Genre: Classical / Label: Brilliant Classics
A new instalment of the complete Geminiani Edition on Brilliant Classics: the Complete Harpsichord works.
Francesco Saverio Geminiani (1687-1762) was born in Lucca. He began his study at an early age with his father, but his most important lessons followed in his years with the great Roman Master, Arcangelo Corelli. Composition lessons with Alessandro Scarlatti helped inspire and solidify his craft. In 1714 Geminiani settled in London, where he quickly gained fame as an ensemble player, concert violinist, and teacher. Here he became friends with Handel and led the orchestra during many performances together. Geminiani enjoyed great success not only in London, but also in Ireland where he spent a considerable amount of time. In 1760 he settled in Dublin, dying there in somewhat impoverished circumstances in 1762.