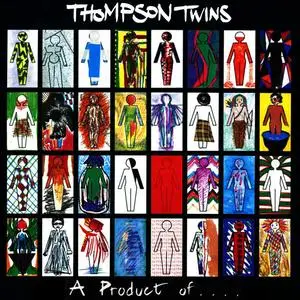 Thompson Twins - A Product Of …. (Expanded Edition) (1981/2023)
WEB FLAC (tracks) - 538 MB | MP3 CBR 320 kbps - 214 MB
1:15:25 | New Wave, Pop Rock | Label: BMG Rights Management (UK)
The Thompson Twins' debut album did little to anticipate what was to come for the new wave pop band. This record is more experimental and more guitar based than the keyboard dominated hits of Into the Gap and Here's to Future Days. A Product Of… also lacks the irresistible pop hooks of later Thompson Twins efforts, tending to remain submerged in murky tuneless noodling. There isn't an easily identifiable single on the record, let alone anything as marketable as a "Hold Me Now" or "Lay Your Hands on Me." The album has a vague sort of international theme, as demonstrated in the cover art, which features several simple outlines of human bodies adorned in a variety of different colors and outfits, seemingly hinting at the diversity of humankind. There is a hefty chunk of African influence, especially on "Slave Trade" and "Oumma Aularesso (Animal Laugh)," which is a Tom Bailey arrangement of a traditional song from Sierra Leone.