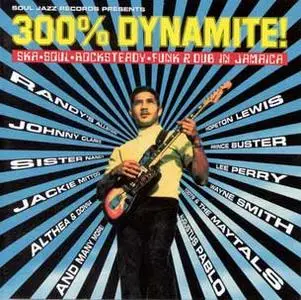 With the third part of it's great series S.J.Rec. UK goes beyond Studio One including songs off other producers too. But the mastery of the songs is still unbeatable.
mp3 192 kbps/ 50,5 MB 1 RS file
PASS: reggae
original news:
http://www.souljazzrecords.co.uk/releases/?id=188
300% Dynamite
Various Artists
Tracklisting
1. Shark Wilson & The Basement Heaters - Make It Raggae
2. Wayne Smith - Under Me Sleng Teng
3. Toots & The Maytals - Broadway Jungle
4. RANDY'S ALLSTARS - MISSION IMPOSSIBLE
5. Sister Nancy - Bam Bam
6. Prince Buster - Cincinatti Kid
7. Althea & Donna - Uptown Top Rankin
8. Hopetown Lewis - Take It Easy
9. JACKIE MITTOO & RANDY'S ALLSTARS - JACKIE'S THEME
10. Lloyd Price - Coconut Woman
11. Lee Perry - Jungle Lion
12. Johnny Clarke - Rebel Soldiering
13. Byron Lee - Rocksteady
14. Augustus Pablo - Viva Tirado
15. Al Brown - Here I Am Baby
Information
Even more Platters that matter from the island of Jamaica! Wayne Smith's classic "Sleng Teng", Sister Nancy's "Bam Bam", Byron Lee, Augustus Pablo, Lee Perry… Ultra rare Jackie Mittoo and Shark Wilson tracks and more! If you've got 100% and 200% then simply buy 300% for more listening pleasure. And if you haven't got 100% or 200% then why haven't you?
Third installment in the immensely popular Dynamite series and, as you'd expect, it's packed with top tunes from the cream of Jamaica's producers and artists. Here you'll find super heavy reggae funk from the likes of Shark Wilson, Randy's Allstars, Lee Perry and Jackie Mittoo (whose track 'Jackie's Theme' has never previously been released), ska from Toots and The Maytals and Prince Buster, rocksteady from Byron Lee and Hopeton Lewis, classic dancehall killers from Wayne Smith and Sister Nancy, roots from Johnny Clarke and Augustus Pablo, calypso from Lloyd Price and a sweet reggae version of Al Green's soul classic 'Here I Am Baby'.