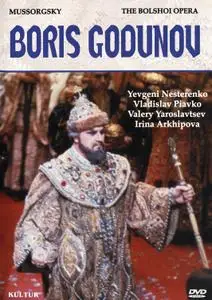 Boris Khaikin, The Bolshoi Opera Chorus and Orchestra - Mussorgsky: Boris Godunov (2005/1978)
NTSC 4:3 (720x480) | Русский (Dolby AC3, 2 ch) | 7.10 Gb (DVD9) | 175 min
Classical | Kultur | Sub.: English
Universally acknowledged as the greatest of all Russian operas, this is a faithful and often dazzling production of the standard Rimsky-Korsakov version taped ³live² at the Bolshoi in 1978. As Boris, the renowned Yevgeni Nesterenko is as justifiably identified with the role in his generation as Chaliapin, London and Kipness were in theirs. Nesterenko gives a remarkably vivid, human portrait of the tormented half-crazed Tsar, and is supported by a first rate ensemble in a richly designed and costumed production that represents opera at its grandest.