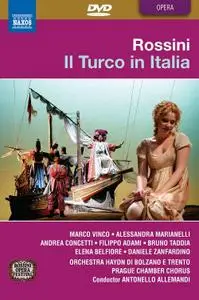 Antonello Allemandi, Orchestra Haydn di Bolzano e Trento - Rossini: Il Turco in Italia (2009)
NTSC 16:9 (720x480) | Italiano | Dolby AC3, 2 ch | Dolby AC3, 6 ch | DTS, 6 ch | 7.84 Gb (DVD9) | 165 min
Classical | Naxos | Sub.: English, Italiano
Filmed live in 2007 at the prestigious Rossini Opera Festival in the composer's birthplace, Pesaro, Il Turco in Italia is a madcap ensemble opera with an inspired score that boasts music of both comic genius and extraordinary beauty. Set in Naples, it spins a crazy tale around a poet who uses the romantic entanglements of the inhabitants with a Turkish prince as inspiration for the plot of his next play. Ultimately, life imitates art as all ends happily, but not before a planned abduction leads to a chaotic situation of mistaken identity.