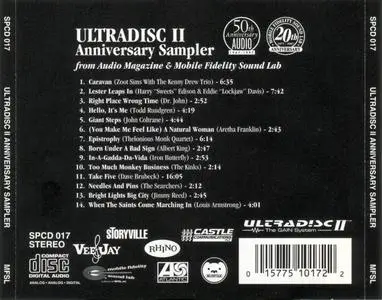 CD FULL RANGE ONLY | EXACT AUDIO COPY IMAGE (WAV+CUE) | 693 MB (464 MB RAR)| MOBILE FIDELITY SOUND LAB | AUDIOPHILE CD
Mobile Fidelity Sound Lab has been the undisputed pioneer and leader in audiophile recordings since the company's inception in 1977. Established by dedicated audiophiles, Mobile Fidelity's first and foremost goal was to offer faithfully reproduced high fidelity recordings that would compliment the numerous advances occurring in audio delivery systems. Throughout its history, Mobile Fidelity has remained true to this goal, pioneering state-of-the-art technologies and setting audiophile standards that remain in place today.
In response to rapid advancements in both recording formats and audio delivery systems over the past several years, Mobile Fidelity has maintained its ongoing commitment to improving industry standards. This has resulted in the introduction of numerous innovations in the audiophile arena: half-speed mastered Original Master Recording™ LPs, Ultra High Quality Records™ (UHQRs), high fidelity cassettes, consumer alignment devices for phono cartridges and audio cassette decks, Original Master Recording™ compact discs, the 24-karat gold plated Ultradisc™ CD and the Ultradisc™ Ultra High Resolution™ (UHR). To this day the independently owned firm continues its commitment to exceeding industry standards.
This is a true Collector's find for those individuals who want to own the finest and rarest pieces of musical history. It is similar to owning the artist's own Rare Gold Record Album in a Gold CD pressing. You will be one of the last people in the world to own these Limited Edition Long Out of Print Masterpieces that will add true value to your Collection.
MFSL LIMITED GOLD EDITION. This 24-Karat Gold Limited Edition is an audiophile collectors item that simply gives the feeling of being directly in the studio with the artist.
This recording is mastered from the Original Session Tapes and the disc is custom pressed using 24-Karat Gold (known for its superior qualities and resistance to oxidation). This Out of Print Gold bonafide collectible disc has all Liner Notes, Photos, and Artwork from the Original LP faithfully recreated.
A SONIC WORK OF ART. These Out of Print gems are the Ferrari of the audiophile CD market. Many over the last year have doubled or tripled in value. The future of these collectibles is so exciting because each piece is a sonic work of art that will never be reproduced using this expensive 24-Karat Gold mastering process. You will be one of only a few thousand in the world owning this audiophile classic.
RELEASE:
Ultradisc II 50th Anniversary Sampler from Audio Magazine & Mobile Fidelity Sound Lab
MFSL: SPCD-017
Released MFSL: 1997
Tracklisting:
01. Caravan [Zoot Sims with The Kenny Drew Trio]
02. Lester Leaps In [Harry "Sweets" Edison & Eddie "Lockjaw" Davis]
03. Right Place, Wrong Time [Dr. John]
04. Hello It's Me [Todd Rundgren]
05. Giant Steps [John Coltrane]
06. (You Make Me Feel Like) A Natural Woman [Aretha Franklin]
07. Epistrophy [Thelonious Monk]
08. Born Under A Bad Sign [Albert King]
09. In-A-Gadda-Da-Vida (2:53 version) [Iron Butterfly]
10. Too Much Monkey Business [The Kinks]
11. Take Five [Dave Brubeck]
12. Needles And Pins [The Searchers]
13. Bright Lights, Big City [Jimmy Reed]
14. When The Saints Go Marching In [Louis Armstrong]
Listening! You can hear a difference! Enjoy it!
Links tested by laila (thanks) 23/05/2006
DOWNLOAD (4 rapidupload, 1 megaupload; sorry) LINKS, rar files (3% recovery) (You need FEURIO,NERO, Alcohol, EAC to burn image to music CD; load CUE file):
Download U_50_A_S.part 1 (98.2 MB)
Download U_50_A_S.part 2 (98.2 MB)
Download U_50_A_S.part 3 (98.2 MB)
Download U_50_A_S.part 4 (98.2 MB)
Download U_50_A_S.part 5 (70.0 MB)
Password (if this is require):
www.AvaxHome.ru
DOWNLOAD MOMOSHARE LINK COVERS:
Download Covers (1.13 MB)
NO PASSWORD