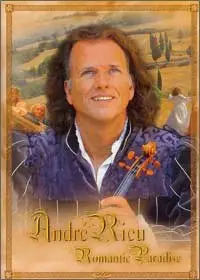 Andre Rieu: Romantic Paradise (2003)
DVDRip | Xvid | 672x384 | fps 25 | MP3 128 Kbps | English | 1.09 + 1.09 Gb MB | 120 minutes
DVD Release Date: June 8, 2004 l Genre: Classical
Traks:
Among the songs played are:
1: Nino Rota's Love Theme from "The Godfather". I adore this song, and have never heard it played so expressively.
2: "Strangers in Paradise", which is the Borodin theme used in "Kismet".
3: "Romance Anonyme".
4: "La Paloma".
5: Puccini's "O Mio Bambino Caro", sung by Carmen Monarca.
6: Franz von Suppé's "The Light Cavalry".
7: Johann Strauss' "Lagune Waltz".
8: Johann Strauss' rousing polka "Thunder and Lightening".
9: Ennio Morricone's theme from "Once Upon a Time in the West", with Carla Maffioletti.
10: Offenbach's "Barcarole" sung by Carla and Carmen.
11: "The Rose".
12: "Ode to Joy" from Beethoven's 9th Symphony.
13: Rossini's "William Tell Overture".
14: a medley that includes Verdi's "La donna e' mobile" (from "Rigoletto"), "Libiamo" ("La Traviata"), "Triumphal March" ("Aida"), and Bizet's "Toreador Song" ("Carmen"), and much more, including an Italian pop number which has the audience enthusiastically singing along. Rieu ends with a song he wrote with his brother Jean-Philippe called "Ti Amo", the fitting finale for an enchanting night under Italian skies.
Total running time is 120 minutes.

Download: