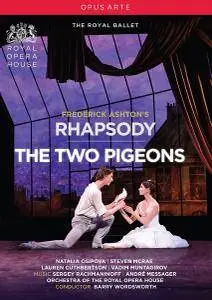 Orchestra of the Royal Opera House, Natalia Osipova, Lauren Cuthbertson, Steven McRae - Ashton: Rhapsody & The Two Pigeons (2016)
NTSC 16:9 (720x576) VBR | (LinearPCM, 2 ch) | (DTS, 6 ch) | 6.47 Gb (DVD9) | 114 min
Classical | Opus Arte
Principals Natalia Osipova and Steven McRae dance Ashton's Rhapsody, created for The Royal Ballet in 1980 with the star parts taken by Mikhail Baryshnikov and Lesley Collier. Ashton provided spectacular choreography to suit the dancers' virtuoso abilities. Lauren Cuthbertson and Vadim Muntagirov lead a charismatic cast in Ashton's poignant and heart-warming reflection on love, The Two Pigeons, based on an old French folktale and first performed on Valentine's Day 1961. These two ballets by the Company's Founder Choreographer capture The Royal Ballet's famous skill and distinctive style. Barry Wordsworth conducts the Orchestra of the Royal Opera House in the rapturous Rachmaninoff and Messager scores.
Cast:
Rhapsody (music Sergey Rachmaninoff):
Natalia Osipova
Steven McRae
The Two Pigeons (music André Messager):
The Young Girl - Lauren Cuthbertson
The Young Man - Vadim Muntagirov
A Gypsy Girl - Laura Morera
Her Lover - Ryoichi Hirano
Orchestra of the Royal Opera House
Conductor - Barry Wordsworth
Choreography - Frederick Ashton