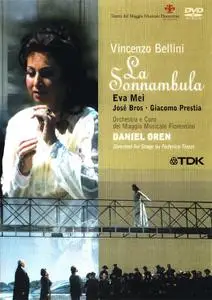 Daniel Oren, Orchestra del Maggio Musicale Fiorentino - Bellini: La Sonnambula (2005)
NTSC 16:9 (720x480) | Italiano | LinearPCM, 2 ch | Dolby AC3, 6 ch | DTS, 6 ch | 7.69 Gb (DVD9) | 138 min
Classical | TDK | Sub.: English, Deutsch, Francais, Espanol, Italiano
TDK presents a remarkable staging of one of Bellini's opera masterpieces on DVD: The wonderful singer-actor and coloratura soprano Eva Mei presents one of her showpieces - Amina, the sleep-walking heroine. She has sung the role all over Italy, from Palermo to Turin and has been loved by audiences all over the world for her clear voice and her stage personality. Beside her, the Catalan tenor José Bros, a renowned Bellini specialist, repeats what Il giornale della musica described as his "secure and committed" performance in the role of Amina's fiancé Elvino. But the show belongs to the heroine, and Eva Mei was praised in the same periodical for her "bel canto skill, her pure, radiant top notes and the resolute, yet unaffected and elegant way she dominates the stage." This performance at the Maggio Musicale Fiorentino in 2004 is lead by the superb opera conductor, Daniel Oren, who has a long alliance with Italian opera houses and regularly conducts at the Arena di Verona.
Cast:
Amina - Eva Mei
Elvino - José Bros
Il conte Rodolfo - Giacomo Prestia
Teresa - Nicoletta Curiel
Lisa - Gemma Bertagnolli
Alessio - Enrico Turco
Un notaro - Saverio Gambi
Orchestra e Coro del Maggio Musicale Fiorentino
Conductor - Daniel Oren