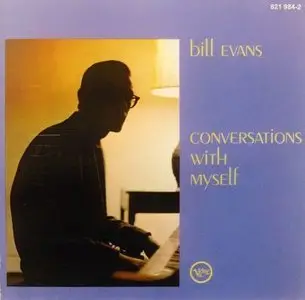 Bill Evans - Conversations With Myself (1963) (1997)
Loseless (Flac individual Files; No Cue; No Log): 210 Mb | Mp3 (320 Kbps): 100 Mb | No covers | Original Release Date: January 1963
Audio CD (May 20, 1997) - Format: Original recording remastered - Label: Polygram Records - ASIN: B0000047CV
Jazz
I don't know which program has been used for CD-Ripping. I downloaded those files from a torrent site. Great music with normal "Flac - Loseless" sound.
Editorial Reviews: That Bill Evans ventured into overdubbed pianos for this session was in 1963 a historic occasion. Overdubs were seldom in the age of Rudy Van Gelder- and Orrin Keepnews-produced sessions, which were sacrosanct in their on-the-spot nature. But by 1963 it was clear that very, very few people could play the way Evans did. Once he had himself to play along with, it was abundantly clear why he was so singular a musical mind. The melodies here fit together like two sets of fingers making a cradle, and Evans dances the lines, flows them irregularly, and entangles them so as to paint himself into constant binds. Then he escapes the binds, as artfully as he had done on Sunday at the Village Vanguard and Waltz for Debby with the legendary trio of himself, bassist Scott LaFaro, and drummer Paul Motian. This is rightly one of jazz piano's


most enchanted recordings.
Track listing
01. 'Round Midnight 6:36
02. How About You? 2:50
03. Love Theme From 'Spartacus' 5:11
04. Blue Monk 4:34
05. Stella By Starlight 4:53
06. Hey There 4:31
07. N.Y.C.'s No Lark 5:37
08. Just You, Just Me 2:37
09. Bemsha Swing 2:57
10. A Sleeping Bee 4:10
Personnel
Aric Lach Morrison: Production Coordination
Peter Pullman: Editing
Richard Seidel: Executive Producer
Creed Taylor: Producer
Michael Lang: Supervisor
Suha Gur: Mastering
Lili Picou: Design
Nichell Delvaille: Design
Ben Young: Research, Restoration
Patricia Lie: Art Direction
Roy de Carava: Photography
Hat Nguyen: Art Direction
Robert Silverberg: Assistant Producer
Philip Bailey: Liner Notes
Bill Evans: Piano, Main Performer, Liner Notes
Gene Lees: Liner Notes
Loseless
http://rapidshare.com/files/208816021/BECWM.part1.rar

http://rapidshare.com/files/208816022/BECWM.part2.rar

http://rapidshare.com/files/208813566/BECWM.part3.rar

Mp3
http://rapidshare.com/files/208815489/BECWM_2.part1.rar

http://rapidshare.com/files/208815491/BECWM_2.part2.rar

Pass:
guaza
Have a nice day.