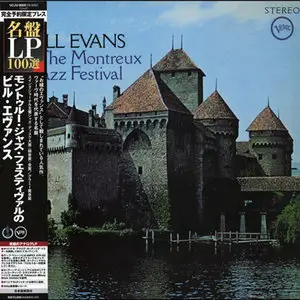 Bill Evans At the Montreux Jazz Festival (Japan Limited Edition 200 Gram Pressing LP)
1968/2000 | Genre: Jazz, Audiophile | Vinyl Rip 24-bit/96kHz & 16-bit/44.1kHz | APE+Cues+no log+scans | 291MB
This, the shortest-lived of Evans' trios, was also one of the best, specifically because of the presence of Jack DeJohnette, one of the baddest drummers of the last 40 years. He is a far cry from the quiet, withdrawn drums of Paul Motian, and he lights a fire under this trio that Evans hadn't had for a few years. Eddie Gomez is quite a musician as well, though his bass sounds rather quiet, and he is often heard slapping the big lady to get more out of her. He is, to be absolutely clear, no Scott LaFaro, though he is a stronger player than Gary Peacock, Evans' previous bassist. Gomez has lightning fast chops, and we find him soloing during other guys' solos, in the tradition of LaFaro, but without the same subtlety. All these complaints sort of fall away, however, on the rendition of "Embraceable You", which is essentially an extended Gomez solo. Though he seems to lose himself a couple of times (or maybe it's just me he loses), he plays with such speed and such intensity that it becomes difficult to nitpick about issues of style. The other highlights include "A Sleepin' Bee" and Miles Davis' "Nardis." Evans' playing, as always, is out of this world. Amazon review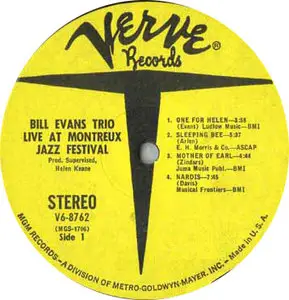 Grammy Winner:
Bill Evans, artist. Jazz Best Instrumental Jazz Performance - Small Group Or Soloist With Small Group 1968 - 11th Annual GRAMMY Awards Bill Evans At The Montreux Jazz Festival Bill Evans Trio
TRACKS:
Side A:
One For Helen
A Sleepin' Bee
Mother Of Earl
Nardis
Side B:
I Loves You Porgy
The Touch Of Your Lips
Embraceable You
Someday My Prince Will Come
Walkin' Up

ARTISTS:
Bill Evans - Piano
Eddie Gomez - Bass
Jack deJohnette - Drums
Helen Keane, Producer
Liner Notes, Gene Lees)

Recorded live at the Casino de Montreux, Switzerland, June 15,1968 on the Verve Label, catalog number 8762.
JAPAN (OBI) LIMITED EDITION 200 GRAM PRESSING LP (LJPN9069)

Ripping Equipment:
Linn LP12 turntable with Linn Lingo power supply
Schröder Model 2 tonearm
zyx R-1000 Airey 3 phono cartridge
Audioquest LeoPard tonearm cable
PS Audio PCA 2 preamplifier
M-Audio Audiophile USB A/D converter
Tara Labs ISM Onboard interconnects
Adobe Audition 2.0 for recording and sample rate conversion
NOTE: No noise or de-clicking has been used (or needed!); use provided cue sheet or burn gapless to duplicate the LP's track configuration. This pristine LP was ripped in 24-bit quantization, and now available in 16/44.1 and 24/96 versions.