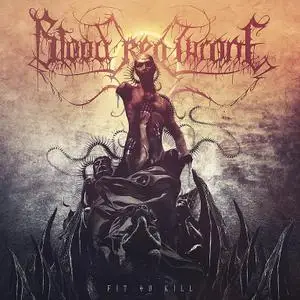 Blood Red Throne - Fit to Kill (2019)
Norway | MP3 CBR 320 Kbps | 112 MB
Death Metal | Label : Mighty Music
Norwegian death metal kings, BLOOD RED THRONE, celebrates 21 years in the scene and will release their 9th album in 2019 with following live shows to support their best album so far. The band was started by still remaining member, Daniel "Død" Olaisen, when he played in Satyricon in the 90's. Original drummer, Freddy «Fred the Shred» Bolsø, returned in 2013 and Ivan "Meathook" Gujic, Ole "Hellbent" Madsen and Yngve "Bolt" Christiansen have been in the team the last 7-8 years. Stian «Gunner» Gundersen has recently been replaced as their new bass player and they just signed a rfecod deal with Mighty Music(Denmark). BLOOD RED THRONE is known for their energetic and connecting live-shows and has toured many parts of the world the last 18 years. Both as headliners but also on support tours with Dimmu Borgir, Enslaved, Suffocation, Cryptopsy…to name a few. They have done big festivals as Wacken, Hellfest and Bloodstock and many others.
Tracklist:
1. Requiem Mass
2. Bloodity
3. Killing Machine Pt. 2
4. WhoreZone
5. Skyggemannen
6. InStructed InSanity
7. Movement of the Parasites
8. Deal It or Die
9. End
Total playing time 49:01