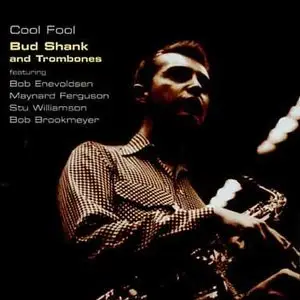 Bud Shank & Trombones - Cool Fool (1954-55)
MP3 | 320 Kbps CBR | 127 Mb | RAR | RS
Jazz
Clifford Everett "Bud" Shank, Jr. (May 27, 1926 – April 2, 2009) was an American alto saxophonist and flautist. He played flute in Stan Kenton's Innovations in Modern Music Orchestra, on various recording sessions including The Zodiac : Cosmic Sounds, and occasionally in live performances (as with The L.A. Four) until he gave it up later in his career to focus exclusively on the alto saxophone. He also recorded one album playing only tenor saxophone.
Tracklist:
1. Wailing Vessel
2. Baby's Birthday Party
3. You Don't Now What Love Is
4. Sing Something Simple
5. Valve Head
6. Cool Fool
7. Little Girl Blue
8. Mobile
9. Wailing Vessel [Alternate Master]
10. Low Life
11. When Your Lover Has Gone
12. Out of This World
13. There's a Small Hotel
14. Rustic Hop
15. You Are Too Beautiful
16. With Wind and Rain in Your Hair
17. Low Life [Alternate Master]