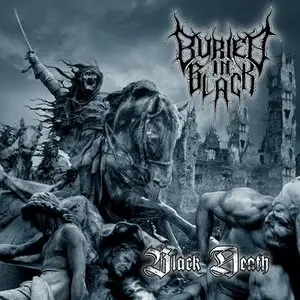 Buried in Black - Black Death (2011)
Mp3 | 280 VBR | 89 MB | Germany
Death Metal
"Black Death", is a death metal album. It's not the best sample of the genre that you can find out there but it's decent one . It"s groovie and it actually rolls, I wouldn't say that it can be described as a death n roll album but has it's moments. The blending of traditional with modern death metal doesn't find me on the opposite side while the use of both death and black metal vocals is a nice stroke of the brush. On other hand, they don't bring anything new in the genre and the result is a typical death metal album. But that, sometimes, it's not so bad at all – people tend to like their music as it is – with no surprises.
Track List:
1. The Bait
2. Parasite´s Paradise
3. 7.405.926
4. One Life Left
5. A Vast Hereafter
6. Lest We Forget
7. Act Of Caprice
8. Godseed
9. Violand
10. One Ate Seven
Total playing time 41:31