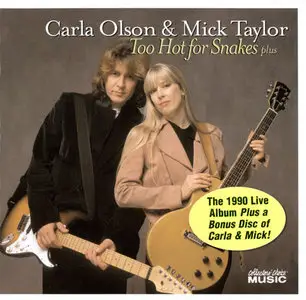 Carla Olson & Mick Taylor - Too Hot For Snakes plus (2008)
XLD Rip | Flac (Tracks-25) Cue, Log, m3u, md5, st5, ffp | complete Artwork 300 dpi | 1 GB
Rock, Blues | 2008 | Collector's Choice Music | CCM-925
L.A. roots-rocker Olson and British blues-rock guitarist Taylor made a powerful pair. This live album, recorded at the Roxy in Los Angeles in 1990, was their debut, waxed with a hand-picked band that had rehearsed for a week and played only one warm-up gig. It's a sign of the players' quality that the group sounds like a well-oiled road unit, with Olson's powerful, earthy vocals backed by a solid rhythm section of Rick Hemmert on drums and Jesse Sublett on bass, and sparked throughout by Taylor's brilliant electric guitar. Released in 1991 under this title in the U.S. and as "Live" in Europe, this two-CD reissue adds a Taylor-sung cover of Fred McDowell's "You Gotta Move," previously released in Japan, and an entire second disc of studio tracks picked from Olson's subsequent collaborations with Taylor.
Olson smartly stays away from a luminous Jagger-like star-turn on these tunes, sinking instead into the lyrics and the band, and giving Taylor room for his emotional, tour de force playing, especially on "Sway."
Taylor's repeatedly shown himself to be one of the ultimate journeymen guitarists. His stints with John Mayall and the Rolling Stones, collaborations with Jack Bruce, Gong, and John Phillips, and guest appearances with Mike Oldfield, Little Feat, Bob Dylan and others have all been both reliable and memorable. More telling, his work as a gunslinger has greatly overshadowed his solo output. His collaborations with Olson are no exception, showing how fluidly he could integrate his playing with others, and how well his original compositions could be picked. He stepped to the microphone for "Broken Hands," taken from his self-titled 1979 solo release, and reached back to 1968 for his Mayall-recorded instrumental "Hartley Quits."
The collected studio sides again feature Olson and her bandmate's songs together with a pair of Jagger-Richards compositions, "Winter" (from Taylor's tenure with the Stones) and "Think I'm Goin' Mad." Though the productions are more polished and the arrangements more rehearsed, the playing couldn't get much tighter or empathetic than the live unit had shown. There's more variety here, born of recordings spanning ten years and different lineups, with good-sized helpings of Olson's rockin' roots (crossing Chrissie Hynde's emotion with Carlene Carter's country inflections) and Taylor's mesmerizing guitar playing. The opening take of "Winter," for example, doubles the length of the Stones' original, with Taylor laying down a superb five-minute solo alongside the lyrical piano of Barry Goldberg.
The bulk of the studio tracks find Taylor integrating himself into the band, offering up tasty annotations or short solos. The Olson original "Great Black Hole" provides Taylor a chance to display his chops with a slide. Overall, Olson's work with Taylor is sharper and bluesier than her earlier work with the Textones; there's still a healthy dose of the songwriter's social consciousness, but fleshed out with Taylor's guitar playing and mostly stripped of the mid-80s sounds that dated previous albums. Olson's fans likely know most of this work, and though Taylor's fans may know the live album, they'll relish the sampler of performances from Olson's studio albums. [©2008 hyperbolium dot com]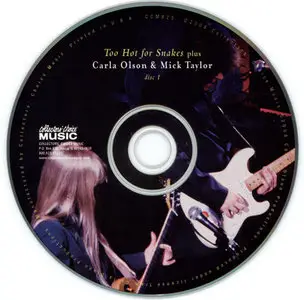 Tracklisting
Disc 1
1 Who Put the Sting on the Honeybee
2 Slow Rollin' Train
3 Trying to Hold On
4 Rubies & Diamonds
5 See the Light
6 You Can't Move In
7 Broken Hands
8 Sway
9 Hartley Quits
10 Midnight Mission
11 Silver Train
12 You Gotta Move
Disc 2
1 Winter
2 Loserville
3 Ring of Truth, The
4 Friends in Baltimore
5 Great Black Hole
6 Kinderwars
7 Reap the Whirlwind
8 Justice
9 Fortune
10 Within an Ace
11 World of Pain
12 Is the Lady Gone
13 Think I'm Goin' Mad

X Lossless Decoder version 20091223 (115.0)

XLD extraction logfile from 2009-12-24 13:13:40 +0100

Carla Olson & Mick Taylor / Too Hot For Snakes plus [Disc 1]

Used drive : PIONEER DVD-RW DVR-K06A (revision Q631)

Use cdparanoia mode : YES (CDParanoia III 10.2 engine)
Disable audio cache : OK for the drive with cache less than 2750KB
Make use of C2 pointers : NO
Read offset correction : 48
Max retry count : 100

TOC of the extracted CD
Track | Start | Length | Start sector | End sector
––––––––––––––––––––––––––––-
1 | 00:00:00 | 05:10:71 | 0 | 23320
2 | 05:10:71 | 07:58:19 | 23321 | 59189
3 | 13:09:15 | 05:27:72 | 59190 | 83786
4 | 18:37:12 | 05:34:10 | 83787 | 108846
5 | 24:11:22 | 07:30:69 | 108847 | 142665
6 | 31:42:16 | 04:31:70 | 142666 | 163060
7 | 36:14:11 | 04:33:65 | 163061 | 183600
8 | 40:48:01 | 06:56:35 | 183601 | 214835
9 | 47:44:36 | 06:25:39 | 214836 | 243749
10 | 54:10:00 | 06:00:22 | 243750 | 270771
11 | 60:10:22 | 06:40:61 | 270772 | 300832
12 | 66:51:08 | 06:34:10 | 300833 | 330392

Track 01
Filename : /Users//Desktop/Carla Olson & Mick Taylor - Too Hot For Snakes plus (2008) [FLAC]/Disc 01/01 - Who Put The Sting On The Honeybee.flac

Pre-gap length : 00:02:00

CRC32 hash (test run) : 9A8576DF
CRC32 hash : 9A8576DF
CRC32 hash (skip zero) : 22E8E92A
AccurateRip signature : 38BE49D9
->Track not present in AccurateRip database.
Statistics
Read error : 0
Skipped (treated as error) : 0
Edge jitter error (maybe fixed) : 0
Atom jitter error (maybe fixed) : 0
Drift error (maybe fixed) : 0
Dropped bytes error (maybe fixed) : 0
Duplicated bytes error (maybe fixed) : 0
Inconsistency in error sectors : 0

Track 02
Filename : /Users//Desktop/Carla Olson & Mick Taylor - Too Hot For Snakes plus (2008) [FLAC]/Disc 01/02 - Slow Rollin' Train.flac

CRC32 hash (test run) : E1AA2711
CRC32 hash : E1AA2711
CRC32 hash (skip zero) : 1F2E4FA4
AccurateRip signature : F099CD44
->Track not present in AccurateRip database.
Statistics
Read error : 0
Skipped (treated as error) : 0
Edge jitter error (maybe fixed) : 0
Atom jitter error (maybe fixed) : 0
Drift error (maybe fixed) : 0
Dropped bytes error (maybe fixed) : 0
Duplicated bytes error (maybe fixed) : 0
Inconsistency in error sectors : 0

Track 03
Filename : /Users//Desktop/Carla Olson & Mick Taylor - Too Hot For Snakes plus (2008) [FLAC]/Disc 01/03 - Trying To Hold On.flac

CRC32 hash (test run) : 037C8090
CRC32 hash : 037C8090
CRC32 hash (skip zero) : 25FAC20D
AccurateRip signature : AFEF6C90
->Track not present in AccurateRip database.
Statistics
Read error : 0
Skipped (treated as error) : 0
Edge jitter error (maybe fixed) : 0
Atom jitter error (maybe fixed) : 0
Drift error (maybe fixed) : 0
Dropped bytes error (maybe fixed) : 0
Duplicated bytes error (maybe fixed) : 0
Inconsistency in error sectors : 0

Track 04
Filename : /Users//Desktop/Carla Olson & Mick Taylor - Too Hot For Snakes plus (2008) [FLAC]/Disc 01/04 - Rubies & Diamonds.flac

CRC32 hash (test run) : D09EA8F5
CRC32 hash : D09EA8F5
CRC32 hash (skip zero) : 73326A8D
AccurateRip signature : 2485A788
->Track not present in AccurateRip database.
Statistics
Read error : 0
Skipped (treated as error) : 0
Edge jitter error (maybe fixed) : 0
Atom jitter error (maybe fixed) : 0
Drift error (maybe fixed) : 0
Dropped bytes error (maybe fixed) : 0
Duplicated bytes error (maybe fixed) : 0
Inconsistency in error sectors : 0

Track 05
Filename : /Users//Desktop/Carla Olson & Mick Taylor - Too Hot For Snakes plus (2008) [FLAC]/Disc 01/05 - See The Light.flac

CRC32 hash (test run) : 186C699D
CRC32 hash : 186C699D
CRC32 hash (skip zero) : A3A498BE
AccurateRip signature : C090FB31
->Track not present in AccurateRip database.
Statistics
Read error : 0
Skipped (treated as error) : 0
Edge jitter error (maybe fixed) : 0
Atom jitter error (maybe fixed) : 0
Drift error (maybe fixed) : 0
Dropped bytes error (maybe fixed) : 0
Duplicated bytes error (maybe fixed) : 0
Inconsistency in error sectors : 0

Track 06
Filename : /Users//Desktop/Carla Olson & Mick Taylor - Too Hot For Snakes plus (2008) [FLAC]/Disc 01/06 - You Can't Move In.flac

CRC32 hash (test run) : CC1A9F06
CRC32 hash : CC1A9F06
CRC32 hash (skip zero) : C57C5059
AccurateRip signature : E4AA6E90
->Track not present in AccurateRip database.
Statistics
Read error : 0
Skipped (treated as error) : 0
Edge jitter error (maybe fixed) : 0
Atom jitter error (maybe fixed) : 0
Drift error (maybe fixed) : 0
Dropped bytes error (maybe fixed) : 0
Duplicated bytes error (maybe fixed) : 0
Inconsistency in error sectors : 0

Track 07
Filename : /Users//Desktop/Carla Olson & Mick Taylor - Too Hot For Snakes plus (2008) [FLAC]/Disc 01/07 - Broken Hands.flac

CRC32 hash (test run) : 309054B9
CRC32 hash : 309054B9
CRC32 hash (skip zero) : F3B31DC5
AccurateRip signature : C6D6B264
->Track not present in AccurateRip database.
Statistics
Read error : 0
Skipped (treated as error) : 0
Edge jitter error (maybe fixed) : 0
Atom jitter error (maybe fixed) : 0
Drift error (maybe fixed) : 0
Dropped bytes error (maybe fixed) : 0
Duplicated bytes error (maybe fixed) : 0
Inconsistency in error sectors : 0

Track 08
Filename : /Users//Desktop/Carla Olson & Mick Taylor - Too Hot For Snakes plus (2008) [FLAC]/Disc 01/08 - Sway.flac

CRC32 hash (test run) : 5B65A368
CRC32 hash : 5B65A368
CRC32 hash (skip zero) : A0FC3F53
AccurateRip signature : CC199E19
->Track not present in AccurateRip database.
Statistics
Read error : 0
Skipped (treated as error) : 0
Edge jitter error (maybe fixed) : 0
Atom jitter error (maybe fixed) : 0
Drift error (maybe fixed) : 0
Dropped bytes error (maybe fixed) : 0
Duplicated bytes error (maybe fixed) : 0
Inconsistency in error sectors : 0

Track 09
Filename : /Users//Desktop/Carla Olson & Mick Taylor - Too Hot For Snakes plus (2008) [FLAC]/Disc 01/09 - Hartley Quits.flac

CRC32 hash (test run) : 737C4715
CRC32 hash : 737C4715
CRC32 hash (skip zero) : 41C55B34
AccurateRip signature : 70DB8B5F
->Track not present in AccurateRip database.
Statistics
Read error : 0
Skipped (treated as error) : 0
Edge jitter error (maybe fixed) : 0
Atom jitter error (maybe fixed) : 0
Drift error (maybe fixed) : 0
Dropped bytes error (maybe fixed) : 0
Duplicated bytes error (maybe fixed) : 0
Inconsistency in error sectors : 0

Track 10
Filename : /Users//Desktop/Carla Olson & Mick Taylor - Too Hot For Snakes plus (2008) [FLAC]/Disc 01/10 - Midnight Mission.flac

CRC32 hash (test run) : 693D5385
CRC32 hash : 693D5385
CRC32 hash (skip zero) : 0BEC8365
AccurateRip signature : EBCBB817
->Track not present in AccurateRip database.
Statistics
Read error : 0
Skipped (treated as error) : 0
Edge jitter error (maybe fixed) : 0
Atom jitter error (maybe fixed) : 0
Drift error (maybe fixed) : 0
Dropped bytes error (maybe fixed) : 0
Duplicated bytes error (maybe fixed) : 0
Inconsistency in error sectors : 0

Track 11
Filename : /Users//Desktop/Carla Olson & Mick Taylor - Too Hot For Snakes plus (2008) [FLAC]/Disc 01/11 - Silver Train.flac

CRC32 hash (test run) : 4DA57AFD
CRC32 hash : 4DA57AFD
CRC32 hash (skip zero) : B3D6DEDD
AccurateRip signature : 3866C540
->Track not present in AccurateRip database.
Statistics
Read error : 0
Skipped (treated as error) : 0
Edge jitter error (maybe fixed) : 0
Atom jitter error (maybe fixed) : 0
Drift error (maybe fixed) : 0
Dropped bytes error (maybe fixed) : 0
Duplicated bytes error (maybe fixed) : 0
Inconsistency in error sectors : 0

Track 12
Filename : /Users//Desktop/Carla Olson & Mick Taylor - Too Hot For Snakes plus (2008) [FLAC]/Disc 01/12 - You Gotta Move.flac

CRC32 hash (test run) : DBC2313B
CRC32 hash : DBC2313B
CRC32 hash (skip zero) : 3CC17FF1
AccurateRip signature : AC97823D
->Track not present in AccurateRip database.
Statistics
Read error : 0
Skipped (treated as error) : 0
Edge jitter error (maybe fixed) : 0
Atom jitter error (maybe fixed) : 0
Drift error (maybe fixed) : 0
Dropped bytes error (maybe fixed) : 0
Duplicated bytes error (maybe fixed) : 0
Inconsistency in error sectors : 0

No errors occurred

End of status report




X Lossless Decoder version 20091223 (115.0)

XLD extraction logfile from 2009-12-24 13:50:59 +0100

Carla Olson & Mick Taylor / Too Hot For Snakes plus [CD 2]

Used drive : PIONEER DVD-RW DVR-K06A (revision Q631)

Use cdparanoia mode : YES (CDParanoia III 10.2 engine)
Disable audio cache : OK for the drive with cache less than 2750KB
Make use of C2 pointers : NO
Read offset correction : 48
Max retry count : 100

TOC of the extracted CD
Track | Start | Length | Start sector | End sector
––––––––––––––––––––––––––––-
1 | 00:00:00 | 11:27:31 | 0 | 51555
2 | 11:27:31 | 04:37:17 | 51556 | 72347
3 | 16:04:48 | 04:44:67 | 72348 | 93714
4 | 20:49:40 | 04:59:74 | 93715 | 116213
5 | 25:49:39 | 09:34:56 | 116214 | 159319
6 | 35:24:20 | 04:11:73 | 159320 | 178217
7 | 39:36:18 | 05:55:16 | 178218 | 204858
8 | 45:31:34 | 05:33:61 | 204859 | 229894
9 | 51:05:20 | 04:28:20 | 229895 | 250014
10 | 55:33:40 | 05:49:52 | 250015 | 276241
11 | 61:23:17 | 05:21:70 | 276242 | 300386
12 | 66:45:12 | 05:42:28 | 300387 | 326064
13 | 72:27:40 | 04:40:62 | 326065 | 347126

Track 01
Filename : /Users/Desktop/Carla Olson & Mick Taylor - Too Hot For Snakes plus (2008) [FLAC]/Disc 02/01 - Winter.flac

Pre-gap length : 00:02:00

CRC32 hash (test run) : F87343DA
CRC32 hash : F87343DA
CRC32 hash (skip zero) : 65959422
AccurateRip signature : 9FF6251E
->Track not present in AccurateRip database.
Statistics
Read error : 0
Skipped (treated as error) : 0
Edge jitter error (maybe fixed) : 0
Atom jitter error (maybe fixed) : 0
Drift error (maybe fixed) : 0
Dropped bytes error (maybe fixed) : 0
Duplicated bytes error (maybe fixed) : 0
Inconsistency in error sectors : 0

Track 02
Filename : /Users/Desktop/Carla Olson & Mick Taylor - Too Hot For Snakes plus (2008) [FLAC]/Disc 02/02 - Loserville.flac

CRC32 hash (test run) : F205FF8A
CRC32 hash : F205FF8A
CRC32 hash (skip zero) : 5E0CCD40
AccurateRip signature : 588BBDBB
->Track not present in AccurateRip database.
Statistics
Read error : 0
Skipped (treated as error) : 0
Edge jitter error (maybe fixed) : 0
Atom jitter error (maybe fixed) : 0
Drift error (maybe fixed) : 0
Dropped bytes error (maybe fixed) : 0
Duplicated bytes error (maybe fixed) : 0
Inconsistency in error sectors : 0

Track 03
Filename : /Users/Desktop/Carla Olson & Mick Taylor - Too Hot For Snakes plus (2008) [FLAC]/Disc 02/03 - The Ring Of Truth.flac

CRC32 hash (test run) : 38A49513
CRC32 hash : 38A49513
CRC32 hash (skip zero) : DBB318DF
AccurateRip signature : 6BF932FA
->Track not present in AccurateRip database.
Statistics
Read error : 0
Skipped (treated as error) : 0
Edge jitter error (maybe fixed) : 0
Atom jitter error (maybe fixed) : 0
Drift error (maybe fixed) : 0
Dropped bytes error (maybe fixed) : 0
Duplicated bytes error (maybe fixed) : 0
Inconsistency in error sectors : 0

Track 04
Filename : /Users/Desktop/Carla Olson & Mick Taylor - Too Hot For Snakes plus (2008) [FLAC]/Disc 02/04 - Friends In Baltimore.flac

CRC32 hash (test run) : 5901BDA0
CRC32 hash : 5901BDA0
CRC32 hash (skip zero) : 0EDFC174
AccurateRip signature : 9532C76E
->Track not present in AccurateRip database.
Statistics
Read error : 0
Skipped (treated as error) : 0
Edge jitter error (maybe fixed) : 0
Atom jitter error (maybe fixed) : 0
Drift error (maybe fixed) : 0
Dropped bytes error (maybe fixed) : 0
Duplicated bytes error (maybe fixed) : 0
Inconsistency in error sectors : 0

Track 05
Filename : /Users/Desktop/Carla Olson & Mick Taylor - Too Hot For Snakes plus (2008) [FLAC]/Disc 02/05 - Great Black Hole.flac

CRC32 hash (test run) : 613C5AAD
CRC32 hash : 613C5AAD
CRC32 hash (skip zero) : 8B3D2E14
AccurateRip signature : 6118CBDC
->Track not present in AccurateRip database.
Statistics
Read error : 0
Skipped (treated as error) : 0
Edge jitter error (maybe fixed) : 0
Atom jitter error (maybe fixed) : 0
Drift error (maybe fixed) : 0
Dropped bytes error (maybe fixed) : 0
Duplicated bytes error (maybe fixed) : 0
Inconsistency in error sectors : 0

Track 06
Filename : /Users/Desktop/Carla Olson & Mick Taylor - Too Hot For Snakes plus (2008) [FLAC]/Disc 02/06 - Kinderwars.flac

CRC32 hash (test run) : 23C90558
CRC32 hash : 23C90558
CRC32 hash (skip zero) : A8B974AC
AccurateRip signature : BEEBB0B7
->Track not present in AccurateRip database.
Statistics
Read error : 0
Skipped (treated as error) : 0
Edge jitter error (maybe fixed) : 0
Atom jitter error (maybe fixed) : 0
Drift error (maybe fixed) : 0
Dropped bytes error (maybe fixed) : 0
Duplicated bytes error (maybe fixed) : 0
Inconsistency in error sectors : 0

Track 07
Filename : /Users/Desktop/Carla Olson & Mick Taylor - Too Hot For Snakes plus (2008) [FLAC]/Disc 02/07 - Reap The Whirlwind.flac

CRC32 hash (test run) : 931331E1
CRC32 hash : 931331E1
CRC32 hash (skip zero) : D1EB39F9
AccurateRip signature : 470BFBF6
->Track not present in AccurateRip database.
Statistics
Read error : 0
Skipped (treated as error) : 0
Edge jitter error (maybe fixed) : 0
Atom jitter error (maybe fixed) : 0
Drift error (maybe fixed) : 0
Dropped bytes error (maybe fixed) : 0
Duplicated bytes error (maybe fixed) : 0
Inconsistency in error sectors : 0

Track 08
Filename : /Users/Desktop/Carla Olson & Mick Taylor - Too Hot For Snakes plus (2008) [FLAC]/Disc 02/08 - Justice.flac

CRC32 hash (test run) : FF46046D
CRC32 hash : FF46046D
CRC32 hash (skip zero) : CDC820F6
AccurateRip signature : 3CD0E070
->Track not present in AccurateRip database.
Statistics
Read error : 0
Skipped (treated as error) : 0
Edge jitter error (maybe fixed) : 0
Atom jitter error (maybe fixed) : 0
Drift error (maybe fixed) : 0
Dropped bytes error (maybe fixed) : 0
Duplicated bytes error (maybe fixed) : 0
Inconsistency in error sectors : 0

Track 09
Filename : /Users/Desktop/Carla Olson & Mick Taylor - Too Hot For Snakes plus (2008) [FLAC]/Disc 02/09 - Fortune.flac

CRC32 hash (test run) : 37E49C57
CRC32 hash : 37E49C57
CRC32 hash (skip zero) : 105F4CD3
AccurateRip signature : F268D987
->Track not present in AccurateRip database.
Statistics
Read error : 0
Skipped (treated as error) : 0
Edge jitter error (maybe fixed) : 0
Atom jitter error (maybe fixed) : 0
Drift error (maybe fixed) : 0
Dropped bytes error (maybe fixed) : 0
Duplicated bytes error (maybe fixed) : 0
Inconsistency in error sectors : 0

Track 10
Filename : /Users/Desktop/Carla Olson & Mick Taylor - Too Hot For Snakes plus (2008) [FLAC]/Disc 02/10 - Within An Ace.flac

CRC32 hash (test run) : 0EA68519
CRC32 hash : 0EA68519
CRC32 hash (skip zero) : 7E3BF605
AccurateRip signature : CF87B6DF
->Track not present in AccurateRip database.
Statistics
Read error : 0
Skipped (treated as error) : 0
Edge jitter error (maybe fixed) : 0
Atom jitter error (maybe fixed) : 0
Drift error (maybe fixed) : 0
Dropped bytes error (maybe fixed) : 0
Duplicated bytes error (maybe fixed) : 0
Inconsistency in error sectors : 0

Track 11
Filename : /Users/Desktop/Carla Olson & Mick Taylor - Too Hot For Snakes plus (2008) [FLAC]/Disc 02/11 - World Of Pain.flac

CRC32 hash (test run) : D6A3BBB8
CRC32 hash : D6A3BBB8
CRC32 hash (skip zero) : 3A9540EB
AccurateRip signature : 59C6A58C
->Track not present in AccurateRip database.
Statistics
Read error : 0
Skipped (treated as error) : 0
Edge jitter error (maybe fixed) : 0
Atom jitter error (maybe fixed) : 0
Drift error (maybe fixed) : 0
Dropped bytes error (maybe fixed) : 0
Duplicated bytes error (maybe fixed) : 0
Inconsistency in error sectors : 0

Track 12
Filename : /Users/Desktop/Carla Olson & Mick Taylor - Too Hot For Snakes plus (2008) [FLAC]/Disc 02/12 - Is The Lady Gone.flac

CRC32 hash (test run) : 89F06817
CRC32 hash : 89F06817
CRC32 hash (skip zero) : A2073DFC
AccurateRip signature : A782C09C
->Track not present in AccurateRip database.
Statistics
Read error : 0
Skipped (treated as error) : 0
Edge jitter error (maybe fixed) : 0
Atom jitter error (maybe fixed) : 0
Drift error (maybe fixed) : 0
Dropped bytes error (maybe fixed) : 0
Duplicated bytes error (maybe fixed) : 0
Inconsistency in error sectors : 0

Track 13
Filename : /Users/Desktop/Carla Olson & Mick Taylor - Too Hot For Snakes plus (2008) [FLAC]/Disc 02/13 - Think I'm Goin' Mad.flac

CRC32 hash (test run) : 49AD8C6E
CRC32 hash : 49AD8C6E
CRC32 hash (skip zero) : 55363573
AccurateRip signature : 10893EA4
->Track not present in AccurateRip database.
Statistics
Read error : 0
Skipped (treated as error) : 0
Edge jitter error (maybe fixed) : 0
Atom jitter error (maybe fixed) : 0
Drift error (maybe fixed) : 0
Dropped bytes error (maybe fixed) : 0
Duplicated bytes error (maybe fixed) : 0
Inconsistency in error sectors : 0

No errors occurred

End of status report