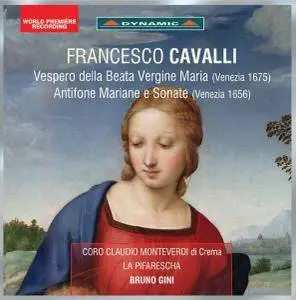 Coro Claudio Monteverdi di Crema - Cavalli: Vespero della Beata Vergine, Antifone mariane & Sonate
Classical | MP3 CBR 320 kbps | 62:12 min | 144 MB
Label: Dynamic | Tracks: 20 | Rls.date: 2017
The Vespero dellal Beata Vergine completes the recording of the works contained in the collection of eight-voice Vespers published in 1675, which includes the Vespero delli 5 Laudate and the Vespero delle Domeniche. It is the first complete recording of this trilogy, a masterpiece by Francesco Cavalli: the three Vespers will later be combined in a box-set. A worthy heir of Claudio Monteverdi, Francesco Cavalli uses, in the Vespero della Beata Vergine, musical brush strokes of extraordinary impact, under the aegis of an intense, Counter-Feformist spirituality where the deepest religious feeling goes hand in hand with a musical splendor of clear Venetian imprint. The interpretation is entrusted to the ""Coro Monteverdi di Cream"" and the ""La Pifarescha"" ensemble conducted by Bruno Gini, one of Italy's greatest specialists in Cavalli's sacred music.
TRACKLIST
01. Vespero della Beata Vergine Maria: Versus: Deus in adiutorium
02. Vespero della Beata Vergine Maria: Antifona: Ave Maria
03. Vespero della Beata Vergine Maria: Psalmus: Dixit Dominus
04. Vespero della Beata Vergine Maria: Antifonia: Beata Mater
05. Vespero della Beata Vergine Maria: Psalmus: Laudate pueri
06. Vespero della Beata Vergine Maria: Antifona: Nigra sum
07. Vespero della Beata Vergine Maria: Psalmus: Laetatus sum
08. Vespero della Beata Vergine Maria: Antifona: Laeva ejus
09. Vespero della Beata Vergine Maria: Psalmus: Nisi Dominus
10. Vespero della Beata Vergine Maria: Antifona: Speciosa facta es
11. Vespero della Beata Vergine Maria: Psalmus 147: Lauda Jerusalem
12. Vespero della Beata Vergine Maria: Hymnus: Ave maris stella
13. Vespero della Beata Vergine Maria: Antifona: Virgo Potens
14. Vespero della Beata Vergine Maria: Magnificat: Magnificat
15. Musiche sacre: Sonata a 6
16. Musiche sacre: Ave regina caelorum
17. Musiche sacre: Regina Caeli laetare
18. Musiche sacre: Salve Regina
19. Musiche sacre: Alma redemptoris Mater
20. Musiche sacre: Canzon a 4