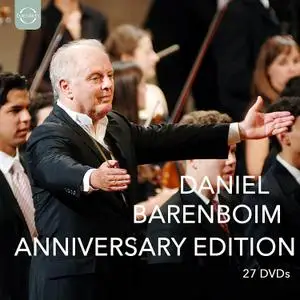 Daniel Barenboim Anniversary Edition - Brahms: Piano Concertos Nos. 1 & 2 (2017/1991)
NTSC 4:3 (720x480) | (LinearPCM, 2 ch) | 5.97 Gb (DVD9) | 111 min
Classical | EuroArts
Brahms's two piano concertos are from opposite ends of his creative years… The first work evinces a titanic struggle, while the second is warmer and rounder, but no less passionate, and shows Brahms at his consummate best. Today Daniel Barenboim is internationally recognized and revered as an orchestral and operatic conductor, pianist, and a musical ambassador and also as a humanitarian. Partnering him is the remarkable conductor Sergiu Celibidache. "He was one of the greatest musicians I ever encountered", says Barenboim.
Cast:
Daniel Barenboim, piano
Münchner Philharmoniker
Sergiu Celibidache, conductor
Track List:
Concerto for Piano no 1 in D minor, Op. 15
01. I. Maestoso
02. II. Adagio
03. III. Rondo: Allegro Non Troppo
Concerto for Piano no 2 in B flat major, Op. 83
04. I. Allegro Non Troppo
05. II. Allegro Appassionato
06. III. Andante
07. IV. Allegretto Grazioso