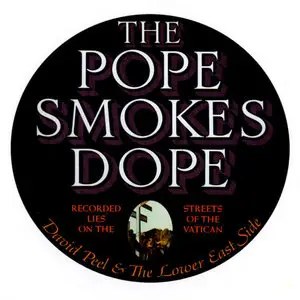 David Peel & The Lower East Side - The Pope Smokes Dope (1972)
XLD Rip | Flac (Tracks-15) Cue, Log, m3u, md5, st5, ffp | complete Artwork 300 dpi | 416 MB
Rock | 1972 | Eartraffic Records Limited/Orange Records International | SW-3391/ORA-012005
Produced by JOHN LENNON & YOKO ONO in 1972, this album has now been digitally remastered and includes bonus tracks: a dance remix of 'Everybody's Smoking Marijuana', an interview with John Lennon and his first meeting with David Peel and more! AND… for the first time, the ORIGINAL song order requested by David Peel.
North American CD limited edition issue: Issued with an eight page booklet and double-sided tray card which contains technical and historical information. Also includes never before seen photos of David Peel, world LP covers, promotional discs, acetate labels and cover, concert tickets, billboard ads and reviews, photos of the 8-track, and cassette Apple issues.
David's first effort for Apple - an album entitled "The Pope Smokes Dope", which had immediately set off an International furor.
The record was banned in nearly every country of the world, except for the United States, Canada and Japan.
The controversy was a bit reminiscent of Lennon's offhanded remark that The Beatles were "more popular than Jesus Christ."
John Lennon once compared Peel to artist, Pablo Picasso. The former Beatle confided in Andy Warhol's "Interview" magazine, that "producing David Peel was the highest point in his life".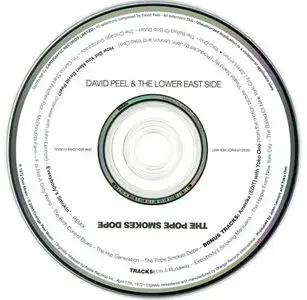 Tracklisting:
1. I'm A Runaway
2. Everybody's Smoking Marijuana
3. Hippie From New YorkK City
4. The Ballad Of New York City
5- The Ballad Of Bob Dylan
6. The Chicago Conspiracy
7. I'm Gonna Start Another Riot
8. McDonald's Farm
9. F Is Not A Dirty Word
10. The Birth Control Blues
11. The Hip Generation
12. The Pope Smokes Dope 
Bonus Tracks:
13. Amerika
14. Interview with John Lennon (How Did You Meet David Peel?)
15. Everybody's Smokin' (Remix)
"David Peel is the only man I've ever known - whose subconscious craziness is on par with mine!"
Jim Morrison
"People say, Oh, you know Peel - he can't sing, or he can't really play and that, but he writes beautiful songs, you know, and even sort of as simple as his basic chord structures are, supposedly. - Well you know - Picasso spent 40 years trying to get as simple as that."
John Lennon
X Lossless Decoder version 20091225 (115.1)

XLD extraction logfile from 2009-12-27 10:45:18 +0100

David Peel & The Lower East Side / The Pope Smokes Dope

Used drive : PIONEER DVD-RW DVR-K06A (revision Q631)

Use cdparanoia mode : YES (CDParanoia III 10.2 engine)
Disable audio cache : OK for the drive with cache less than 2750KB
Make use of C2 pointers : NO
Read offset correction : 48
Max retry count : 100

TOC of the extracted CD
Track | Start | Length | Start sector | End sector
––––––––––––––––––––––––––––-
1 | 00:00:00 | 03:41:53 | 0 | 16627
2 | 03:41:53 | 04:36:73 | 16628 | 37400
3 | 08:18:51 | 03:15:40 | 37401 | 52065
4 | 11:34:16 | 04:04:40 | 52066 | 70405
5 | 15:38:56 | 04:14:08 | 70406 | 89463
6 | 19:52:64 | 03:53:56 | 89464 | 106994
7 | 23:46:45 | 02:22:59 | 106995 | 117703
8 | 26:09:29 | 02:57:62 | 117704 | 131040
9 | 29:07:16 | 03:29:57 | 131041 | 146772
10 | 32:36:73 | 04:36:05 | 146773 | 167477
11 | 37:13:03 | 01:39:63 | 167478 | 174965
12 | 38:52:66 | 03:08:48 | 174966 | 189113
13 | 42:01:39 | 04:15:14 | 189114 | 208252
14 | 46:16:53 | 02:06:62 | 208253 | 217764
15 | 48:23:40 | 07:41:21 | 217765 | 252360


Track 01
Filename : /Users/Desktop/David Peel & The Lower East Side - The Pope Smokes Dope (1972) [FLAC]/01 - I'm A Runaway.flac

Pre-gap length : 00:02:00

CRC32 hash (test run) : ECA3E9B7
CRC32 hash : ECA3E9B7
CRC32 hash (skip zero) : CDB1EEC3
AccurateRip signature : AD737C29
->Accurately ripped! (confidence 1)
Statistics
Read error : 0
Skipped (treated as error) : 0
Edge jitter error (maybe fixed) : 0
Atom jitter error (maybe fixed) : 0
Drift error (maybe fixed) : 0
Dropped bytes error (maybe fixed) : 0
Duplicated bytes error (maybe fixed) : 0
Inconsistency in error sectors : 0

Track 02
Filename : /Users/Desktop/David Peel & The Lower East Side - The Pope Smokes Dope (1972) [FLAC]/02 - Everybody's Smoking Marijuana.flac

CRC32 hash (test run) : E2A5ECAB
CRC32 hash : E2A5ECAB
CRC32 hash (skip zero) : 9660DFED
AccurateRip signature : 01D04B24
->Accurately ripped! (confidence 1)
Statistics
Read error : 0
Skipped (treated as error) : 0
Edge jitter error (maybe fixed) : 0
Atom jitter error (maybe fixed) : 0
Drift error (maybe fixed) : 0
Dropped bytes error (maybe fixed) : 0
Duplicated bytes error (maybe fixed) : 0
Inconsistency in error sectors : 0

Track 03
Filename : /Users/Desktop/David Peel & The Lower East Side - The Pope Smokes Dope (1972) [FLAC]/03 - The Hippie From New York City.flac

CRC32 hash (test run) : 1DA396EC
CRC32 hash : 1DA396EC
CRC32 hash (skip zero) : 3FE3BE27
AccurateRip signature : 3E3EEF8F
->Accurately ripped! (confidence 1)
Statistics
Read error : 0
Skipped (treated as error) : 0
Edge jitter error (maybe fixed) : 0
Atom jitter error (maybe fixed) : 0
Drift error (maybe fixed) : 0
Dropped bytes error (maybe fixed) : 0
Duplicated bytes error (maybe fixed) : 0
Inconsistency in error sectors : 0

Track 04
Filename : /Users/Desktop/David Peel & The Lower East Side - The Pope Smokes Dope (1972) [FLAC]/04 - The Ballad Of New York City.flac

CRC32 hash (test run) : A18DC23E
CRC32 hash : A18DC23E
CRC32 hash (skip zero) : 2526F1EC
AccurateRip signature : 46677D29
->Accurately ripped! (confidence 1)
Statistics
Read error : 0
Skipped (treated as error) : 0
Edge jitter error (maybe fixed) : 0
Atom jitter error (maybe fixed) : 0
Drift error (maybe fixed) : 0
Dropped bytes error (maybe fixed) : 0
Duplicated bytes error (maybe fixed) : 0
Inconsistency in error sectors : 0

Track 05
Filename : /Users/Desktop/David Peel & The Lower East Side - The Pope Smokes Dope (1972) [FLAC]/05 - The Ballad Of Bob Dylan.flac

CRC32 hash (test run) : 9BD502BD
CRC32 hash : 9BD502BD
CRC32 hash (skip zero) : 44E679D5
AccurateRip signature : 56D08349
->Accurately ripped! (confidence 1)
Statistics
Read error : 0
Skipped (treated as error) : 0
Edge jitter error (maybe fixed) : 0
Atom jitter error (maybe fixed) : 0
Drift error (maybe fixed) : 0
Dropped bytes error (maybe fixed) : 0
Duplicated bytes error (maybe fixed) : 0
Inconsistency in error sectors : 0

Track 06
Filename : /Users/Desktop/David Peel & The Lower East Side - The Pope Smokes Dope (1972) [FLAC]/06 - The Chicago Conspiracy.flac

CRC32 hash (test run) : 0F22C9D8
CRC32 hash : 0F22C9D8
CRC32 hash (skip zero) : D39254E1
AccurateRip signature : AE4099E2
->Accurately ripped! (confidence 1)
Statistics
Read error : 0
Skipped (treated as error) : 0
Edge jitter error (maybe fixed) : 0
Atom jitter error (maybe fixed) : 0
Drift error (maybe fixed) : 0
Dropped bytes error (maybe fixed) : 0
Duplicated bytes error (maybe fixed) : 0
Inconsistency in error sectors : 0

Track 07
Filename : /Users/Desktop/David Peel & The Lower East Side - The Pope Smokes Dope (1972) [FLAC]/07 - I'm Gonna Start Another Riot.flac

CRC32 hash (test run) : F09A0435
CRC32 hash : F09A0435
CRC32 hash (skip zero) : 7B7BB3BB
AccurateRip signature : EA7901D0
->Accurately ripped! (confidence 1)
Statistics
Read error : 0
Skipped (treated as error) : 0
Edge jitter error (maybe fixed) : 1
Atom jitter error (maybe fixed) : 0
Drift error (maybe fixed) : 0
Dropped bytes error (maybe fixed) : 1
Duplicated bytes error (maybe fixed) : 1
Inconsistency in error sectors : 0

Track 08
Filename : /Users/Desktop/David Peel & The Lower East Side - The Pope Smokes Dope (1972) [FLAC]/08 - McDonald's Farm.flac

CRC32 hash (test run) : 494DE7CB
CRC32 hash : 494DE7CB
CRC32 hash (skip zero) : C40F22D5
AccurateRip signature : 4373FA5F
->Accurately ripped! (confidence 1)
Statistics
Read error : 0
Skipped (treated as error) : 0
Edge jitter error (maybe fixed) : 0
Atom jitter error (maybe fixed) : 0
Drift error (maybe fixed) : 0
Dropped bytes error (maybe fixed) : 0
Duplicated bytes error (maybe fixed) : 0
Inconsistency in error sectors : 0

Track 09
Filename : /Users/Desktop/David Peel & The Lower East Side - The Pope Smokes Dope (1972) [FLAC]/09 - F Is Not A Dirty Word.flac

CRC32 hash (test run) : 9858FA06
CRC32 hash : 9858FA06
CRC32 hash (skip zero) : D9319FAB
AccurateRip signature : E703CDCB
->Accurately ripped! (confidence 1)
Statistics
Read error : 0
Skipped (treated as error) : 0
Edge jitter error (maybe fixed) : 0
Atom jitter error (maybe fixed) : 0
Drift error (maybe fixed) : 0
Dropped bytes error (maybe fixed) : 0
Duplicated bytes error (maybe fixed) : 0
Inconsistency in error sectors : 0

Track 10
Filename : /Users/Desktop/David Peel & The Lower East Side - The Pope Smokes Dope (1972) [FLAC]/10 - The Birth Control Blues.flac

CRC32 hash (test run) : 2DBF11C8
CRC32 hash : 2DBF11C8
CRC32 hash (skip zero) : AA3AD14C
AccurateRip signature : 9045C6BD
->Accurately ripped! (confidence 1)
Statistics
Read error : 0
Skipped (treated as error) : 0
Edge jitter error (maybe fixed) : 0
Atom jitter error (maybe fixed) : 0
Drift error (maybe fixed) : 0
Dropped bytes error (maybe fixed) : 0
Duplicated bytes error (maybe fixed) : 0
Inconsistency in error sectors : 0

Track 11
Filename : /Users/Desktop/David Peel & The Lower East Side - The Pope Smokes Dope (1972) [FLAC]/11 - The Hip Generation.flac

CRC32 hash (test run) : F2E6D789
CRC32 hash : F2E6D789
CRC32 hash (skip zero) : E39FBF91
AccurateRip signature : 9587B2AC
->Accurately ripped! (confidence 1)
Statistics
Read error : 0
Skipped (treated as error) : 0
Edge jitter error (maybe fixed) : 0
Atom jitter error (maybe fixed) : 0
Drift error (maybe fixed) : 0
Dropped bytes error (maybe fixed) : 0
Duplicated bytes error (maybe fixed) : 0
Inconsistency in error sectors : 0

Track 12
Filename : /Users/Desktop/David Peel & The Lower East Side - The Pope Smokes Dope (1972) [FLAC]/12 - The Pope Smokes Dope.flac

CRC32 hash (test run) : CDD40177
CRC32 hash : CDD40177
CRC32 hash (skip zero) : 18BD6F95
AccurateRip signature : 37464598
->Accurately ripped! (confidence 1)
Statistics
Read error : 0
Skipped (treated as error) : 0
Edge jitter error (maybe fixed) : 1
Atom jitter error (maybe fixed) : 1
Drift error (maybe fixed) : 0
Dropped bytes error (maybe fixed) : 0
Duplicated bytes error (maybe fixed) : 0
Inconsistency in error sectors : 0

Track 13
Filename : /Users/Desktop/David Peel & The Lower East Side - The Pope Smokes Dope (1972) [FLAC]/13 - Amerika.flac

Pre-gap length : 00:00:09

CRC32 hash (test run) : 2497E53A
CRC32 hash : 2497E53A
CRC32 hash (skip zero) : 8B31544B
AccurateRip signature : 1D5E9F29
->Accurately ripped! (confidence 1)
Statistics
Read error : 0
Skipped (treated as error) : 0
Edge jitter error (maybe fixed) : 0
Atom jitter error (maybe fixed) : 0
Drift error (maybe fixed) : 0
Dropped bytes error (maybe fixed) : 0
Duplicated bytes error (maybe fixed) : 0
Inconsistency in error sectors : 0

Track 14
Filename : /Users/Desktop/David Peel & The Lower East Side - The Pope Smokes Dope (1972) [FLAC]/14 - How Did You Meet David Peel?.flac

Pre-gap length : 00:03:74

CRC32 hash (test run) : F5C819DC
CRC32 hash : F5C819DC
CRC32 hash (skip zero) : 4AF69921
AccurateRip signature : 481B0CBB
->Accurately ripped! (confidence 1)
Statistics
Read error : 0
Skipped (treated as error) : 0
Edge jitter error (maybe fixed) : 0
Atom jitter error (maybe fixed) : 0
Drift error (maybe fixed) : 0
Dropped bytes error (maybe fixed) : 0
Duplicated bytes error (maybe fixed) : 0
Inconsistency in error sectors : 0

Track 15
Filename : /Users/Desktop/David Peel & The Lower East Side - The Pope Smokes Dope (1972) [FLAC]/15 - Everybody's Smokin' (Remix).flac

Pre-gap length : 00:03:18

CRC32 hash (test run) : F29279A3
CRC32 hash : F29279A3
CRC32 hash (skip zero) : 8D4ACAC6
AccurateRip signature : C9A261E7
->Accurately ripped! (confidence 1)
Statistics
Read error : 0
Skipped (treated as error) : 0
Edge jitter error (maybe fixed) : 0
Atom jitter error (maybe fixed) : 0
Drift error (maybe fixed) : 0
Dropped bytes error (maybe fixed) : 0
Duplicated bytes error (maybe fixed) : 0
Inconsistency in error sectors : 0

No errors occurred

End of status report