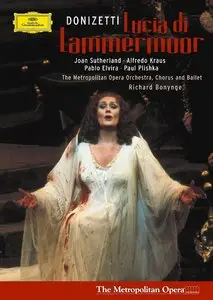 Richard Bonynge, The Metropolitan Opera Orchestra, Joan Sutherland, Alfredo Kraus - Donizetti: Lucia di Lammermoor (2005/1982)
NTSC 4:3 (720x480) VBR | Italiano (LinearPCM, 2 ch) | (DTS, 6 ch) | (Dolby AC3, 6 ch) | 7.19 Gb (DVD9) | 137 min
Classical | Deutsche Grammophon | Sub: Italiano, English, Deutsch, Francais, Espanol, Chinese
The Metropolitan Opera performance of Lucia Di Lammermoor features Joan Sutherland in a triumphant return to the Met after a four year absence. Dame Joan gives a performance of astounding facility and musical sensitivity. Gaetano Donizetti's tragic masterpiece is based on Sir Walter Scott's novel, The Bride of Lammermoor, a brooding tale of love, murder, and vengeance set in seventeenth-century Scotland. Taped live in its entirety on November 13, 1982.
Cast:
Lucia - Joan Sutherland
Edgardo - Alfredo Kraus
Enrico - Pablo Elvira
Arturo - Jeffrey Stamm
Raimondo - Paul Plishka
Alisa - Ariel Bybee
Normano - John Gilmore
The Metropolitan Opera Orchestra, Chorus and Ballet
Conductor - Richard Bonynge

01. Opening Credits
02. Atto I. Percorrete le spiagge vicine
03. Tu sei turbato!
04. Cruda, funesta smania
05. Il tuo dubbio è ormai certezza
06. La pietade in suo favore
07. Ancor non giunse
08. Regnava nel silenzio
09. Quando rapito in estasi
10. Egli s'avanza
11. Sulla tomba che rinserra
12. Qui di sposa eterna fede
13. Verranno a te sull'aure
14. Atto II. Lucia fra poco a te verrà
15. Apressati, Lucia
16. Il pallor funesto, orrendo
17. Soffria nel pianto
18. Se tradirmi tu potrai
19. Ebben? - Di tua speranza l'ultimo raggio tramontò!
20. Ah! Cedi, cedi, o più sciagure
21. Al ben de' tuoi qual vittima
22. Per te d'immenso giubilo
23. Per poco fra le tenebre
24. Dov'è Lucia?
25. Piange la madre estinta
26. Chi mi frena in tal momento?
27. T'allontana, sciagurato
28. Esci, fuggi, il furor che m'accende
29. Atto III. D'immenso giubilo
30. Ah! Cessate quel contento
31. Eccola! …Il dolce suono
32. Ardon gli incensi
33. S'avanza Enrico
34. Spargi d'amore pianto
35. Tombe degli avi miei
36. Fra poco a me ricovero
37. Oh meschina! Oh fato orrendo!
38. Tu che a Dio spiegasti l'ali