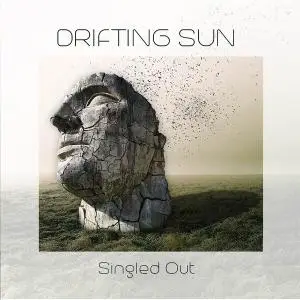 Drifting Sun - Singled Out (2019)
WEB FLAC (tracks) - 325 MB | MP3 CBR 320 kbps (LAME 3.93) - 125 MB | Front cover
Genre: Neo-Progressive Rock | RAR 3% Rec. | Label: Self-released
A selection of the 'B' sides of all their singles since 2015, plus a few more goodies thrown in for good measure!
Drifting Sun are a UK-based Progressive Rock studio project which dates back to the early 90's when Keyboardist/Composer Pat Sanders left his native France for England with Bass Player Manu Sibona. Their music has been described as dramatic, theatrical, & atmospheric, in the true style of prog rock giants such as Dream Theater, Queensryche, Genesis and Jethro Tull, to name but a few of the bands that influenced their sound.
Tracklist:
01. Silent in Shame
02. Emphasis (For Sienna Joy)
03. Vagabond
04. Lost Knight
05. Eternal Cycle
06. Atlantis
07. Bubble
08. A Year in Black
09. The Blond Ghost
10. Cascading Tears
11. Last Supper
12. Closure
Total time:
51:23

PERFORMER: auCDtect Task Manager, ver. 1.6.0 RC1 build 1.6.0.1
Copyright © 2008-2010 y-soft. All rights reserved

ANALYZER: auCDtect: CD records authenticity detector, version 0.8.2
Copyright © 2004 Oleg Berngardt. All rights reserved.
Copyright © 2004 Alexander Djourik. All rights reserved.


FILE: 12. Closure.flac
Size: 12093969 Hash: 2BE3E3861F141C6B83A42D6A4B761BD1 Accuracy: -m0
Conclusion: CDDA 58%
Signature: 96A854E050F3D654860D43771AB3E18AEECB095A
FILE: 11. Last Supper.flac
Size: 61831515 Hash: 0F0B4FBABE68BFA0425057E7289C5B53 Accuracy: -m0
Conclusion: CDDA 100%
Signature: ABA079059DD1F1FC613F50DA4ABD089B210AED04
FILE: 10. Cascading Tears.flac
Size: 69408609 Hash: B74178BF64397DEB0DD62B4944855946 Accuracy: -m0
Conclusion: CDDA 100%
Signature: A7A6C375EBE1328BF376FD943B4595408A4E3C47
FILE: 09. The Blond Ghost.flac
Size: 12990424 Hash: 6C497D0C7D09865E190EE0DD56D83D4B Accuracy: -m0
Conclusion: CDDA 100%
Signature: 5415281420C18529368BC725281CA0B4E640E35A
FILE: 08. A Year in Black.flac
Size: 16984399 Hash: CB7B73ED2DAEF0A0C2C3226F41B1E259 Accuracy: -m0
Conclusion: CDDA 100%
Signature: 91F2E537BB93B4C01EFA325DDB2C2ECD98FDB26D
FILE: 07. Bubble.flac
Size: 7036122 Hash: A2DACF304216734E5853AEAD41A8A941 Accuracy: -m0
Conclusion: CDDA 43%
Signature: 1DF44638AD1CBFC12CB3B23F7B2CE8C419A215F2
FILE: 06. Atlantis.flac
Size: 25003886 Hash: 077F83BBEE3D6C21F5CE0B138F3442D8 Accuracy: -m0
Conclusion: ???
Signature: 130C046A801081739840152139635B366BCA3DFC
FILE: 05. Eternal Cycle.flac
Size: 40129020 Hash: BA32E9042F9422B4F6618B3501A5A753 Accuracy: -m0
Conclusion: CDDA 100%
Signature: A368B4B1CE166FB83D7CC16E43BB6144A1CBD351
FILE: 04. Lost Knight.flac
Size: 32787685 Hash: 18281352A7C0201062422B46BB3964C5 Accuracy: -m0
Conclusion: CDDA 100%
Signature: 5A31459F96E5702D8E1D4F79DA0B4F97AF9CDE13
FILE: 03. Vagabond.flac
Size: 25904558 Hash: F955A26D7934AFE6580520B8C2F38EF9 Accuracy: -m0
Conclusion: CDDA 100%
Signature: 95A6A09399F8D3CB606A2E93C0C2014C1D73E1E1
FILE: 02. Emphasis (For Sienna Joy).flac
Size: 7227366 Hash: F3A7D5723F31148791FDAD731C28AE9C Accuracy: -m0
Conclusion: CDDA 100%
Signature: 1A7F9BBF85C22043CC34345D02F7F691BD57DCBF
FILE: 01. Silent in Shame.flac
Size: 17269998 Hash: 419CE6679DDF7C08D27531A10AC481A9 Accuracy: -m0
Conclusion: CDDA 92%
Signature: CAC1C9F2B812F44157BFFA12A878DC34CB94D647
See also:
Drifting Sun - Safe Asylum (2016)