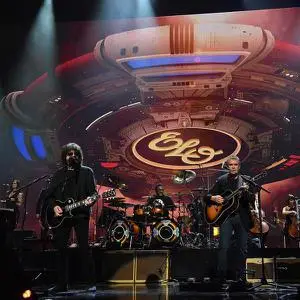 Electric Light Orchestra - Bootlegs Collection [21 Releases] (1972-2010)
MP3 [CBR, VBR] 174-320 kbps | Run Time: 32:26:41 | 4.32 GB
Genre: Symphonic rock, cello rock, art rock, progressive rock, pop rock | Label: Unofficial Releases
The Electric Light Orchestra (ELO) are an English rock band formed in Birmingham in 1970 by songwriters-multi-instrumentalists Jeff Lynne and Roy Wood with drummer Bev Bevan. Their music is characterised by a fusion of Beatlesque pop, classical arrangements and futuristic iconography. After Wood's departure in 1972, Lynne became the band's sole leader, arranging and producing every album while writing nearly all of their original material. For their initial tenure, Lynne, Bevan and keyboardist Richard Tandy were the group's only consistent members.
Contains Releases:
1972 - Live In Guildford (55:34)
1973 - Beethoven, Lynne & Co. (39:53)
1973 - Live In Europe (Rockaria Overture) (57:52)
1973 - Live Unapproved (54:05)
1974 - Live In Palace Theatre, Providence (73:51)
1976 - Live In Boston (39:04+52:07)
1976 - Live In Detroit (65:50+34:26)
1976 - Live In Flint (32:37+49:21)
1976 - Live USA - Live In San Francisco (42:18)
1976 - Strange Magic - Live in Portsmouth (51:39)
1976 - The Light Went On Again (52:58)
1978 - Eldorado - Live In Osaka (46:07+40:13)
1978 - Orchestral Encounters Of The Electric Kind - Live In Las Vegas (64:04)
1981 - Hold On Tight - Live At Wembley (41:55+42:30)
1982 - Live In Frankfurt (74:23)
1982 - Twilight - Live In Koln (74:04)
1986 - Live In Stuttgart (53:53)
1995 - Afterglow [1995 VIL-ART A060] Russia (70:24)
1995 - Singles Collection [1995 Sony Phonogram ELO 110197 TVB] (73:16)
2002 - De Luxe Collection [2002 Dreamsound Studio] (76:28)
2007 - Greatest Hits [2007 Star Mark 14034-1-2] (79:10+79:10)*
2010 - Star Collection [2010 United Sounds] (79:33+79:13+78:36+77:37)
1972 - Live In Guildford (55:34)

1.1538 Overture - 6.41
2. Queen Of The Hours - 6.58
3. From The Sun To The World (Boogie # 1) - 9.44
4. First Movement (Jumping Biz) - 3.57
5. Dear Elaine - 5.52
6. Great Balls Of Fire - 6.32
7. In Old England Town (Boogie # 2) - 6.54
8. Roll Over Beethoven (TV in Concert, Santa Monica, 1973) - 8.54

An early concert by ELO, recorded on May 7, 1972. First of all, it is interesting because the timing and performance of some songs differ from the standard versions.

Time: 55:34

1973 - Beethoven, Lynne & Co. (39:53)

Paris Cinema - London - 04/19/1973
1 From the Sun to the World - 11.09
2 Kuiama - 11.10
3 Roll Over Beethoven - 4.58
Portsmouth - 06/22/1976
4 Showdown - 4.33
5 Illusions in G Major - 3.04
6 10538 Overture / Do Ya - 5.00

Bootleg featuring live recordings in England 1973-76

Time: 39:53

1973 - Live In Europe (Rockaria Overture) (57:52)

1 From The Sun To The World - 11.57 (Lower Cinema - Lower Regent Street - London - 19-04-73)
2 Kuiama - 11.53 (Lower Cinema - Lower Regent Street - London - 19-04-73)
3 Roll Over Beethoven - 5.15 (The Hippodrome - Golders Green - London - 25-01-74)
4 Ma Ma Ma Belle - 5.03 (St Sodium Glutamate Aquarium - 1974)
5 King Of The Universe - 4.58 (The Hippodrome - Golders Green - London - 25-01-74)
6 Bluebird Is Dead - 4.13 (The Hippodrome - Golders Green - London - 25-01-74)
7 Oh No Not Susan - 2.45 (The Hippodrome - Golders Green - London - 25-01-74)
8 New World Rising - 6.56 (The Hippodrome - Golders Green - London - 25-01-74)
9 In The Hall Of The Mountain King - 3.28 (The Hippodrome - Golders Green - London - 25-01-74)
10 Great Balls Of Fire - 1.26 (The Hippodrome - Golders Green - London - 25-01-74)

Concert performances of ELO 1973-74 in support of the release of the album "On The Third Day".

Time: 57:52

1973 - Live Unapproved (54:05)

1 - Roll Over Beethoven - 4.48
2 - King Of The Universe - 4.51
3 - Bluebird Is Dead - 3.55
4 - In The Hall Of The Mountain king - 3.27
5 - Great Balls Of Fire - 1.15
6 - From The Sun To The World - 11.19
7 - Ma-Ma-Ma Belle - 4.52
8 - Kuiama - 11.26
9 - Oh No, Not Susan - 2.51
10 - New World Rising - 5.21

Live recordings from 1973, which included ELO's performances to promote 'On The Third Day'.

Time: 54:05

1974 - Live In Palace Theater, Providence (73:51)

1. Daybreaker - 6.13
2. Showdown - 5.08
3. King Of The Universe - 3.34
4. Instrumental - 2.19
5. Bluebird Is Dead - 4.30
6. New World Rising - 4.56
7. Cello Solo - 4.04
8. Day Tripper - 6.44
9. Eldorado Overture - 2.17
10. Can't Get It Out Of My Head - 4.12
11. Laredo Tornado - 4.57
12. Violin Solo - 5.30
13. Ma-Ma-Ma Belle - 4.43
14. Hall Of The Mountain King - 3.53
15. Great Balls Of Fire - 3.53
16. Roll Over Beethoven - 6.49

ELO concert on December 7, 1974 in support of the release of the "Eldorado" album.

Time: 73:51

1976 - Live In Boston (39: 04 + 52: 07)

CD1
1. Intro - 1.14
2. Fire On High - 4.03
3. Poker - 4.04
4. Nightrider - 4.37
5. King Of The Universe - 3.18
6. Instrumental - 2.39
7. Bluebird Is Dead - 6.25
8. Cello solo - 8.05
9. Showdown - 4.38

Time: 39:04

CD2
1. Eldorado Overture - 2.01
2. Can't Get It Out Of My Head - 3.45
3. Poor Boy (The Greenwood) - 2.38
4. Illusions In G Major - 2.25
5. Eldorado - 4.59
6. Violin solo - 9.44
7. Strange Magic - 4.04
8.1538 Overture - 2.50
9. Do Ya - 2.22
10. Evil Woman - 4.59
11. Ma Ma Ma Belle - 5.25
12. Roll Over Beethoven - 6.54

Time: 52:07

ELO concert on March 19, 1976 in support of the "New World Record" album.

1976 - Live In Detroit (65:50 + 34:26)

CD1
1. Fire On High - 5.48
2. Poker - 4.10
3. Nightrider - 4.50
4. Ocean Breakup / King of The Universe - 6.14
5. Bluebird Is Dead - 3.58
6. New World Rising / Ocean Breakup Reprise - 2.56
7. Hugh McDowell'Sello Solo / Flight Of The Bumblle Bee - 8.06
8. Showdown - 4.47
9. Eldorado Overture - 1.20
10. Can't Get It Out Of My Head - 4.05
11. Poor Boy (The Greenwood) - 2.47
12. Illusions In G Major - 2.32
13. Eldorado - 5.19
14. Mik Kaminski's Violin Solo / Orange Blossom Special - 8.57

Time: 65:50

CD2
1. Bev Bevan's Intro - 1.11
2. Strange Magic - 4.16
3.1538 Overture - 2.59
4. Do Ya - 2.30
5. Evil Woman - 4.35
6. Ma Ma Ma Belle - 4.49
7. Let's Spend The Night Together / The End - 6.34
8. Roll Over Beethoven - 7.31

Time: 34:26

ELO concert performed on March 4, 1976 in Detroit, Michigan, in support of the release of the "New World Record" album. It is notable for the fact that it contains the Rolling film Let's Spend The Night Together, which was sometimes performed by ELO at that time.

1976 - Live In Flint (32: 37 + 49: 21)

CD1
1. Fire On High - 5.27
2. Poker - 3.56
3. Nightrider - 4.40
4. Ocean Breakup / King Of The Universe - 6.05
5. Bluebird Is Dead - 3.51
6. Oh No Not Susan - 0.28
7. New World Rising / Ocean Breakup Reprise - 2.13
8. Cello Solo - 1.12
9. Showdown - 4.41

Time: 32:37

CD2
1. Eldorado Overture - 2.05
2. Can't Get It Out Of My Head - 3.56
3. Poor Boy (The Greenwood) - 2.42
4. Illusions In G Major - 2.36
5. Eldorado - 5.00
6. Violin Solo - 6.36
7. Bev
Bevan Intro - 0.43
8. Strange Magic - 4.01
9.10538 Overture - 2.54
10. Do Ya - 2.10
11. Evil Woman - 4.33
12. Ma-Ma-Ma Belle - 5.08
13. Roll Over Beethoven - 6.49

Time: 49:21

ELO concert in Flint, performed on March 16, 1976 in support of the "New World Record" album.

1976 - Live USA - Live In San Francisco (42:18)

01. Poker - 3.46
02. Nightrider - 4.23
03. Eldorado Overture - 2.04
04. Can't Get It Out Of My Head - 4.00
05. Poor Boy - 2.45
06. Illusion In G Major - 2.28
07. Eldorado Finale - 4.11
08. Strange Magic - 3.08
09.10538 Overture - 2.48
10. Do Ya - 2.17
11. Evil Woman - 4.25
12. Roll Over Beethoven - 6.00

German edition of the San Francisco gig, also known as 'Freedom City Pandemonium' or 'Live USA', which featured ELO's 1976 performances to promote 'Face The Music'.

Time: 42:18

1976 - Strange Magic - Live in Portsmouth (51:39)

1 - Poker - 4.12
2 - Nightrider - 4.28
3 - On The Third Day Medley - 13.50
4 - Showdown - 5.00
5 - Can't Get It Out Of My Head - 6.05
6 - Illusions In G Major - 2.40
7 - Strange Magic - 4.34
8 - 10538 Overture / Do Ya - 6.20
9 - Evil Woman - 4.24

Concert in Portsmouth, England, 1976 (exact date unknown).

Time: 51:39

1976 - The Light Went On Again (52:58)

1 - Fire On High - 3.52
2 - Poker - 3.52
3 - Nightrider - 4.17
4 - Showdown - 4.36
5 - Eldorado Overture - 0.49
6 - Can't Get It Out of My Head - 3.59
7 - Poor Boy (The Greenwood) - 2.40
8 - Illusions in G Major - 2.25
9 - Eldorado - 3.04
10 - Eldorado Finale - 1.30
11 - Strange Magic - 3.34
12 - 10538 Overture - 2.47
13 - Do Ya - 1.48
14 - Evil Woman - 4.10
15 - Ma-Ma-Ma Belle - 4.21
16 - Roll Over Beethoven - 5.19

One of a group of similar bootlegs from a San Francisco gig on February 14, 1976.

Time: 52:58

1978 - Eldorado - Live In Osaka (46: 07 + 40: 13)

CD1
1. Fire on high - 5.33
2. Night in the city - 3.51
3. Turn to stone - 3.56
4. Can't Get It Out Of My Head - 6.31
5. Cello solo - 6.28
6. Tightrope - 5.16
7. Telephone line - 4.50
8. Rockaria! - 3.21
9. Violin solo - 6.16

Time: 46:07

CD2
1. Strange Magic - 3.52
2. Showdown - 3.46
3. Sweet Talkin 'Woman - 4.03
4. Evil Woman - 4.53
5. Livin 'Thing - 4.41
6. Do Ya - 4.22
7. Ma Ma Ma Belle - 7.17
8. Roll Over Beethoven - 7.14

Time: 40:13

ELO concert in Osaka on February 23, 1978 in support of the "Out Of The Blue" album.

1978 - Orchestral Encounters Of The Electric Kind - Live In Las Vegas (64:04)

1. Standin 'In The Rain - 3.41
2. Night In The City - 3.35
3. Turn To Stone - 3.45
4. Can't Get It Out Of My Head - 4.09
5. Tightrope - 4.39
6. Telephone Line - 4.20
7. Rockaria - 2.56
8. Strange Magic - 2.54
9. Showdown - 3.18
10. Mr. Blue Sky - 3.44
11. Sweet Talkin 'Woman - 3.53
12. Evil Woman - 4.11
13. Do Ya - 4.15
14. Livin 'Thing (Live At The Spectrum - Philadelphia 09/19/1978) - 4.02
15. Ma Ma Ma Belle (Live At The Spectrum - Philadelphia 09/19/1978) - 4.52
16. Roll Over Beethoven (Live At The Spectrum - Philadelphia 09.19.1978) - 5.50

Concert ELO, held on August 22, 1978 in support of the release of the album "Out Of The Blue".

Time: 64:04

1981 - Hold On Tight - Live At Wembley (41: 55 + 42: 30)

CD1
1. Twilight - 4.53
2. Yours Truly, 2095 - 3.51
3. Evil Woman - 3.27
4. Livin 'Thing - 3.57
5. Telephone Line - 4.25
6. From The End Of The World - 4.00
7. Here Is The News - 3.30
8. Mik Kaminski's Violin Solo - 6.33
9.Tribute To Jonh Lennon - 7.19

Time: 41:55

CD2
1. Hit Medley - 09/26
2. Hold On Tight - 3.56
3. Don't Bring Me Down - 6.02
4. Roll Over Beethoven - 6.21

Time: 42:30

Concert ELO, held on December 1, 1981 in support of the release of the album "Time".

1982 - Live In Frankfurt (74:23)

1. Twilight - 4.58
2. Yours Truly, 2095 - 3.30
3. Evil Woman - 3.58
4. Livin 'Thing - 4.02
5. Telephone Line - 4.21
6. From The End Of The World - 4.11
7. The Way Life's Meant To Be - 3.36
8. Beatles Medley - 7.00
9. Hit Medley - Showdown - 2.53
10. Ma Ma Ma Belle - 2.10
11. Can't Get It Out Of My Head - 2.24
12. Wild West Hero - 0.37
13. Fire On High - 0.39
14. Turn To Stone - 2.02
15. Standin 'In The Rain - 0.49
16. Mr Blue Sky - 1.59
17. Sweet Talkin 'Woman - 1.53
18. Shine A Little Love - 1.27
19. Last Train To London - 1.38
20. Confusion - 1.48
21. Do Ya - 1.23
22. Rockaria - 2.43
23. Hold On Tight - 3.40
24. Don't Bring Me Down - 5.25
25. Roll Over Beethoven - 5.03

Add. Information: Concert ELO, performed on February 13, 1982 in Frankfurt in support of the release of the album "Time".

Time: 74:23

1982 - Twilight - Live In Koln (74:04)

1. Twilight - 5.06
2. Yours Truly, 2095 - 3.48
3. Evil Woman - 3.18
4. Livin 'Thing - 3.53
5. Telephone Line - 4.23
6. The End Of The World - 4.00
7. The Way Life's Meant To Be - 3.25
8. John Lennon Medley - 7.29
9. Hit Medley: Showdown - 1.53
10. Ma Ma Ma Belle - 2.09
11. Can't Get It Out Of My Head - 2.19
12. Wild West Hero - 1.14
13. Turn To Stone - 2.01
14. Mr Blue Sky - 2.43
15. Sweet Talkin 'Woman - 2.05
16. Shine A Little Love - 1.11
17. Last Train To London - 1.39
18. Confusion - 1.46
19. Do Ya - 1.24
20. Rockaria - 3.19
21. Hold On Tight - 3.28
22. Don't Bring Me Down - 5.24
23. Roll Over Beethoven - 6.07

1982 ELO concert in Cologne, Germany in support of the album "Time".

Time: 74:04

1986 - Live In Stuttgart (53:53)

01 - Twilight
02 - Evil Woman
03 - Livin 'Thing
04 - 10538 Overture / Showdown / Sweet Talkin 'Woman / Confusion
05 - Telephone Line
06 - Ma-Ma-Ma Belle / Do Ya / Rockaria
07 - Calling America
08 - Rock'n'Roll Is King
09 - Mr. Blue Sky
10 - Hold On Tight
11 - Don't Bring Me Down
12 - Roll Over Beethoven

One of the last concerts of the Electric Light Orchestra in the German city of Stuttgart before the band's disbandment in 1986.

Time: 53:53

1995 - Afterglow [1995 VIL-ART A060] (70:24)

1. Let It Run - 3:24
2. Julie Don't Live Here - 3:43
3. When The Stood Still - 3:36
4. Destination Unknown - 4:09
5. Hello My Old Friend - 7:55
6. Time After Time - 4:04
7. Video - 3:29
8. Buildings Have Eyes - 4:00
9. A Matter Of Fact - 4:02
10. Mandalay - 5:25
11. Bouncer - 3:18
12. No Way Out - 3:29
13. I'm Alive (Danus / Rubel) - 3:44
14. The Fall - 3:39
15. Don't Walk Away - 4:50
16. All Over The World - 4:10
17. Xanadu - 3:28

Time: 70:24

1995 - Singles Collection [1995 Sony Phonogram ELO 110197 TVB] (73:16)

1. Secret Messages - 4:51
2. Here is the News - 3:51
3. Don't Bring Me Down - 4:04
4. So Serious - 2:42
5. Ticket to the Moon - 4:09
6. Honest Man (Troyer) - 6:13
7. Hold On Tight - 3:10
8. Roll Over Beethoven (Berry) - 4:32
9. Do Ya - 3:47
10. Getting to the Point - 4:29
11. Sweet Talkin' Woman - 3:43
12. I'm Alive - 3:46
13. All Over the World - 4:05
14. Turn to Stone - 3:45
15. Confusion - 3:43
16. Rockaria - 3:15
17. Calling America - 3:26
18. Rock and Roll is King - 3:45
19. Jeff Lynne - Save Me Now - 1:59

Time: 73:16

2002 - De Luxe Collection [2002 Dreamsound Studio] (76:28)

1. Secret Messages - 4:44
2. Loser Gone Wild - 5:22
3. So Serious - 2:44
4. Starlight - 4:17
5. Confusion - 3:41
6. Need Her Love - 5:13
7. Showdown - 4:10
8. Another Heart Breaks - 3:48
9. Ticket To The Moon - 4:08
10. Stranger - 4:28
11. Train Of Gold - 4:22
12. Alright - 3:11
13. In My Own Time - 3:03
14. Last Train To London - 4:32
15. Midnight Blue - 4:18
16. From The End Of The World - 3:17
17. The Lights Go Down - 3:35
18. Sorrow About To Fall - 4:05
19. Xanadu (ELO with Olivia Newton-John) - 3:29

Time: 76:28

2007 - Greatest Hits [2007 Star Mark 14034-1-2] (79:10+79:10)

CD1
1. Alright - 3:15
2. Turn to Stone - 3:52
3. Twilight - 3:40
4. Secret Messages - 3:38
5. Ticket to the Moon - 4:10
6. Evil Woman - 4:19
7. Livin' Thing - 3:36
8. Just for Love - 3:42
9. Xanadu (New Version) - 3:24
10. Love Changes All - 3:30
11. Ordinary Dream - 3:26
12. Last Train to London - 4:35
13. Now You're Gone - 4:00
14. Moment in Paradise - 3:38
15. Four Little Diamonds - 4:09
16. Strange Magic - 4:10
17. Showdown - 4:13
18. Telephone Line - 4:44
19. Don't Bring Me Down - 4:05
20. Mr. Blue Sky - 5:03

Time: 79:10

CD2
1. Helpless - 3:22
2. Sweet Talkin' Woman - 3:50
3. Shine a Little Love - 4:14
4. A Long Time Gone - 3:18
5. So Serious - 2:45
6. All over the World - 4:03
7. I'm Alive - 3:46
8. Calling America - 3:30
9. Can't Get It Out of My Head - 3:10
10. The Diary of Horace Wimp - 4:20
11. Confusion - 3:44
12. Melting in the Sun - 3:13
13. Every Little Thing - 3:46
14. Stranger on a Quiet Street - 3:43
15. Don't Say Goodbye - 3:12
16. It Really Doesn't Matter - 3:22
17. Great Balls of Fire - 3:08
18. Rock & Roll Is King - 3:08
19. Hold on Tight - 3:09
20. Do Ya - 3:47
21. 10538 Overture - 4:06
22. Roll Over Beethoven - 4:34

Time: 79:10


2010 - Star Collection [2010 United Sounds] (79:33+79:13+78:36+77:37)

CD1
1. Rock & Roll Is King - 3:08
2. Helpless - 3:22
3. Hold On Tight - 3:09
4. So Serious - 2:45
5. Confusion - 3:44
6. Sweet Talkin' Woman - 3:50
7. All Over The World - 4:03
8. Calling America - 3:30
9. Last Train To London - 4:35
10. Now You're Gone - 4:00
11. Showdown - 4:13
12. Four Little Diamonds - 4:09
13. Don't Bring Me Down - 4:05
14. Secret Messages - 3:38
15. Evil Woman - 4:19
16. Xanadu (New Version) - 3:24
17. Stranger On A Quiet Street - 3:43
18. It Really Doesn't Matter - 3:22
19. Shine A Little Love - 4:41
20. Roll Over Beethoven - 4:34
21. A Long Time Gone - 3:18

Time: 79:33

CD2
1. Destination Unknown (UK B-Side) - 4:13
2. Is It Alright - 3:26
3. Sorrow About To Fall - 4:06
4. Another Heart Breaks - 3:49
5. Stranger - 4:27
6. Without Someone - 3:51
7. In For The Kill - 3:16
8. Caught In A Trap (UK B-Side) - 3:48
9. Train Of G - 4:21
10. Bluebird - 4:13
11. Secret Lives - 3:32
12. Loser Gone Wild - 5:27
13. Rain Is Falling - 3:56
14. Twilight - 3:42
15. Ticket To The Moon - 4:07
16. When Time Stood Still - 3:33
17. Getting To The Point - 4:32
18. Heaven Only Knows - 2:57
19. Strange Magic - 4:10
20. Danger Ahead - 3:45

Time: 79:13

CD3
1. From The End Of The World - 3:17
2. Moment In Paradise - 3:38
3. Secret Lives (Alternate Take) - 3:27
4. Sorrow About To Fall (Alternate Mix) - 3:51
5. The Lights Go Down - 3:33
6. Alright - 3:15
7. Don't Say Goodbye - 3:12
8. Can't Get It Out Of My Head - 3:10
9. Every Little Thing - 3:46
10. Here Is The News - 3:50
11. I'm Alive - 3:46
12. Take Me On And On - 4:58
13. Melting In The Sun - 3:13
14. Roll' Over Beethoven (Single Version) - 4:35
15. The Way Life's Meant To Be - 4:39
16. Just For Love - 3:42
17. Turn To Stone - 3:52
18. Love Changes All - 3:30
19. Livin' Thing - 3:36
20. Ordinary Dream - 3:26
21. The Diary Of Horace Wimp - 4:20

Time: 78:36

CD4
1. Latitude 88 North - 3:25
2. It's Over - 4:09
3. Jungle - 3:53
4. Believe Me Now - 1:21
5. Surrender - 2:36
6. Julie Don't Live Here - 3:44
7. Midnight Blue - 4:18
8. On The Run - 3:57
9. Little Town Flirt - 2:55
10. Wishing - 4:14
11. Xanadu (with Olivia Newton-John) - 3:28
12. The Fall - 3:34
13. Starlight - 4:32
14. Summer And Lightning - 4:15
15. Tightrope - 5:06
16. Sweet Is The Night - 3:28
17. Steppin' Out - 4:41
18. Night In The City - 4:04
19. Need Her Love - 5:12
20. Telephone Line - 4:44

Time: 77:37