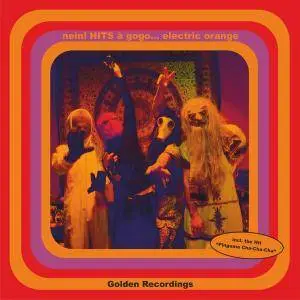 Electric Orange - Nein! Hits a gogo… [EP] (2015)
WEB FLAC (tracks) - 147 MB | MP3 CBR 320 kbps (LAME 3.93) - 61 MB | Digital covers
Genre: Psychedelic/Space Rock, Krautrock | RAR 3% Rec. | Label: Adansonia Records
The music of Electric Orange, founded in 1992 in the city of Aachen, represents the so-called krautrock scene that emerged in the seventies. Originally they were a duo consisting of Dirk Bittner (vocals, guitar, percussion) and Dirk Jan Müller (synthesizers, keyboards). During the nineties the band recorded a few albums for the famous British Delerium label, combining psychedelics with electronic rhythms, similar to bands like Ozric Tentacles. Later on they were joined by Georg Monheim (drums) and Tom Rückwald (bass).
This EP offers some swinging jazz adapted feel, quasi like trying to have a time travel into the German (late) 60's. Though on the other hand it does not sound like totally covered in dust, due to some modern experimental approach to be added, this quasi like transferring the good old inspiration into this present day.
Tracklist:
01. Golden Bossa
02. Pinguma Cha-Cha-Cha
03. Rumbar
04. Swing Surrender
05. Video à Gogo
06. Mrs. Ham
07. Non Stop Dancing
08. Ducktango
09. Samba Ohrleck
Total time:
23:12

PERFORMER: auCDtect Task Manager, ver. 1.6.0 RC1 build 1.6.0.1
Copyright © 2008-2010 y-soft. All rights reserved

ANALYZER: auCDtect: CD records authenticity detector, version 0.8.2
Copyright © 2004 Oleg Berngardt. All rights reserved.
Copyright © 2004 Alexander Djourik. All rights reserved.


FILE: 09. Samba Ohrleck.flac
Size: 24799821 Hash: 86C9AB3701EEAB9F1CB7B0751020BF54 Accuracy: -m0
Conclusion: CDDA 100%
Signature: C013676B80CF6AC5A8804D39FD798157D755F1D5
FILE: 08. Ducktango.flac
Size: 20149394 Hash: FFA268992EA29DC64394D9F8F9468F78 Accuracy: -m0
Conclusion: CDDA 100%
Signature: 3990649FABD0FDB218C61CC540BD7038B589E031
FILE: 07. Non Stop Dancing.flac
Size: 2398646 Hash: 77E152621F1C861A7E30088D52BFCE82 Accuracy: -m0
Conclusion: CDDA 99%
Signature: F4472307212D05BA4E4F09EC236E8DEC4BF66459
FILE: 06. Mrs. Ham.flac
Size: 24405872 Hash: C2DD13672F64514911B160EC0B25912E Accuracy: -m0
Conclusion: CDDA 100%
Signature: 86289D943C8B5CB59326DF0C3624BFCEB37BF98D
FILE: 05. Video à Gogo.flac
Size: 23272094 Hash: 9950B6EA44EE6F6E0E3402AFA0CB2E32 Accuracy: -m0
Conclusion: CDDA 100%
Signature: AD29297ECE0A71C896B835BF53650F5C065803BD
FILE: 04. Swing Surrender.flac
Size: 4243681 Hash: 1A9FC3C119EC46EE59826938DFC49DD2 Accuracy: -m0
Conclusion: CDDA 99%
Signature: 4F3EABB3642CB70657DEBB048F06FA3937BAFB80
FILE: 03. Rumbar.flac
Size: 20224416 Hash: 7DFC32FDE98A53B97165D450D7DFFAA7 Accuracy: -m0
Conclusion: CDDA 99%
Signature: 199B545F2E0663FD6BBE11D84969A294E87253BE
FILE: 02. Pinguma Cha-Cha-Cha.flac
Size: 20139314 Hash: C96C7CFA34D02CF8A867686D8ADBB22F Accuracy: -m0
Conclusion: CDDA 100%
Signature: CFCF65706D9518137D85FEB7209736196B154F8B
FILE: 01. Golden Bossa.flac
Size: 3981155 Hash: 57332171B6396119A3351E51F24C6B88 Accuracy: -m0
Conclusion: CDDA 100%
Signature: 485094578A6033AE08AA70CA85BBDAFD02000BB6