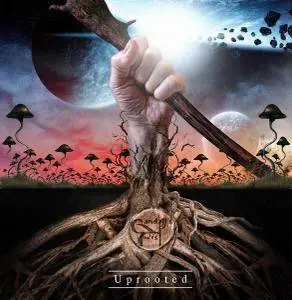 Gandalf's Fist - Uprooted (2015)
WEB FLAC (tracks) - 297 MB | MP3 CBR 320 kbps (LAME 3.93) - 115 MB | Digital booklet
Genre: Neo-Progressive Rock | RAR 3% Rec. | Label: Self-released
Gandalf's Fist: "If you want a good idea on what Gandalf's Fist is all about then look no further. To celebrate our Ten Year anniversary we've put together this compilation to allow everyone to sample our back catalogue. Chronologically. there's one track from every album, including our very first demo from back in 2005. As an extra treat the first three songs have been remixed, remastered, and in some sections, even re-recorded… which we've done to thank all our existing fans and supporters out there with some nice fresh versions of our favourite tracks! Rather than do a traditional "best of", we've picked one song from each record which means something special to us - check out the individual track notes for each song for more details."
Tracklist:
01. The Ballad of Treebeard Transport King (2015 Version)
02. The Siren's Kiss (2015 Remix)
03. The Council of Anderson (2015 Remix)
04. She Dwelt among the Untrodden Ways
05. The Gathering of the Clouds
06. Stowaway to the Mushroom Planet
07. Gardens of the Lost
Total time:
38:04

PERFORMER: auCDtect Task Manager, ver. 1.6.0 RC1 build 1.6.0.1
Copyright © 2008-2010 y-soft. All rights reserved

ANALYZER: auCDtect: CD records authenticity detector, version 0.8.2
Copyright © 2004 Oleg Berngardt. All rights reserved.
Copyright © 2004 Alexander Djourik. All rights reserved.


FILE: Gandalf's Fist - Uprooted - 07 Gardens of the Lost.flac
Size: 42895904 Hash: 0CF66A75B5C15FDC704806466597245C Accuracy: -m0
Conclusion: CDDA 100%
Signature: 3515F9A073FC3E0535FEFF3F4BC57AC74DC882B3
FILE: Gandalf's Fist - Uprooted - 06 Stowaway to the Mushroom Planet.flac
Size: 31313362 Hash: 69A6543BF37DC5DCE0BBB049C90F5650 Accuracy: -m0
Conclusion: CDDA 99%
Signature: 76B7AD487E149012B4C5DD5156D7AFB9B60673D0
FILE: Gandalf's Fist - Uprooted - 05 The Gathering of the Clouds.flac
Size: 68347461 Hash: 77D9152F21C59EA48F3E17D56D941CF2 Accuracy: -m0
Conclusion: CDDA 99%
Signature: EE35293A1672BD85A1E3D67D271FD49E4939319B
FILE: Gandalf's Fist - Uprooted - 04 She Dwelt among the Untrodden Ways.flac
Size: 18042044 Hash: 966F1133535F371EDB3B511F3AE66530 Accuracy: -m0
Conclusion: CDDA 100%
Signature: 0AB696308A5319AAA45E6B924534DF779E09AC88
FILE: Gandalf's Fist - Uprooted - 03 The Council of Anderson (2015 Remix).flac
Size: 48261350 Hash: C658DD195C76D6525CD214AB06FF12A1 Accuracy: -m0
Conclusion: CDDA 100%
Signature: 5A87CB14EF6DDFEDE215D4003D166D57FABC7939
FILE: Gandalf's Fist - Uprooted - 02 The Siren's Kiss (2015 Remix).flac
Size: 41598577 Hash: 568D2BEEC174516E2C541BEB309895F7 Accuracy: -m0
Conclusion: CDDA 99%
Signature: 32832F287421DEA23B5667151CFFC96C03F6122C
FILE: Gandalf's Fist - Uprooted - 01 The Ballad of Treebeard Transport King (2015 Version).flac
Size: 26758208 Hash: B23B7F1E54B24A03A1D14EE079369458 Accuracy: -m0
Conclusion: CDDA 100%
Signature: D16736DB983AB6CDD8BCB7F251E56E2A385D701C