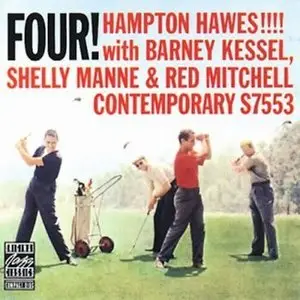 Hampton Hawes - Four ! (1958) (1991)
Loseless (Ape individual Files; No Cue; No Log): 281 | Mp3 (320 Kbps): 125 Mb | Covers | Original Release Date: January 27, 1958
Audio CD (July 1, 1991) - Label: Ojc - ASIN: B000000Y9G - Jazz
I don't know which program has been used for CD-Ripping. I downloaded those files from a torrent site. Great music with normal "Ape - Loseless" sound.
Notes

: Pianist Hampton Hawes' 1950s recordings for the Contemporary label are at such a high level that they could all be given five stars. This outing with bassist Red Mitchell, drummer Shelly Manne, and guitarist Barney Kessel (who is a slight wild card) is also quite successful. Two previously unreleased numbers ("Thou Swell" and "The Awful Truth") have been added to the CD reissue. Highlights of the exciting bop date include "Yardbird Suite," "There Will Never Be Another You," and "Love Is Just Around the Corner."
Track Listing
1. Yardbird Suite 6:40
2. There Will Never Be Another You 6:59
3. Bow Jest 6:31
4. Sweet Sue 5:36
5. Up Blues 5:10
6. Like Someone In Love 3:21
7. Love Is Just Around the Corner 5:43
8. Thou Swell 4:54
9. The Awful Truth 8:09
Personnel
Joe Tarantino Mastering
Richard Gross Cover Photo
Roy DuNann Engineer
Hampton Hawes Piano, Main Performer
Nat Hentoff Liner Notes
Lester Koenig Producer
Barney Kessel Guitar
Shelly Manne Drums
Red Mitchell Bass
Have a nice day.