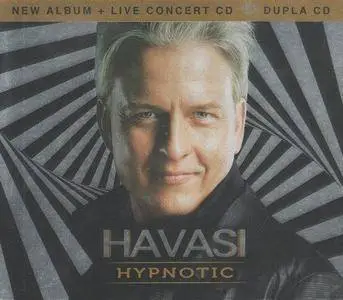 Havasi - Hypnotic + Symphonic Live (2016)
MP3 320 kbps CBR | 02:08:38 | 335 MB
Genre: Classical, Piano | Label: Mgrecords
Hungarian pianist-composer HAVASI's life has revolved around the piano since the age of four, when he had his talent and perfect pitch discovered. During his studies he was extremely motivated by challenges and competitive situations. He would practice for ten hours a day to make the most of himself. He learned the trade of classical music with respect and humility, studied the lives and works of various masters, and graduated from Franz Liszt Academy of Music in Hungary. He came to recognise the huge responsibility involved in teaching, and taught in Budapest's conservatory for years. As a performer of classical music he built up a vast repertoire, gave concerts in several towns across Europe, and won various piano contests.
Tracklist:
CD 1 Hypnotic
01. The Road 4:16
02. Faena 3:49
03. Mystic 4:32
04. Timepiece 3:02
05. Abelle 4:10
06. Elinor 4:43
07. Northern Lights 5:48
08. Eliot 5:39
09. Daisy's Secret 5:38
10. Hypnotic 3:50
11. Above The Mountains 3:55
12. Coming Home 4:06
CD 2 Symphonic Live
01. Prelude - Age Of Heroes 4:52
02. Ad Martem 5:49
03. Miami Fever 4:47
04. Trinity River 5:47
05. Beside You 3:05
06. Bird Of Dreams 4:00
07. Oh Saint Stephen 4:14
08. You Can't Stop Us 3:50
09. The Duel 3:54
10. The Chase 3:28
11. Voices Of Change 6:17
12. Generali 6:00
13. Infinity 3:45
14. The Storm 5:29
15. Spring Wind 4:46
16. My Homeland 5:07