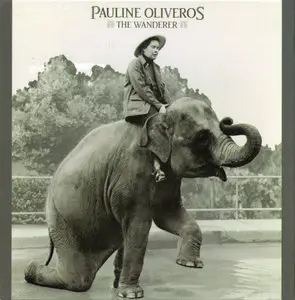 Pauline Oliveros: The Wanderer (2007)
Classical | EAC (APE & CUE) | 276 MB
Various mirrors: Rapidshare, Depositfiles, Megaupload & more!
As one of the most important figures in the 20th century electronic avant-garde music, Pauline Oliveros has made contributions to numerous experimental groups dating back to the San Francisco Tape Center in the '60s, where she played in the premiere of Terry Riley's
In C for Instruments
. Important Record has paid her a welcome tribute by reissuing two discs of her accordion-based compositions dating from the late 70's and early 80's. As such, this is the first time
The Wanderer
has been made available on CD after being out of print for over 20 years.
The Wanderer
is based on a single modal scale (B C# D D# E F# G#) and rhythmic modes based on a meter consisting of 3/4 and 3/8.
Part I, Song
, is intended to explore the unique resonant qualities of accordion reeds through long sounds. Subtle variations come about from differences in tuning and air pressure.
Part II, Dance
, demonstrates the sharp accenting power of the accordion bellows in a mixture of cross rhythms characteristic of jigs, reels, batucadas, Bulgars, klezmer forms, Cajun dances, and music of other diverse cultures. The orchestra consists of twenty accordions, two bass accordions, and five percussionists, with Pauline Oliveros as soloist and Falcetti conducting. This recording documents
The Wanderer's
world premiere, as it was performed on January 27, 1983 at Marymount Manhattan Theatre. Included as a bonus track is a lengthy live recording of Oliveros with David Tudor that was discovered on the reels during the digital transfer.
Tracklist
Track Listing:
1. Duo for Accordion & Bandoneon 14:25
2. The Wanderer 19:00
3. Horse Sings from Cloud 14:00
Pauline Oliveros, accordion, bandoneion
David Tudor, bandoneion
Heloise Gold, harmonium
Julia Haines, accordion
Linda Montano, concertina
Important Records: IMPREC 141CD